With the repercussions of the COVID-19 pandemic ongoing, many businesses worldwide have found themselves in precarious positions. With a looming global recession on the cards, business directors have one goal: to increase sales. Here's how to achieve that...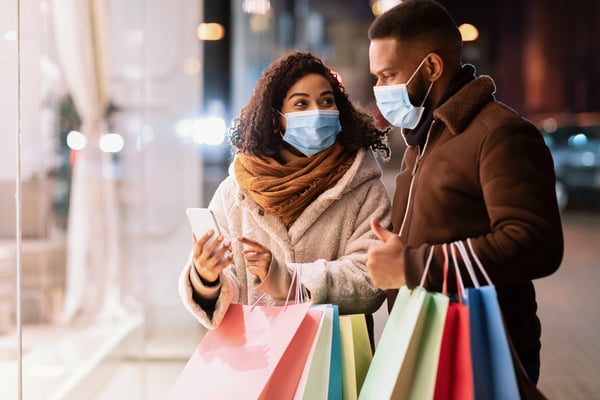 Re-evaluate Your Offering
To increase your sales, you need to audit your current product and/or service offering. Consider whether it is still relevant to your audience or adjustments that need to be made and introduced. Ask yourself how your business can offer the audience a solution, both for the time being and in the future. Beyond the products and services you offer, you need to consider how you provide value. This does not have to be tangible; in fact, one of the best ways to do this is through the content you create and share.
By being helpful, you are giving your online community something extra. This is also important because it is an extension of your brand communication. During a pandemic, your business needs to be transparent with its audience. People want to know how you're affected and what you're doing about it. If your business is supporting your employees further within the wider community or than is required, be sure to share it. They also want reassurance on a personal level that you're taking all of the necessary precautions so that they remain safe. In summary, by offering relevant products, providing value, and being transparent, you can increase your sales and customer loyalty.
More Sales Channels
A simple way to increase your sales is to be present and available across all channels. In the world of online, this means e-commerce, marketplaces, and social media platforms. It works because you are opening up more ways for your audience to reach you and make direct purchases, though this needs to be managed well to be effective. Ith the aim of increasing sales, you need to ensure that the sales experience online is as good as it can be for your customers. It is ideal for those moving or integrating to online channels to invest in technology that can automate these processes. Depending on your business and industry, this may support or replace the brick and mortar model for the pandemic's duration and the period that follows. In addition to this, retailers need to consider how they can prepare for demands from their customers. Inventory management and planning are imperative, as in many cases, pent-up demand for certain products is to be expected as the pandemic waves are felt. When looking at increasing sales, the focus is to have what your customers want, when they wish, and, importantly, where and how they want it.
Communicate with Customers
Communication is one of the most important things for a business operating during a pandemic. People need to be informed and reassured through the messaging that you share with them. There are ao many ways in which your business needs to communicate with its audience. They want to know what's going on behind the scenes and have easy access for purposes of reaching out to you if necessary. If you offer services, ensure that it is possible to set up virtual appointments, and if you have new online channels, you need to publicize that. Communication goes hand in hand with customer service. Offering after-hours services will demonstrate your commitment, care, and efforts to make customers happy. This is a great time to rely on customer support services, which can bridge the gap between any setbacks (such as delayed delivery services) due to the pandemic. Do this to decrease the returns made and increase the number of repeat customers. Any changes that can prepare your audience for what to expect will go a long way, as will a high level of empathy. Your marketing team should carefully consider your marketing messages, brand voice, and tone to offend during such sensitive times. This will improve customer satisfaction with your brand and improve your sales indirectly over the long term.
Start Planning Ahead
To increase your sales, you'll need to implement effective planning. During a pandemic, businesses must be agile and need to play by ear in many cases. However, planning needs to come into play to ensure that there is an overall strategy. When drawing up the plans, you need to factor in the current situation and your mid and long-term outlook. This will ensure that your business model is successful, making the most sales possible and ensuring sustainability for the future. This includes your operations management and systems catering to the sales flow, as well as noting any postponements or changes to inventory requirements that have come into effect. Many suppliers will be facing their own challenges, so working closely with them during a pandemic is necessary to improve business relations and secure your own sales plans. Finally, you'll need to plan according to the budget you have to spend throughout the company. The pandemic spells financial drawbacks for many businesses, so you will need to find ways to make do with less cash. Keeping realistic expectations in mind is also necessary during a pandemic, as your customers will also be feeling the effects of lockdowns and restrictions in various ways.
Adjust Your Marketing Strategy
Marketing will undoubtedly change during the pandemic. For many businesses, the launching of specific campaigns will be necessary to carry through your business's changes. If your budget changes, this too will have an impact on your marketing strategy. This is one of the most important aspects of your business during a pandemic. Your strategy will be the vehicle you use to communicate with your audience, as mentioned above. When sharing your marketing messages with your audience, the element of connections and interactivity through online channels and communities will be more important than ever. This will likely continue, and your business merely being there and being responsive can significantly improve your sales. Consider the use of highly targeted advertising through marketing and provide your customers with a better visual experience online. This means you need to share high-quality, diverse imagery and videos that pertain to your brand. For instance, launching campaigns that showcase your product in a lifestyle context can help engage, please, and encourage sales. The key to your marketing strategy will be to remain relevant and present for your audience online throughout the pandemic. When it comes to improving sales through marketing, engagement, direct sales, email campaigns, and direct messages are the way to go. If you aren't visible in multi-modal formats that include live broadcasts, now is the time!
Improve Your SEO
While marketing budgets are typically cut during a pandemic, businesses can still retain traffic to their website through SEO. While this is due to preemptive content strategies, you can always use the time of slowed activity to improve your SEO rankings. To do this, you need to be creating a mix of news-based and evergreen content. Other actions to take are revisiting your older content posts and reworking them to ensure that they're up to the latest SEO requirements and ensuring your website's pages are loading quickly. By doing this, you'll improve your website's ranking and views, thereby increasing the number of opportunities to make more sales.
There you have it - six simple ways to increase your sales during a pandemic. As you can see from this list, there are various ways to achieve this. By focusing on each element, you'll be able to increase your revenue despite the hardships brought on by the effects of a pandemic on businesses. If you'd like a sales strategy created specifically for your business with all of the support and expertise necessary to achieve it, get in touch with us at Nexa.