TikTok has taken the world by storm and since its launch in 2018, has become one of the most popular social media apps on the market. The platform allows users to create short videos with various effects and sounds and the easy to use editing features allow for online social media creativity like never before.
Many people believed TikTok to be a passing trend, a platform that was made specifically for Gen-Zers looking to gain viral fame. However, the app continues to grow and many businesses have seen the marketing opportunity that the brand affords its users and are now jumping head first into the world of viral social media video marketing.
You see, TikTok may be a young platform but it has already gained 1 billion users and has been downloaded over 200 million times in the United States alone. If your brand's target audience includes anyone between the ages of 13 and 50 (yes, 50), then you should be showcasing your business on TikTok right now.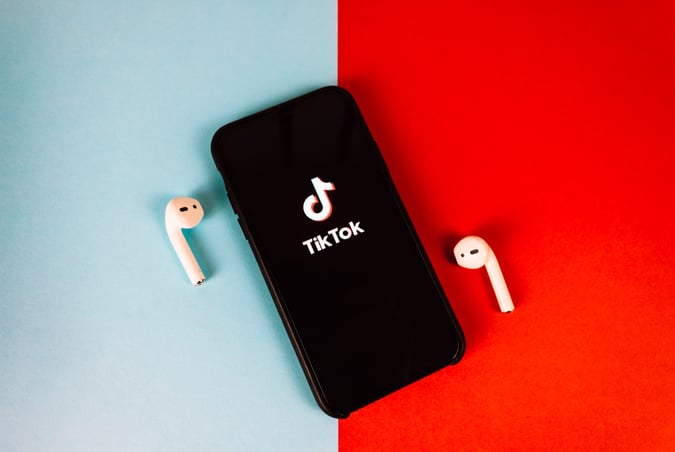 Why TikTok is Good for Business
Colourful, youthful, loud and fun, TikTok is one of the fastest growing social networks right now. It's difficult to explain TikTok using mere words because the platform is more of an experience than anything else. It is a place where anyone can be discovered, where trends are born, and a where inspiration and creativity thrive.
TikTok now has 1 billion active users worldwide. In 2020 the app had been downloaded 2.6 billion times worldwide and as of January 2021, the app had 62 million downloads. TikTok is also full of active users and the users are almost addicted to the app, spending an average of 52 minutes per day scrolling through the platform. These statistics are mind blowing but what makes the app so powerful for brands is its level of user engagement. The TikTok user is highly active which makes TikTok a massive marketing field with even greater potential for brands.
It is difficult to fully quantify engagement on the app but here is an example commonly used to explain the level of reach the app actually has. Superstar Jennifer Lopez posted the same content to TikTok and Twitter. At the time of these posts, Lopez had an astounding 45 million Twitter followers and a mere 5 million TikTok followers. With these stats in mind you would think that her Twitter video would reach a greater audience however, the Twitter video only received 2 million views while the TikTok video reached 71 million views. This is how powerful the apps algorithm and reach truly is. And this is why your business shouldn't ignore the TikTok multiverse.
Below, we take a look at how your business can incorporate TikTok into your marketing strategy in the coming year.
1. Craft engaging and creative content

TikTok is all about engagement and if you don't create engaging and eye-catching content you will fail miserably on the app. On TikTok you only have 15-60 seconds to make a point (there is a 3 minute option but this is definitely not recommended for brands looking to catch the consumers interest). You need to use that 15-60 seconds to entice users to follow your profile and this is why you can't neglect the quality of your content just for the sake of keeping your page active.

In order to do this successfully you need to have a fully rounded concept for your videos and you need to catch their attention in the first second. This means you need to use effective lighting, trending sounds and catchy captions. And always remember that TikTok is a social media platform which means your content should be designed to engage the audience and converse with them about a strategic topic.
2. Select a strategic and niche topic
TikTok revolves around quality and relevant content and if you use TikTok to promote your brand, you need to be consistent with your messaging and tone of voice. Once you understand the messaging you want to get across to your audience, you can capitalize on the latest TikTok trends and sway them to suit your specific niche topic. Pick a message or topic that you have expertise in and share your knowledge with TikTok users - the app has such a strong algorithm that you can be sure your content will reach the right audience if you use the right messaging.
Make sure to analyze your feedback and monitor the success of each video so that you can figure out if you are creating content that speaks to your target audience effectively or if you need to change creative direction.
3. Influencer collaboration to propel your brand presence
TikTok influencers have massive reach and their reach is highly targeted and based on TikTok's smart algorithm. Reaching targeted users is what every business needs when it comes to social media marketing and by working alongside influencers in your industry, you can be sure to reach your ideal audience.
What makes TikTok more powerful than other social media apps for influencer marketing, is the level of quality content being produced on the app. By partnering with an influencer, you are able to create the highest quality content at an affordable cost - and you will experience a significant return on investment as the content will reach your desired audience. But it is vital that you do your research and find an influencer who has followers that perfectly match your customer profile.
4. Participate in hashtag challenges
Certain hashtags trend on TikTok on any given day, and certain hashtags are created for viral videos that are doing the rounds. Make sure to add relevant hashtags to your videos but also hop on certain trending hashtags and make them work for your brand and your content.
But there are consistent hashtags you can use that don't necessarily have to be trending. These are hashtags relevant to your content and your videos. By selecting the right hashtags for your brand, you are able to reach your desired audience and get your message across effectively. Do your research when it comes to selecting the right hashtags. Do this by typing in relevant and broad keywords in TikTok and the system will suggest a variety of hashtags that are used around your specific topic or industry.
Now, you can take all of this a step further! Launch your very own TikTok hashtag challenge by uploading a catchy, relevant video and come up with your own brand-related hashtag. Once this has been done, encourage your audience to use your hashtag and share a similar video. This is vital marketing and has the power to grow your audience and drive greater engagement and interaction.
5. Paid advertising campaigns
TikTok recently launched its advertising system that allows businesses and brands to tap into the huge user base.
The platform offers 3 kinds of digital advertising:
Hashtag challenge ads (as mentioned above)
Brand advertisements
Native in-feed advertisements
Brand advertisements are the most effective way to drive users to your landing page and have become a must amongst businesses looking to use the app for marketing and lead generation purposes.
The targeting that comes with TikTok advertising is also impressive and there are two options you can use when targeting your audience:
Interest Targeting: Selecting audience interested and TikTok will present your ads to this kind of audience
Behavioral Targeting: This kind of targeting reaches people based on their real-time behaviour on the app
If you are investing budget into social media advertising we suggest you place some of your budget in your TikTok marketing efforts as TikTok is certainly the future of social media and you don't want to get left behind.
The Wrap Up
As with any other social media campaign, you need to evaluate the results of your efforts when it comes to TikTok marketing. By using analytics tools or TikTok native analytics you are able to determine the value of your content and promotional efforts.
Through this you will be able to identify any improvements that can be made. These analytics can be monitored in real time and it is important you and your team learn from them - and grow.
How We Can Help
Nexa will create engaging, creative and trending campaigns for your brand through the interactive, video based platform. Collaboration is key when it comes to TikTok and all TikTok campaigns are about community and getting your target market to participate in interactive campaigns - and this allows for absolute creative expression - almost without limits.
Contact the Nexa team today!