Businesses across the world are implementing Customer Relationship Management (CRM Systems). This has become a necessity for businesses in Dubai, since the city is a hub of innovation and technology, and requires businesses to be operating and performing at their best.
What exactly is Customer Relationship Management?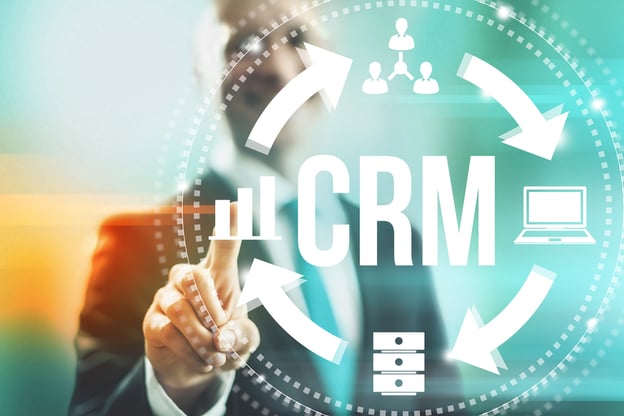 Customer Relationship Management, or CRM, is a software that is designed to manage relationships with customers and potential customers. When it comes to business, customers are the most important asset and today's digital-savvy consumer expects instant communication, streamlined service and 24/7 engagement. Without the ability to answer potential or customer queries quickly, you will lose sales to your competitors but you don't want to slow your team down in the process. This is where Customer Relationship Management software becomes vital.
A CRM system streamlines manual processes, lets you know who your customers are, how they discovered your business, how to reach them, and how to effectively drive them through the sales pipeline.
What makes CRMs so powerful is the fact that they offer a central location to organise all lead and customer data, making for marketing, sales and service alignment. This kind of interdepartmental alignment ensures that everyone in your business is equipped with the right context about every individual customer's needs, wants and current state - ensuring personalized communication. This kind of communication builds trust, converts leads into clients and builds customer loyalty. And this is why Dubai businesses and businesses throughout the world are investing in Customer Relationship Management software.
Let's take a deeper look into why your Dubai business should invest in a CRM platform and the necessary training for this software, and how this can help your business grow better.
The Importance of CRM For Dubai Businesses
As stated previously, today's consumer has greater expectations when it comes to communication and information. With this in mind, a CRM is vital and the need for CRMs is on the rise. In fact, according to a report by Gartner, CRM software revenues have now overtaken that of database management systems.
The reason this software is growing is because business owners are now aware that all prospects and current customers are not created equal and require a certain level of personalisation in order to nurture sales and loyalty. Think about it like this: some customers require a greater level of customer service while others do not require any level of customer service.
A powerful CRM such as HubSpot also gives businesses a better way of understanding customer wants and requirements in order to improve the way a service or product is offered to them. Essentially, a CRM like HubSpot is able to understand these differences and prioritise communication, marketing and sales efforts when dealing with different kinds of leads and customers. And the more you know about your potential customers and current clients, the more likely your marketing, sales and service efforts will be on target.
This is why it is important for businesses in Dubai to invest in a powerful CRM (such as HubSpot) and top-class HubSpot CRM training in Dubai. Basically, if you want high quality leads, more conversions and greater customer satisfaction and retention - the HubSpot CRM is your best bet.
But, does every business need a CRM?
Who Should Use a CRM?
The short answer is that every business that wants to connect with their customers can benefit from using a CRM platform. However, there are two primary types of companies that have proven to benefit significantly from CRMs: B2B and B2C.
There are also many businesses that do not fit standard moulds, yet they would still gain value from a CRM software. The best way to consider whether or not your business requires a CRM system is to think about the challenges that the software is able to solve:
Do you need a central list of data on your leads and customers?
Do you customers interact with multiple departments and several people within your organization?
How do these people keep track of the conversations with leads?
Do you need a system to stop leads falling through the cracks?
Do you want your teams to focus on what they do best as opposed to time-consuming manual tasks?
Does your sales team have a streamlined process to drive sales?
The above are just a few questions you should ask yourself when considering a CRM system. Essentially, if you are looking to increase productivity within your business, align teams and store data in a single location - then a CRM system is for you.
Choosing The Right CRM Platform for your Business in Dubai
It is also important that you do your research when deciding on the platform for your business as many of these platforms do not offer the tools you need for your specific business goals and objectives. Some CRMs are exclusively designed for smaller businesses and start-ups, while others are designed specifically for large corporations and big businesses. The key is to find a CRM that is able to scale with your business and grow with your team. This is where powerhouse CRM platform HubSpot comes into play.
No matter your business, business size or industry, HubSpot is able to scale and grow alongside your organization - helping your business grow better.
What sets HubSpot apart from other CRMs is its features, integration capabilities and seamless implementation.
HubSpot Features, Integration, and Usability
Features: HubSpot offers a powerful and fully-rounded CRM solution with advanced tools and features made available through the CRM and related Hubs. HubSpot's free CRM provides users with access to company, lead and task reporting dashboards and comes complete with unlimited users and up to 1 million contacts. However, if you would like to expand your CRM for greater features you will want to upgrade to the HubSpot Sales Hub and or HubSpot Marketing Hub. The HubSpot Sales Hub suite of tools offers sales analytics, contact management, sales automation, sales pipeline management, and more. The Marketing Hub includes an analytics dashboard (on the basic plan) and custom analytics tools built into HubSpot's Enterprise tier.
Integration: The vast HubSpot integration ecosystem has generated hundreds of tools that help businesses implement customer relationship management and advanced inbound marketing campaigns. However, by integrating external sales and marketing tools to the HubSpot platform, you give your business a chance to propel your processes even further - and HubSpot knows this and has made it easy for customers to implement.
Usability: The HubSpot system was relatively rigid with customization but has recently adjusted its offering to suit customisation. The layout itself is highly intuitive and designed to ensure productivity and efficiency. At its inception, the company did face many challenges due to its lack of custom features, and in 2020 they listened to their audience and amended this and continue to expand on their customization within the platform.
The above outlines the benefits of HubSpot for businesses in Dubai and if you want to optimise the platform to the best of its ability, then HubSpot CRM Training in Dubai should be a priority.
HubSpot CRM Training in Dubai
The implementation and use of CRM systems is vital for professional businesses in Dubai, and throughout the world. Not only do CRMs help facilitate and support the marketing, sales and service processes, but they provide valuable insights to key stakeholders in the company providing pipeline transparency and access to data that can help prepare every aspect of the organization.
Nexa is a Diamond-tiered HubSpot Partner and a certified CRM implementer. We also work with other CRMs including Salesforce and Zoho.
HubSpot's CRM has quickly developed into an award-winning platform that is used by over 100,000 businesses globally. This number continues to grow and there are many reasons why your business should consider using the HubSpot CRM:
What the HubSpot CRM can do for your business in Dubai:
HubSpot CRM can handle any volume of data

HubSpot CRM is fully customisable allowing you to edit any field specific to your needs

HubSpot CRM allows you to track every interaction and engagement with prospects

HubSpot CRM allows you to set reminders and add notes to help you keep track of your sales activities

HubSpot CRM tracks all deals in progress summarizing the value of deals at each stage

HubSpot CRM seamlessly integrates with all other HubSpot products including marketing features such as email marketing

HubSpot CRM integrates with over 500 other software platforms

HubSpot CRM integrates with call tracking / recording software

HubSpot CRM integrates perfectly with Whatsapp
Looking for HubSpot CRM training and implementation in Dubai? Whether you're a HubSpot veteran or have been passed the reins in a new role, we can help you to make the most out of HubSpot's features, whether these are related to the CRM, Sales, Marketing or Service products.
How We Can Help
We offer the following HubSpot Training and Workshop solution for companies located in Dubai and anywhere in the world. Clients can choose whether to conduct the training either in-house or remotely.
Full Half / Day Training Sessions for individuals or small groups (up to 3 people)
Full Half / Day Training Sessions for larger groups (4 or more)
Sales & CRM Training (Half Day)
Marketing Feature Training (Half Day)
Service Module Training (Half Day)
HubSpot / Lead Generation Strategy Workshops (Half Day)
Sales Workshop (Half Day)
Pre-Customer Workshop: Is HubSpot right for my business? (Half Day)
All training sessions and workshops are customised to the needs of each client and a prior kick-off and immersion session is required as part of each booking.
To book your training session or workshop, contact the Nexa team today.