Just like any business in any sector, educational organisations have to market their brand. Schools are competing with other institutions and need to have a strong marketing strategy in place to attract new students and get one up on the competition.
In the past, school marketing relied heavily on word-of-mouth and traditional marketing tactics such as print marketing, street pole advertising and even billboards. Today, we live in the digital age and prospective students and their parents rely heavily on digital channels as a primary source for research when making such an important life decision. Students and parents will scour the web, visit social media pages, and check out online reviews before even considering a school and it is important your school is present in this research stage.
Thanks to digital transformation technology like Customer Relationship Management (CRM) software, you are able to implement an inbound marketing strategy to help marketing and admission staff attract and convert prospective students in an effective and cost-effective way.
But, what exactly is Customer Relationship Management and how does it benefits schools?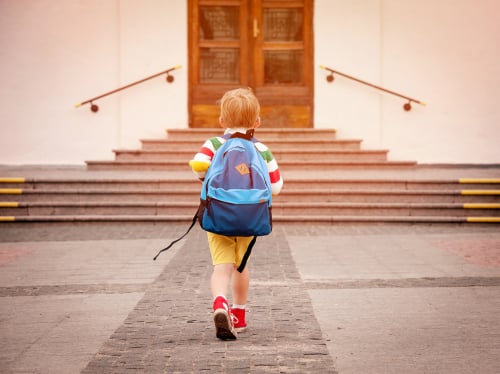 Customer Relationship Management for Schools
When it comes to marketing for schools, it's vital you focus on community, communication, and engagement. This personalization and close-attention-to-detail builds trust and helps drive a potential student through the decision making process. And this is where Customer Relationship Management software becomes a necessity.
Customer Relationship Management (CRM) is a marketing and sales strategy that businesses and organisations use to manage interactions with potential customers and current customers. A powerful CRM helps you streamline marketing, sales and service processes, build customer relationships, increase sales and ultimately better business profitability. Essentially, this software is designed to merge strategy and technology to ensure the best customer experience.
CRMs are incredibly effective when it comes to marketing for schools as the software offers a single location to rollout all all marketing efforts, from social media and blogs to search engine optimization and email automation. Not only can your marketing team implement campaigns through the platform, they are able to measure campaign success and generate lead contact details through a variety of processes. Once the system captures lead data, this data is then entered into the CRM system. The CRM is able to understand the needs of each individual lead and will segment these leads into relevant categories. Once this is done, the system is able to send out personalized and automated emails that reach the right lead, at the right time, with the right message.
This system builds community, ensures personalized communication and consistent and relevant engagement - everything schools require to acquire students.
Two of the most renowned players in the CRM industry are HubSpot and Salesforce, and both technologies continue to add to their service offerings as each day passes.
In this article we will take a look at the differences and similarities between the two platforms and help you decide which CRM would work best for your school.
Introducing HubSpot
HubSpot is the powerhouse and birthplace of the inbound marketing methodology, and is at the forefront of all things digital marketing. Inbound marketing is a business strategy that is designed to attract customers by creating valuable content and experiences tailored to them. While traditional outbound marketing interrupts your audience (billboards, brochures, print advertising etc.), inbound marketing is designed to build personalized connections. And when it comes to marketing for schools - personalization is key.
But it is important to note that HubSpot it is not just a platform for inbound marketing, it has also been designed with the entire sales process in mind.
The HubSpot CRM is intuitive and easy to use, and offers simple tools that will help you integrate marketing and sales activity in order to bridge the gap between the two departments.
HubSpot also easily connects to Outlook, Gmail, Apple, and Google apps, so you are able to effortlessly integrate all your emails and contacts into one powerful database. Another benefit is that you get calling capabilities and a Deal Dashboard and Pipeline Tracking Tools, all of which are unrivalled in their ability to keep track of where things are going and how all your deals are progressing through the admissions process.
With ease-of-use, simple integration and marketing and sales (admission) alignment, HubSpot is an ideal CRM platform for schools.
Introducing Salesforce
Salesforce is a tech giant in the CRM industry and has been around for a long time - the company has been a pioneer in the cloud and CRM space for over two decades. Salesforce is a cloud-based CRM software that helps businesses connect with and collect and store valuable information about their customer base. The cloud-based software allows companies to track (in real-time) analytics, support, customer success, and customer complaints.
Salesforce has been active in the CRM business for a long time and many enterprise businesses make use of the software. The CRM is popular for large organisations because it places focus on analysis and data collection, and places less focus on marketing and sales alignment. The platform is also more expensive than its counterpart as set-up and management is quite complex.
Most organisations that use Salesforce have to go through considerable training in order to get the best out of the CRM and this does cost time and money. However, if you are looking for thorough, complex analytics, then the platform could work for your school.
Now that we have an understanding of CRM software, Inbound Marketing methodology and the two key players in the industry, let's take a look at the differences and similarities between the two.
HubSpot vs Salesforce for Schools
Below, we take a look at the three top CRM techniques to improve marketing for your school and compare HubSpot and Salesforce in each regard.
1. Quality Website Development and Search Engine Optimization
Having an informative and professional school website is important when it comes to making a good first impression. When prospective students and parents begin the research process, they should be able to find your website in the search engine results and get all the information they require on your site. This is why website design, management and Search Engine Optimization are vital.
Your school website affects the overall reputation and image of your institution which can quickly lead to increased leads and admissions. HubSpot and Salesforce are able to integrate with your website to ensure it is well managed, optimized for search engines and updated with relevant content.
HubSpot vs Salesforce: Website Development and Search Engine Optimization
HubSpot: You are able to design your website through HubSpot with ease. The platform even offers templates and easy to use drop-down-editing capabilities for customization. It is also able to integrate with a variety of website platforms - making for a smooth transition. HubSpot not only helps you create an eye-catching, easy to navigate website, but it also comes equipped with Search Engine Optimization recommendations and capabilities to ensure your website can be found in the search engine results. This helps you direct quality leads to your website, while HubSpot's lead forms allow you to capture lead data, ensuring no possible lead falls through the cracks.
Salesforce: Salesforce helps you get closer to your SEO goals but in order to implement your SEO tactics effectively through the platform, you will need to complete a full, complicated integration process between Pardot and Salesforce. With HubSpot, you are able to manage all website content for SEO purposes which makes it simpler to learn and implement. But the good news is that Pardot for Salesforce includes off-the-shelf SEO tools that help you track keywords for your institution. With Pardot and Salesforce you are also able to create landing pages for lead generation.
In conclusion: When it comes to setting up Search Engine Optimization across your website - HubSpot takes the lead due to ease of set-up and smooth integration.
2. Lead Generation, Lead Data Collection and Lead Management
When it comes to choosing the best CRM for schools, lead generation, data collection and lead management tools are vital. Without strong lead generation tactics and analytics in place, your CRM is not going to add to your business and give you a return on investment.
HubSpot vs Salesforce: Lead Generation
HubSpot: HubSpot is the leader in inbound marketing methodology and has created a CRM that focuses on lead generation by aligning marketing and sales. With its unique focus on content creation, marketing, automation, social media and distribution across digital platforms HubSpot allows your schools marketing team to reach the right audience, with the right message, at the right time. Both HubSpot and Salesforce also offer lead scoring which allows you to scale your leads based on their priority and where they are within the buying cycle. With a lead scoring model in place, your school admissions department is able to view the ranking of prospects against a predetermined scale that represents the perceived value of every lead. The resulting score is then used to discover which leads are a priority and which require more nurturing in terms of marketing and marketing automation.
Salesforce: The Salesforce CRM does not offer the same level of Inbound Marketing tactics for lead generation. That is: HubSpot offers free tools within the marketing and sales hubs to help you create lead generation content and lead forms that acquire lead data while Salesforce offers this at an extra cost. However, Salesforce has highly customizable lead management and scoring, while HubSpot can get small businesses up and running quickly with lead generation via content marketing.
In Conclusion: HubSpot is unique in its focus on inbound and content marketing, which is at the core of what the company does. If your school is looking for easy-to-use lead generation techniques at a fraction of the cost, then HubSpot is ideal. If you are a larger organization and have a greater budget, Salesforce may be the CRM for you as it offers more customization.
3. Sales Pipeline Management, reporting and Analytics
The sales pipeline is a customer focused marketing methodology that shows the theoretical customer journey as they make their way to the purchasing (in this case, enrollment) stage. If you work in education, you know how important it is to understand and manage the marketing and sales pipeline. If you are looking for a Customer Relationship Management platform it is important that the platform is able to visualize the pipeline and configure deal stages that match the enrollment process of your school. This means that education institutions require personalized sales pipeline reporting capabilities.
HubSpot vs Salesforce: Sales Pipeline Management, Reporting and Analytics
HubSpot: Originally, Salesforce was the leader in pipeline management and analytics, but HubSpot has taken steps to ensure a more scalable sales pipeline solution. HubSpot is able to track leads as they move through the sales pipeline and is also able to send out automated and personalized communication via digital channels. This means the platform can send out personalized and automated email communication that is designed to direct individual leads as they make their way through the sales pipeline - saving your admissions staff time and limiting mundane and repetitive tasks.
Salesforce: The CRM is a leader in technology and it is well-known for its strong sales pipeline capabilities, analytics and reporting. Like HubSpot, it is able to send out automated emails based on a leads actions and behaviors, ensuring a lead receives the right message, at the right time. However, once again it is important to note that Salesforce is made up of complex technology and you will need a professional to guide your team through the process. HubSpot is more intuitive and user friendly in regards to its technology and implementation.
In Conclusion: Both CRMs provide a strong sales pipeline, ensuring your school leads are tracked, managed and nurtured correctly.
The above outlines three of the most important elements of CRM, but of course, we can't leave out pricing!
Bonus Insight:
4. HubSpot vs Salesforce: Pricing
HubSpot includes all the features you require at its advertised price, and you only pay for additional sales seats that are all revenue-generating at the same time. Free "seats" are available for team members who require visibility into your business regarding reporting or related day-to-day functionality regarding sales tools.
Some insight into HubSpot Rates:
It is possible to have free users (without premium features - the platform is very transparent in this regard)
Support is free
Transparency in all offers
Salesforce is one of the more expensive CRM platforms (as stated previously). It is generally more costly due to its complexity and deployments if you require it to be scalable and flexible. The platform charges every user and needs paid add-ons for essential features.
Some insight into Salesforce Rates:
Salesforce is more expensive than HubSpot and comes with an equivalent scope.
Support through Salesforce is paid (as mentioned previously).
The extensive add-ons are complex and come at a cost.
As Salesforce does not offer the same level of training as HubSpot, you will require an in-house specialist to assist you with implementation and assistance.
The Wrap Up
When looking for a CRM for your school consider the following capabilities:
Website and SEO
Lead Generation
Sales Pipeline
Price
Based on the above, it is clear that CRM technology benefits schools by providing them with a single place to manage and implement all marketing, sales and service processes. As an educational institution it is important to equip your business with the best possible platform to secure future alumni for years to come - and it is up to you to find the right platform to suit your goals and needs.
How We Can Help
Nexa is an independent agency and the only HubSpot diamond tier partner in the GCC. Book a session with us to get started. We have worked with schools on award-winning campaigns, including:
Best Integrated Marketing Campaign at the MENA Search Awards in 2017 for our work with the College of Fashion & Design

Best Integrated Marketing Campaign at the MENA Search Awards in 2019 for our work with Arbor School