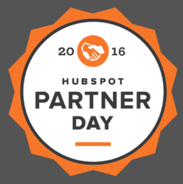 Last week, Gold and Platinum HubSpot Partners from EMEA (Europe, the Middle East and Africa) converged on Dublin for the annual Partner Day at HubSpot's European headquarters. As the first and only Gold HubSpot Partners in the GCC, a duo from Digital Nexa met up with fellow HubSpotters for a few days of strategy, feature updates and networking sessions.
In addition to aligning Nexa's strategy and processes with HubSpot's team, we came away with three major takeaways which will help businesses (HubSpot customers and potential users alike) get the most out of their content and digital marketing and stay ahead of their competition:
Marketing meets Sales
Intelligent sales interactions and lead nurturing was a major trend throughout the HubSpot Partner Summit agenda. Long story short: People (i.e. your potential customers) are turning to Google and other online sources to find products and services; in turn outdating door-to-door sales and cold calling.
To keep up with this trend, companies need to update their sales approach with the new buyer behaviors and digital marketing tactics. This way, you can make sure you're tracking activities and results, integrating your marketing activities with Sales, and have a team that's trained on customer-centered selling. HubSpot's free CRM solution helps close the gap in an easy to use, insightful, customizable way.
building momentum in EMEa (and the GCC)
As the HubSpot community continues to grow internationally, HubSpot is rolling out more support, features and resources for clients and agencies alike. With Europe, the Middle East and Africa being one of HubSpot's fastest growing segments, this means more activity in the region and being on the cusp of the curve for early HubSpot adopters.
In our opinion, the updates which will impact content and digital marketing internationally (let alone, the GCC and Dubai) include language specific support and resources, HubSpot opening offices around the world (HubSpot currently has offices in Singapore, Dublin, Sydney and Tokyo) and new features and builds for COS -- just to name a few.
DUBAI hUBSPOT USER GROUP
Building off of the momentum in EMEA, a content and digital marketing specific meetup is coming to Dubai and the GCC. As the first and only Gold HubSpot Partner in Dubai, the UAE and the GCC, HubSpot selected Digital Nexa to host the Dubai HubSpot User Group: a network for HubSpot customers, users and digital marketing leaders to come together to learn, share ideas and network.
We're in the process of gathering details, but you can request to join the Dubai HubSpot User Group on LinkedIn and subscribe to the meetup updates.
Questions content and inbound marketing? Feedback about HubSpot and Digital Nexa? Leave us a comment below.
Ready to take the next step in starting your HubSpot and content strategy? Content us via the form on this page.