We live in the digital age and digital transformation is quickly changing the way we do business. As we head into 2022 it is important to consider your modern sales processes and ensure you are leveraging the best sales technology and tactics to improve your sales in the new year.
Sales automation, lead scoring, and marketing technology should all play a role in your business strategy. In fact, according to the Sales Report 2019-2020, 73% of sales professionals that use sales technology close more deals, and since 2016 investments in this technology are rising significantly.
In this article, we will break down sales technology and sales automation tools that will improve your sales and better your bottom line.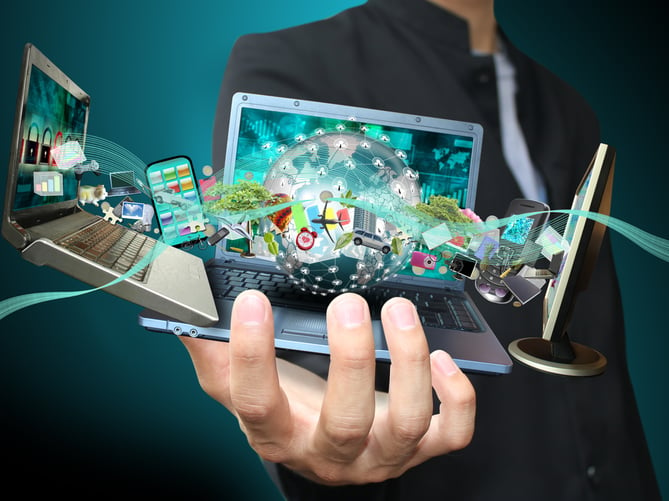 What is Digital Sales Technology?
Software as a Service (SaaS) tools are designed to help sales agents in all aspects of sales activity. Through these tools you are able to improve the following tasks:
Emailing prospects and clients
Data entry and data collection
Scheduling meetings
Scheduling calls
Collaborating on tasks
Marketing and sales alignment
Prospecting
Lead generation
Lead scoring
Tracking prospects, leads, and clients
Analytics and reporting
All of the above-listed tasks can be automated through this kind of technology. Artificial Intelligence (AI) and automation have the power to align your marketing and sales departments like never before, allowing your sales reps to focus on closing sales as opposed to chasing cold leads.
Below, we will outline how you can use these tools to power your sales process and take a look at the best tool for sales automation and team alignment.
Empower Your Sales Team to Sell Better

Thanks to marketing and sales technology, reps are able to better manage their daily tasks, from scheduling meetings to sales calls. Thanks to technology such as lead scoring, sales reps will be informed once a lead is sales qualified. This information ensures they do not waste time on cold leads and only follow up on prospects that are likely to convert. This goes hand in hand with aligning marketing and sales teams. Thanks to Customer Relationship Management platforms, marketing teams will be able to pass a lead over to sales once the lead has gone from marketing qualified to sales qualified. This ensures streamlined communication between departments, ensuring better results while limiting the chances of human error.

CRMs are also able to help sales reps manage their time through online scheduling ensuring no double bookings and no missed appointments. This also saves reps valuable time as they no longer have to manually manage their activities. All of the above empowers your team to sell better and in turn, improve your bottom line.


Put an End to Time-Consuming Tasks

According to a study by McKinsey, half of all repetitive sales tasks can be automated and these tasks include:

Researching candidates
Manual data entry
Note-taking
Customer follow-ups
Updates on marketing campaigns
Updates on sales initiatives

With this in mind, McKinsey reported that the average worker is able to save over 6 hours per week through sales automation tools and tactics.

It is also important to note that removing repetitive tasks will not only free up time but will also help your team avoid "burnout" which is common in the sales industry.




Ensure Greater Results

Sales automation tools can be used to collect, manage and track prospect data which gives you the opportunity to get one up on your competitors. For example, if you have an automated workflow and automated processes in place, you will ensure that you immediately respond to any queries, follow up with leads and customers and collect more information about individuals prior to prospecting. By having these systems in place you increase efficiency and expand your pipeline significantly.

For example, a platform like HubSpot Sales Hub allows you to define certain filters that qualify a sales qualified lead and this can be done through the process of lead scoring as mentioned previously.

Chatbots are also an important part of the sales toolbox. By implementing customized chatbots on your website or landing pages, you are able to immediately engage with visitors as soon as they land on your page. Visitors will also appreciate immediate service offered by your chatbots and based on their communication which will be stored in your CRM or related tool, you are able to learn more about your lead, nurture them through marketing tactics and ultimately pass them over to your sales team when they are ready to convert.

These tactics ensure greater results in all elements of your business, from marketing and sales to customer service.
Now that we have unpacked the benefits that come with sales technology, let's take a look at which digital tools you should consider when it comes to investing in your sales stack.
Customer Relationship Management

Throughout this article, we have mentioned the importance of a CRM. This is because a CRM platform is an all-in-one software that manages your lead information in a single location. A CRM is the central hub of your business dealings, from marketing to sales and service.

A CRM also automates all manual and time-consuming tasks when it comes to your customer and lead interaction. A powerful CRM platform has the ability to automate and personalize emails and phone calls, log prospect data and track leads. This saves your sales team time and your business money.

Not only will a CRM store and manage all your lead and customer data in a single and well organized location, but it will also provide you with insight into the next steps you can take when guiding a lead through the sales pipeline. Thanks to CRM analytics and measurements you will be able to see which conversions you've had and what steps you need to take in order to close the deal.

By tracking and measuring your deals in a CRM you are able to measure your Return on Investment and features such as sales forecasting allow you to analyze your lead and customer data and track your team's performance.

Essentially, a CRM is a must-have for your sales pipeline.


Lead Enriching Tools

Prospecting and qualifying leads are some of the most challenging aspects of a salesperson's job. In fact, it has been reported that a mere 52% of reps say that they spend a large amount of their workday actually selling while 47% have said that they spend most of their time on prospecting potential clients. Of course, the latter is vital when it comes to outreach however, if a prospect doesn't work out it is a significant waste of time and resources. This is why lead enrichment tools are so important for modern sales teams.

These kinds of tools allow you to flesh out important details about your leads without having to waste time doing manual research and data collection. Sales technology is able to collect data and demographic information based on a lead's interaction with your brand through digital platforms and collect information from their social media handles (and more). This is referred to as lead enrichment and gives your sales department the advantage when it comes to contacting a lead.

The HubSpot CRM is able to do all of the above and retrieve web information about your leads instantly. The technology will then score your lead based on sales criteria (this is known as lead scoring).

A lead scoring model is a specialized and analytical system used to evaluate the quality of your leads. Essentially, points are given to a lead based on a variety of factors including their industry, level of interest in your business, and related qualities associated with previous high-value clients and leads.

A lead scoring model or system is designed to help your team quickly and efficiently identify sales-qualified leads versus low-quality leads that aren't that interested in what your business offers (also known as low priority leads).
A lead scoring model should consist of the following:
Marketing and Sales Alignment: Ensure your marketing and sales team work together when understanding your target market and their specific needs.
Lead Scoring Threshold: The point value of when a prospective client is recognized as sales-ready.
Explicit Lead Scoring: Assigning points to a lead based on specific qualities such as demographics and characteristics.
Implicit Lead Scoring: Assigning points to a lead based on their behavior and engagement with your business.
Negative Scoring: Removing points from a lead score based on characteristics or behaviors that imply a lack of interest in your business.
Score Degradation: Tracking stagnant leads.
Regular Refinement: Amend your model to suit the evolving needs of your target audience.


Through lead enrichment and lead scoring, you are able to completely streamline the process of researching leads ensuring your reps receive the contact details of leads who are sales-qualified.
Sales Enablement Tools

Sales tools take the guesswork out of closing deals and with sales enablement tools you are able to reach out to leads, at the right time, with the right message. A sales enablement platform will help you uncover when is the right time to send through a lead nurturing email or remarketing campaign and when it's the right time to call a lead. This is known as predictive analytics and helps you determine the next step for any deal based on specific criteria.

For example, HubSpot provides you with customer insight to help you establish sales cadence that make sense to the individual lead. Essentially, the platform will benchmark the steps you need to take in closing a deal with a specific lead. This is known as "sales sequencing" and allows you to analyze and recreate specific touchpoints that drive a lead through the sales funnel, resulting in a closed deal.
Sales Meetings and Call Scheduling
Modern sales tools can help you plan exactly when to contact a lead. This is done by setting up a scheduler that directs leads to the right sales representative based on certain parameters including location, interest, and sales experience.
For example, if a lead is ready to book a meeting with your company, they have the ability to open your calendar on your website and view the available time slots. They are then able to choose a time, add notes and connect with the ideal sales representative for your business.
Once they book a meeting they will also be sent an email to confirm the time - as will your sales representative. This cuts out manual work and ensures both the lead and the sales rep are reminded of the meeting beforehand. This eliminates human error and saves your business both time and resources.
Internal Communication

Sales tools are not simply related to lead and customer engagement. They are also designed to streamline all internal interactions and communications. A sales tool such as HubSpot empowers sales teams by allowing them to share resources while at the same time helping sales managers monitor their team's efforts.

There are a variety of tools that are available to better internal communication with one of the most popular being Slack. Slack is the ideal place for team collaboration and allows for instant communication between individuals and teams.
The Wrap Up
Today's modern sales tools are vital for business growth and it is important you create a sales stack for your business in 2022. HubSpot is a tool designed to fulfill all of the above sales tasks in a single location ensuring streamlined sales processes.
How We Can Help
At Nexa, we truly understand the modern-day sales funnel and how sales and marketing alignment can influence the speed and value of a sales deal. While most agencies simply focus on lead generation, we go much further.
As a Diamond HubSpot Partner and Premier Google Partner, we combine extensive experience and expertise to ensure that high-quality sales leads are generated and then supported by a winning, sales process supported by best-in-class sales technology.