Here's how you can generate high quality leads by working with call centres who are experts in telesales.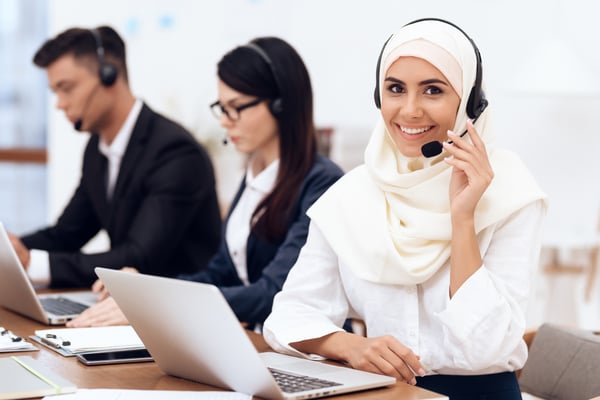 By definition, a call centre is:
"a dedicated office of representatives set up to receive and field a high volume of phone calls from customers and potential customers. Customer service call centers provide information about and support for a company's products or services."
This is according to HubSpot, who also state the following facts:
Almost 75% of customers prefer voice communication (via a phone call) over any other customer service channel. This is especially true when customers are dissatisfied.

73% of customers will become loyal brand ambassadors based on experiences with friendly customer service representatives.

Over 82% of customers have taken their business elsewhere after a poor customer service experience.
Based on the above, it is clear to see how telesales still has an important role to play in the marketing mix. Additionally, satisfactory customer service is the primary metric that call centres base their results on.
Telesales as a Service
Telesales has evolved from the days of cold calling and all of the negative associations related to the practice, such as hard-selling. Rather than thinking of the call as a sales pitch, the concept is now one based on the power of a good conversation. In the digital media age, where communication is taking place through messages, this can be highly beneficial for your business. In a call, you are able to speak directly to your customer and within one action (the phone call), suggest and secure a call to action.
What can a Call Centre do for you?
Well, they can conduct your telesales for you, telesales which result in lead generation. They will work on a database to qualify prospects for you. The database you work with therefore needs to be targeted, updated and continuously built in order to be successful. For a successful telesales strategy, you therefore need a steady stream of leads. A call centre can manage this process for you, freeing up your sales team to assist customers in closing sales.
Telesales call centres specialise in lead generation. They provide your business with trained agents who are able to pre-qualifying potential customers. They will reach out with a brief and targeted message in a conversational style in order to engage the person they're speaking to.
It comprises a dedicated team of agents or representatives who are skilled thanks to a trainer, all of which work under the direction of a manager and contribute to the work assessed by an analyst to measure the results. Collectively, this outsourced team's goal is to communicate with your database via email, phone or message. This includes live chat, if that is available on your website, presenting your customers with a sought after omnichannel experience.
Call Centre Telesales Processes
Initiate interest: Cold calling or providing your business with leads that match your target audience
Stimulate interest: Contacting leads and engaging with them in order to secure their interest
Connect: Building connections with your customers that translate into sales and loyalty
Incentivise: This relates to 'bait' for specific call to action requests, such as the ability to schedule appointments
Metrics: Real time data from the communication can be analysed based on information received or success rates, leading to changes that will improve your results
What are the Benefits of Call Centres?
Lists: Call centres will verify and either engage or re-engage with people on your behalf. They can increase your database and increase your customers
Training: The agents are trained to build rapport with customers and to help move towards sales in a strategic manner
Information gathering: Data based on the phone calls can inform and improve your business operations
Budget: By working with a call centre, you will pay a specified fee, without having to worry about the time or budget needed for personnel, equipment, work stations, software, management and training
Expertise: Their expertise will be used with your business needs to develop custom scripts, giving you the greatest possible chance at success in telesales
Track record: Call centres often base their fee on their conversion rates which they share with you.
All of the above is geared at improved relationships with potential customers which will therefore increase your sales and revenue.
Generating Leads Through Conversation
Telemarketing can produce insightful responses through their direct link to your customers at various stages of the sales funnel. While telesales is aimed at those entering the funnel, the leads you speak to have already been identified as potential customers who are likely to convert. In order for this to be the case, the leads you secure need to be of high quality as you secure the interest and contact details of potential customers.
If you're wondering how to generate these leads, you can do so by creating lead magnets to share via other digital marketing tools. These include: eBook's, whitepapers, reports, animated videos, case studies, gated content, contests, offers and webinars.
Why Call Centre Telesales Generate Leads
Well, it's human. It's a voice for your business that is both direct and proactive. This can improve your rates of efficiency and improve the customer experience. From this, you can also generate valuable information that is measurable and due to the flexible nature of telesales, you can adjust your strategy accordingly. Call centres are well equipped to assist and secure leads, providing your business with valuable support. Working with a reputable call centre will ensure that security of data is guaranteed, as are compliance regulations. In addition, the customer profiles you create can often be improved thanks to the artificial intelligence available with the latest in technology software used by these call centres.
Ready For Your Business To Take Off?
For targeted and verified data of decision makers to support your existing sales team, you can count on Pipeline. They are lead generation specialists who are BANTC qualified in accordance with the international standard.
For more information contact us or our partners at Pipeline, register for a free 1 hour sales strategy consultationG