Online marketing is the practice of promoting the products and/or services of a business through online or digital channels that rely on internet connectivity. It forms part of digital marketing, which encompasses all marketing communicated on devices. This is inclusive of offline marketing (think radio or television marketing). With the internet being a critical part of today's society, digital marketing can propel a business towards success and outperform traditional marketing efforts.
What you need to know
Online marketing provides the opportunity to reach and interact with customers, from prospecting to leads and customers. In essence, the goal is to increase brand awareness and to generate leads. It is helpful to think of these online channels as an additional (or primary, depending on the business) means of access to your business for the customer.
Many of the purchasing decisions made today begin with an online search. Various online sources have information and reviews which potential customers take to heart, so your business's online presence is key. There are various channels which you can use to update people on your business ventures, as well as ways to optimise your content for optimal effectiveness.
One of the most valuable aspects of online marketing is in the data. There are various analytical tools available which can assist you in finding relevant opportunities and patterns when it comes to your operations and your audiences. Furthermore, you can easily measure the ROI (return on investment) of your marketing efforts.
Types of online marketing
Online marketing encapsulates all three of these kinds of media, creating a comprehensive strategy:
Owned: This refers to what your business owns and has complete control over, including a website and social media accounts.
Paid: All forms of paid advertising online. This includes internet and social media marketing, as well as paid content and influencers.
Earned: This is organic content created by users who have engaged with your business. This includes reviews, reposts, mentions and shares.
How to get started with online marketing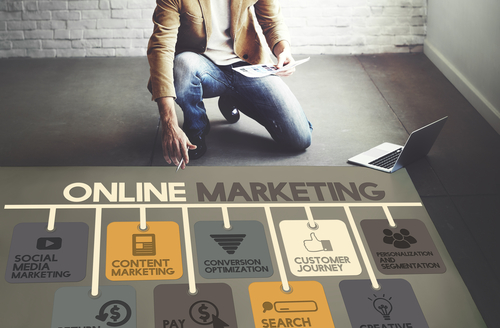 When starting out with online marketing, rather than trying to do everything, select a few mediums and then build on that from there. For instance, if your business is new, understand that earned media will take time and effort to generate. Focus on what you can do, and do it well. Here are some of the need-to-know buzzwords and ways to get started:
Email Marketing: Ensure that you have a visible email sign-up on your website. Prepare newsletters to email to your database in which you communicate relevant information with them on a regular basis.
Social Media Marketing: Find the social media platforms that fit your brand in terms of the kind of content you need to share and the audience you're targeting. Plan campaigns to share and promote, targeting people specifically. There are various ways to do this, whether you simply promote lifestyle images to create desire and interest in your business, or run contests to increase your followers.
Search Engine Marketing (SEM): Paid search advertising refers to the ads that pop up when someone is searching the internet using a search engine such as Google. These are designed to catch the eye of the searcher due to their prominent placement within a search engine results page in addition to the content which is pulled up alongside it. Without getting too technical, this is where terms like 'pay per click' come into play.
Search Engine Optimisation (SEO): This is a means of optimising the content on your website by following certain structural and content-based requirements. High-value content is often ranked higher on a search engine results page, especially if the competition for that particular search term or phrase is not strong. High-ranking content is a driver of traffic to your website.
Content Marketing: With content being king, a business needs to create and share content that is of value. It is essentially what you create to share via your owned media, so it is crucial that your business's presence and output is of high quality.
Top 5 online marketing tips:
Be consistent with your posting when it comes to both value and timing. Do not bombard people with subpar content; focus on developing a schedule and reputation of producing high quality content that enhances your brand's reputation and credibility.
Develop a relationship with your audience where possible. There are various avenues, from forums to social media. Rather than simply building your presence online, ensure that you communicate and connect with your audience in order to build loyalty.
Focus on building your mailing list. Email marketing provides a direct link to interested customers and creates a valuable asset for your business. Email marketing also provides a great source of traffic to your respective websites/channels.
Consider the customer's journey. From the first online search to the engagement with your brand online and the potential of that experience being shared, online marketing provides you with the opportunity to enhance the customer journey and influence decisions at key stages.
Investigate the online marketing efforts of your competitors. This can be helpful in determining where the industry is, what is working and what is lacking. Identifying new opportunities based on competitor research can be a highly-effective strategy.
To summarise, online marketing is an essential marketing function for businesses in the modern arena. Due to the vast online marketing options available, it requires strategy, skill and patience in order to find the right formula for your business, though this should not intimidate you. The opportunities are endless and with commitment and perseverance can take your business to the next level.
Looking to get started with online marketing? Nexa can assist your business in achieving all your online marketing needs. Book your meeting with us and let's get started.