Private schools across the world have faced unprecedented challenges due to the COVID-19 pandemic and the need to protect children and their families during this difficult time. With schools forced to provide eLearning for their students coupled with challenging economies, many parents have reassessed their positions when it comes to schooling.
A consequence of this has been an increase in the number of homeschooling children with many parents opting to use alternative education strategies for their children. While this clearly presents challenges for private schools, the reality is that schools still need to aggressively market their offering, finding new ways to engage parents in order to highlight their unique selling points and to attract future students into their schools.
In this article, we discuss the role of lead generation as a part of the student enrollment process and how leads should be managed using an education-sector-friendly CRM system.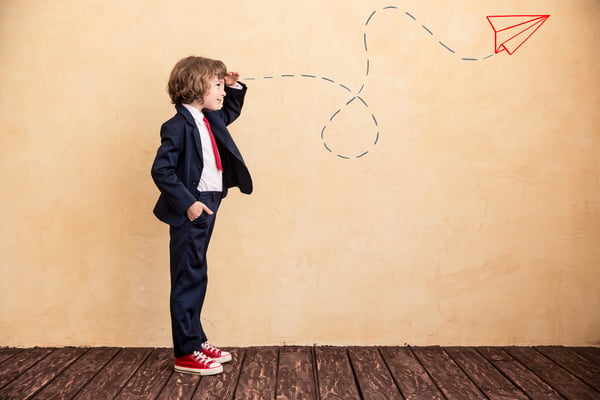 Where to Begin With Digital Marketing for Schools
Private schools use digital marketing as a means of identifying families with school-age children, attracting them, and then managing them through the different stages of enrollment. This process is ongoing and ideally takes learners from their early academic careers, right until they are ready for the real world. Once parents find a school for their children, it is likely to be a long-term decision. Private schooling, in particular, is considered an investment - one which parents would like to see a return on, ultimately setting their children up for successful futures.
With that context in mind, schools can begin by putting a marketing plan in place. Here are the 6 steps to doing so, as applicable to the school context:
Goal setting: Educational institutions are familiar with the SMART goal setting technique (specific, measurable, attainable, relevant, time-based). Strategy requires planning on the part of the marketer, with measurable KPIs. It will act as the guiding principle for all of the marketing activities and efforts. When it comes to private schools, enrollments are often noted as being the top priority.


Analysis: In order to be successful with your marketing strategy, research and analysis need to be conducted. This includes a SWOT analysis to assess where the school is at. It will assist in troubleshooting threats, improving your weaknesses, utilizing your strengths, and making the most of opportunities. Additionally, conducting competitive research is essential to see where the school fits in the market and what its value proposition is. Finally, in-depth research of the market audiences will be fundamental. This is because the marketing team will need a precise understanding of them in order to meet their needs satisfactorily.


Value proposition: Following on from the above concerning the school's value proposition, that is something which needs to be developed per the audience's expectations. In short, the marketing efforts will communicate the unique value of the school with audiences. In today's market, especially when it comes to investing in education, having a solidified brand is crucial as it is what audiences will connect with and come to trust.


The strategy: Marketers will formulate a strategy based on insights gained from the research conducted, including the specific channels to incorporate and the messaging to be shared. CRM can be of great help to marketers at this stage - we will expand on this more below, but in essence, the focus is on CRM and lead generation.

Delivery: Naturally, the steps to digital marketing include the actual posting and publishing of the marketing messages. The delivery and distribution of these messages need to be done seamlessly in order to be efficient and meet the goals effectively.

Tracking: Tracking is the final step in the process and an important one at that. Measuring the results will assist in future marketing efforts and ensure that the marketing team is meeting the needs of both the audiences and the school board.
CRM for Private Schools
A CRM, or customer relationship management, is a platform that assists the marketing team. It helps gather information and streamline the processes behind the scenes, to improve the experiences had by customers. By utilizing CRM software, marketers can build database lists and record the interactions that people have on the school's website and with school representatives, storing this data in an easily accessible way that helps provide clarity to school administrators who need to understand the student enrollment funnel in order to gauge if the school is on track with its enrollment targets.
In addition to this, one of the most significant functions of CRM is the ability to automate processes. It essentially helps to consolidate otherwise disjointed and admin-heavy processes. For instance, it can identify and group the contacts into specific segments. The marketers can determine what these segments are, but it can be something as simple as elementary school learners and high school students. These segments allow marketers to develop specific messages to share with each audience. These platforms can help in customizing the look and content of the emails, ensuring they are engaging, as part of content marketing. Email marketing is one of the best methods of marketing for schools and should be in the marketer's bag of tricks for 2021.
As far as CRM systems go, we recommend HubSpot. They have vast experience in educational marketing, making admissions, leadership, and admin easy for the school to do. We at Nexa are Diamond tier partners with HubSpot. We would be happy to assist your school in getting started on this highly intuitive platform which also offers consultants, implementation, and training where needed.
In a nutshell, HubSpot explains their service as: "Clever CRM that can be customised to meet your needs, social media management tools, calendar integrations, intelligent marketing communications automation and impressive reporting capabilities … Save valuable time by managing everything in one place. Nurture enquiries from the first website interaction through to open day visits and enrolment. Manage overseas agent relationships and collaborate across teams to ensure a consistent approach to all things admissions."
Key Features of the HubSpot CRM for Private Schools
Like all CRMs, Hubspot's version provides multiple ways of tracking enrollment processes and engaging with families and students. Below is a list of the key features that every school needs:
Tracking of all leads through the student enrollment funnel
Customized deal stages for each school to map into internal processes
Tracking of all website visits by parents at an individual level. This helps you to understand how serious each parent is about the school as an option for their child.
Tracking of specific web pages. For example, a parent that keeps visiting the School Fees page is perhaps more interested than a parent who has only visited the school's website home page.
Hosting of content such as brochures and videos - all of which can be tracked
Sending of automated emails to parents timed to specific triggers. For example, a parent visits the School Fees page and within 10 minutes receives an email with more information related to fees or scholarship opportunities.
Publishing on social media platforms such as Facebook and Instagram
Full reporting of each digital marketing and sales activity
The diagram below shows how the CRM works and integrates with the mindset of parents going through the school enrollment process: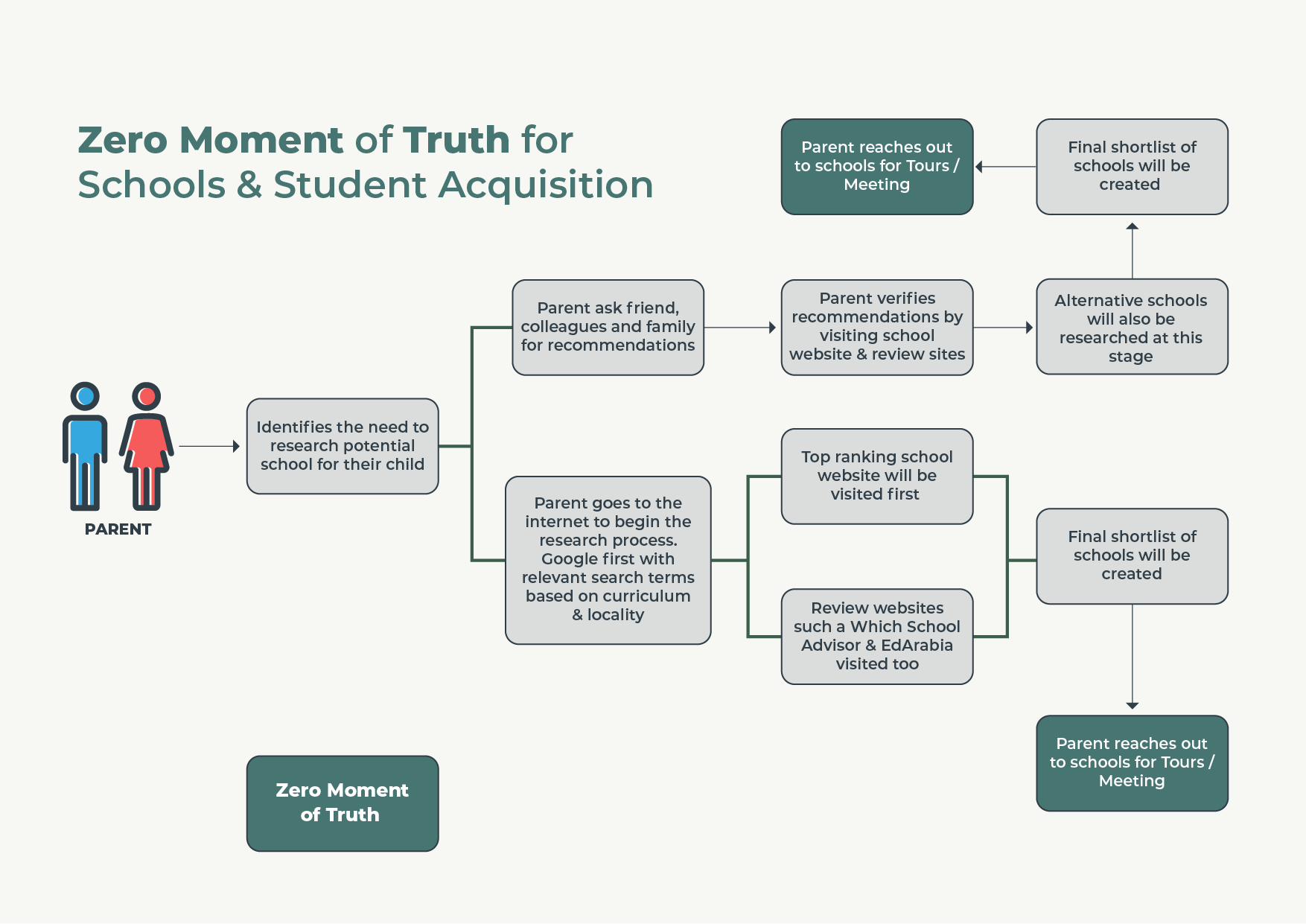 Lead Generation for Private Schools in 2022
Digital promotion and communication is the crux of online marketing. Based on the performance of these activities, marketers can measure the ROI in order to justify the resources required to market a private school. As we mentioned above, this requires a well-established value proposition and brand. By having this to begin with, and measurable goals, the team can be successful in both generating and nurturing leads in 2022.
Here's the 4 Step Strategy:
1. Attracting Potential Leads
Through digital marketing, the school's visibility will be increased, which then provides opportunities to take that brand awareness one step further with networking. Networking and building connections that are personal and authentic can make the difference between an enrollment or not, as this demonstrates to audiences what the values of the school are. In order to do this, marketers will need to incorporate 4 marketing techniques, namely:
Social media:

Social media should be part of the digital marketing mix, as it can build an online community that connects and resonates with audiences. The posts and campaigns can be designed to interact with people and can also include lead-generating forms.


Search engine marketing:

Advertisements are important to include in the digital marketing strategy, with several options available to suit wide-ranging budgets. Target the school's audience accurately and accurately for the best results, with paid ads such as PPC campaigns being of particular importance in 2021. It will help in generating leads, as does SEO.


Search engine optimization:

Having a well-designed, functional, and responsive website is crucial for the success of a school's digital marketing. It also needs to include SEO best practices for optimal success, which will also improve the organic reach and rankings on search engines. Include all relevant information and share updates consistently with a well-run and edited blog.


Content marketing:

Content marketing can provide a school with long-term marketing results, as content is what search engines are looking for. In 2021, one of the most engaging forms of content is video marketing, which can effectively communicate the school's message and the school's culture for both parents and scholars. Another key form of content marketing is that of email marketing, re: as mentioned above. It will assist in both attracting and converting leads for the school.
2. Converting Leads
The process of converting leads will take various forms, based on the needs and preferences of each person interacting with the site. What marketers need to do is to meet all of the possible needs with lead magnets. Schools can do this by sharing valuable education-related content, for instance. The website's landing pages will need to be up to par, and the marketing team will need to create content that is engaging and compelling. Schools can benefits from several types of media, from videos to podcasts, events, eBooks, and interactive quizzes to name but a few. Rember, this content should meet more specific needs than the content in the previous step, aimed at attracting audiences.
3.
Engaging and Nurturing Leads

Once someone has shared their contact information with the school, they have the opportunity and responsibility of protecting that data and providing them with the value they expect to receive. It means the marketing team will need to share more in-depth content with them, to ensure that the school is interacting with them consistently and being responsive. This step is all about investing in the building of relationships, with both the students and parents alike. With the ability to reach audiences in several ways, digital marketing can facilitate this process, especially when equipped with a high-performing CRM system.

4.
Closing the Deal for Leads
Having clear calls to action provide audiences with ease and simplicity to follow-throughs. Make the interactions with the school as straightforward as possible, encouraging the next steps, such as setting up appointments and tours or reaching out regarding application processes. After all, generating leads without the ability to convert them will not result in successful enrollment figures.
To Wrap Things Up
As with any business heading into 2022, schools need to get their digital marketing in order. It is the best way to find future pupils and increase enrollment numbers. The three key takeaways from this article are:
Implement a marketing strategy that follows steps from goal setting to tracking the results.

Take advantage of CRM platforms that can assist and improve marketing efforts.

Lead generation is the focal area in school marketing for 2022, from concept to delivery.
Need help getting started with digital marketing for your private school?
Work with us at Nexa, Dubai's top lead generation agency and the region's only Diamond tier HubSpot partner for the best in CRM services. We've also won numerous awards for our work in the education sector. Here's an example of an award-winning campaign that was run for the Arbor School, Dubai, UAE using HubSpot.