Marketing real estate to High Network Individuals (also referred to as HNWIs) and wealthy investors requires a unique approach. This target audience is a different ballgame as they are highly skilled, digitally savvy and spend a lot of time online. This group of individuals is also incredibly selective when it comes to the brands they engage with and are careful when giving out their contact information via lead generation campaigns.
Luxury real estate is a growing niche and is aimed toward an uncertain market. Therefore, in order for your luxury real estate sales to soar, you need to create a diversified and highly targeted marketing strategy. It is also vital you leverage this strategy off data and digital tracking, allowing you to refine your strategy and increase your conversions.
Below, we take you through some actionable steps to help you generate leads and make more sales for your real estate development.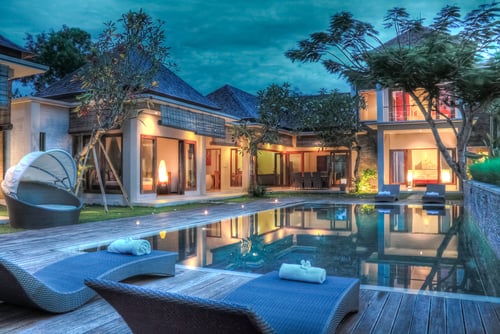 Tips for Reaching Wealthy Investors for Real Estate Developments
Below, we take a look at 5 valuable tactics you should consider when creating your marketing and sales strategy for luxury real estate developments.
1. Search Engine Optimization
Search Engine Optimization (SEO) is the process of improving your website visibility in the search engine results for search terms specific to your business or industry - in this case terms related to luxury real estate developments. By ensuring your website ranks high in the search engine results, your development will be seen by high quality prospects who are actively searching for your offering. SEO is vital for high luxury real estate as 98% of HNWIs use the internet daily, and spend upwards of 3 hours of their personal time online. This means that you need to put the right tools in place to be present and easily found online.
SEO is made up of a variety of factors including keywords, key phrases and high quality website content. Your team should target keywords that describe your luxury property and insert these words into your website copy. ("Luxury Property," "Exclusive Real Estate," and even "Expensive Real Estate" are words that you may consider based on SEO research.) By using niche keywords and key phrases within your website copy, you are more likely going to attract your niche audience.
Creating multilingual web pages is another element to consider for your luxury real estate marketing and SEO. HNWIs, especially those investing in luxury real estate, are based around the world and this needs to be considered when it comes to language and targeting.
However, it is important that you do not use "keyword stuffing" within your copy and make sure your website content offers value and insight for the viewer while being optimised for the search engines at the same time.
2. High Quality Content Marketing
Above, we touched on the importance of content that offers value and insight for the viewer. The creation of quality website content, blogs and related digital content help attract the right audience to your website, engages them and directs them toward taking a specific action. Your high-end real estate content should offer industry, business and investor insight that benefits the reader and builds trust.
It is also important to have a variety of content on your website that speaks to the user at every stage of the buyer's journey, guiding them to take specific actions. For example: providing industry related e-books that are designed to help potential property investors in the consideration stage - this is known as a "lead magnet." This means that if a prospect is interested in your eBook, they will have to provide their contact information through a lead form in order to download it. This gives you the opportunity to store their data, track their engagement with your brand and nurture leads through email marketing and remarketing campaigns.
3. Social Media Marketing
As stated previously, HNWIs are guarded when it comes to giving out their personal information, however there are ways to break through this wall and social media is a great starting point. Social media offers you the opportunity to engage with and communicate directly with your target audience - and offers a place to build brand awareness, relationships and trust. When it comes to marketing your real estate and gaining leads for sales, you need to attract your audience through exclusive content, influencer marketing, and eye-catching images as opposed to run of the mill "sell, sell, sell" social media marketing. When it comes to developing a social media strategy, focus on aspirational content and take advantage of influencers who are well-respected in the HNWI space. Essentially, you need to assure your audience "bragging rights" when they are associated with your luxury development.
90% of HNWIs are present on social media platforms and it is important you find out where they are most active. If you are targeting investors and businesses, LinkedIn is a great place of Account Based Marketing and personal interactions. It also offers a place to share industry specific content that establishes you as a property leader which builds trust with your audience.
Luxuriously stylised imagery is also important when it comes to collecting high quality leads for luxury real estate sales. By sharing stunning photographs of your property, and working with influencers through platforms such as Instagram, you are able to draw the eye of your prospects and build awareness - directing them to take specific actions and learn more about your property and offerings.
Social media platforms such as Facebook, Instagram and LinkedIn also offer highly targeted lead generation campaigns that encourage your target audience to take a specific action - be it directing them to a landing page designed to collect their information, or your website for more information about your offering. Social media retargeting campaigns are also vital because as we know, most HNWI are reluctant to give out their personal information which makes the above tactic somewhat difficult to implement successfully. By investing in retargeted ads (that is, ads that reach users who have previously interacted with or engaged with your brand through social media) you are providing awareness messaging to high-quality buyers without directly asking them data. This tactic subtly builds brand awareness and nurtures leads and has the power to segment audiences and increases the click-through rates to your real estate development website.
4. Audience Segmentation
When it comes to luxury marketing and selling, personalization is key. No two HNWIs are the same and through Customer Relationship Management (CRM) software, you are able to use your marketing and sales time wisely. A CRM such as HubSpot is able to provide customer segmentation which is a strategy that allows your team to divide your lead database into smaller groups that share similar characteristics (i.e.: what they are looking for and where they are in the customer journey) and streamlines the marketing process to suit specific lead needs.
It is important to note that customer segmentation is not simply based on demographics -setting up your lists based on interests, lifestyle, and of course, what stage they are at within the buyer's journey (awareness, consideration, or decision making stages) is equally important. Once you understand where your lead lies within the journey, and what elements of your property will interest them, you are able to design personalized and automated email marketing around your potential investors interests, to help guide them through the buying process.
5. Lead Scoring
Lead generation is the lifeblood of any business and it is important your sales team doesn't waste time on low-quality leads. But how can you make sure you are working with only the highest quality sales-ready leads? This is where lead scoring comes into play.
Lead scoring is a sales and marketing tactic used to rank prospects against a scale that represents their perceived value to a business - in this case, are they likely to invest in your development based on demographics, buyer persona, behavior and lifestyle? Essentially, a lead score determines if a lead is sales ready or of high-value.
Through lead magnets, website tracking and social media initiatives you are able to capture lead information and score leads in order of importance - tracking them as they move from the awareness stage through to the sales-ready stage. Lead scoring allows your real estate sales team the opportunity to spend their time engaging with qualified leads - saving them unnecessary hassle and increasing development sales and investments. By putting systems in place to ensure your sales team are only pursuing qualified leads, you increase sales productivity and guarantee a better return for your business.
Lead scoring technology can be done through a Customer Relationship Management system such as HubSpot. This technology has the power to assign a numerical value to each of your leads - helping your marketing and sales team track their engagement with your brand and create campaigns to suit where each lead is within the buying cycle.
In Conclusion
Reaching wealthy investors for your real estate development doesn't have to be a daunting task. With the right digital marketing strategy, marketing methodologies and technologies in place, you will be armed with the right information and data to help you reach your audience, identify high-quality leads and make more sales.
With years of experience in the real estate industry, Nexa is here to help real estate professionals reach their target audience online, generate quality leads and convert those leads into customers.
Our experience in Real Estate marketing stems from our work with CBRE, JLL, Savills, Sotheby's, DAMAC Properties and countless other agencies and real estate developers. Contact Nexa for all your real estate marketing needs today.