For many developers across the globe, the use of digital marketing to target real estate investors in the GCC region is a key driver for real estate sales success. After all, the region boasts a high-level of wealth spread amongst its native population. For real estate developers that are looking to reach wealthy investors in the UAE, Saudi Arabia, Qatar and Kuwait, then digital marketing and digital transformation technology will fast-track your efforts and help you build a quality lead database in this region.
With the digital age in full swing, potential investors from all over the world are now able to search for real estate opportunities online and make the choice as to whether or not they want to investigate an opportunity further. This is why digital marketing is fundamental, from social media and content marketing to lead generation and lead nurturing. All of these digital and inbound marketing tactics need to be used in order to reach wealthy investors in the GCC.
However, in order to do this successfully it is important that your marketing team understands the online behaviour of your target market within the region.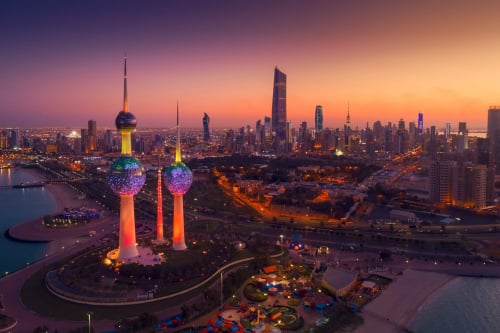 Targeting GCC Real Estate Investors Online
According to the 2021 Knight Frank's Wealth Report, real estate is one of the 3 driving factors in investment for the wealthy in the Middle East. The report states that private capital has been undeterred by the pandemic and wealthy business people from the Middle East continue to invest in real estate around the world. This is great news for the real estate industry but a challenging task for real estate marketing professionals.
Creating a visible digital presence and powerful social media marketing strategy is vital for the real estate industry in general. However, when it comes to marketing for the wealthy GCC market, marketers need to learn about their audience, tailor campaigns to suit different regions and create content for a diverse audience. Essentially, when it comes to reaching wealthy investors in the GCC, marketers need to research language, terminology, relevant topics, social platforms and regional differences in order to be successful.
Consumer preference and online behaviour varies significantly across the Middle East as online conversations differ between UAE, Saudi Arabia, Qatar and Kuwait. In order to understand the target audience, you can use digital marketing tactics and tools to accurately measure and track the difference in each region's online behaviour. This is where Customer Relationship Management (CRM) tools become useful.
Customer Relationship Management (CRM) for Real Estate Sales in the GCC
Digital marketing is about reaching your target audience through online platforms and tactics, from search engine marketing to blog content and social media. However, all of your efforts will be for naught if you do not have analytics, metrics and tracking systems in place to examine your audience and campaign success. By having analytical and measuring tools in place, you are able to learn about how your audience engages with your campaigns in each region which allows you room to identify new opportunities and amend existing tactics.
So, how do you measure your digital marketing efforts? Customer Relationship Management (CRM) systems help you through this process. Not only do these transformative software systems help you measure and track your campaigns, they offer you a single location to create and implement all your digital marketing efforts. The HubSpot CRM is a great example of this as it offers a single place for all your digital marketing efforts, lead data collection, analytics, automation, lead scoring and audience segmentation.
This is the kind of software that is necessary when it comes to targeting a wealthy audience in the UAE, Saudi Arabia, Qatar and Kuwait. You see, by using this tool you are able to provide your creative team with a data-driven foundation which results in a profitable strategy. This is because the statistics provided by the platform give you all the insight you need to target such a niche (yet diverse) audience.
Also check out this dedicated Real Estate service offering based around the HubSpot platform.
Now that we understand the importance of analytics and measurement, let's take a look at the digital marketing tactics you should consider when targeting real estate investors from the GCC.
3 Digital Marketing Tips To Target Real Estate Investors In The GCC
1. Website Creation
When creating a website for a GCC audience it is important to implement powerful Search Engine Optimization and make sure your site is made up of only the most informative, helpful and relevant content. Your SEO efforts also need to be localized for specific areas and need to use language and tone specific to the region. Language is important as you are targeting a niche and diverse audience. Focus your efforts on creating both an English and Arabic website as this will ensure you don't miss out on any opportunity in the region.
All of the above can be done through a CRM such as HubSpot. Through the software your marketing and sales teams will be able to publish content and implement SEO across your website while tracking website visitors, generating lead data, and analysing your target audience in detail.
2. Content Creation and Lead Generation
Arabic is the primary language spoken in the Middle East, and as mentioned above, it is important to include Arabic in your digital marketing content strategy. Language aside, your real estate marketing team should create content that speaks to an audience in a tone they are familiar with, recognize and appreciate. Your content also needs to be insightful and informative in order to drive a potential investor through the buying process.
By creating thought-leader content you will show your audience that you understand their reservations when it comes to investing in property and are able to solve any issues they may have. This builds trust and deepens relationships, but this is not all your content should accomplish.
You need to create content that is designed to generate lead data, and in order to do this, you need to consider creating lead magnets. A lead magnet is a digital marketing phrase used to describe a free service or offering that is given away via a landing page or website, for the purpose of gathering contact information from potential leads.
For example: Your real estate website may offer a free e-book that outlines the process of property investment. Your target audience benefits from this content, and they will take the necessary steps to get this content. In order to receive the content they will need to fill out a "lead form" in which they supply you with their contact details that can be used for lead nurturing email campaigns.
Lead magnets and lead forms can be created using HubSpot, and the platform will store your lead data in a single location. The software will also segment and priorotize your leads which optimises marketing and sales processes and improves the bottom line.
3. Social Media and Influencer Marketing
You will need to attract your wealthy GCC audience through aspirational brand content and influencer marketing. In fact, according to a recent survey, 94% of marketers in the UAE believe that social media influencers play a large role in the success of brands. Research from YouGov Omnibus and BPG Cohn & Wolf states that 49% of brands in the Middle East are currently working with influencers, and for brands still looking to operate in the region, one key consideration to make is ensuring that you work with the right influencers to bring your brand message across to local audiences. For example: if you are looking for investors in the luxury living space, you need to work with influencers that these individuals follow and associate with.
While you work with influencers in the social media space, you also need to share informative content across your social platforms. From LinkedIn to Facebook, you need to provide your target audience with content that informs and interests them - this all links back to creating quality content and lead magnets for lead generation.
It is important to note that a CRM like HubSpot integrates with all social platforms and allows your marketing team to create and launch campaigns in a single place - across multiple social platforms. The platform also provides measuring tools to ensure your social media efforts are optimised to their potential.
In Conclusion
To ensure every part of your digital marketing strategy is working (especially when trying to reach such a targeted audience), you need to invest in a powerful system that is able to capture, analyze and measure every potential lead and marketing campaign. And the HubSpot CRM is the ideal platform for this.
As a Diamond-tiered HubSpot Partner Agency with vast experience in Real Estate, we are here to help, from CRMs to digital marketing that converts leads into customers. Our experience in Real Estate marketing stems from our work with CBRE, JLL, Savills, Sotheby's, DAMAC Properties and countless other agencies and real estate developers.
Contact Nexa for all your real estate marketing needs today.