Social media offers hotels the opportunity to share lust-worthy lifestyle content that extends and enhances the guest experience. Here's how to reap the maximum rewards, from decisions regarding platforms to developing a strategy and conceptualising your content.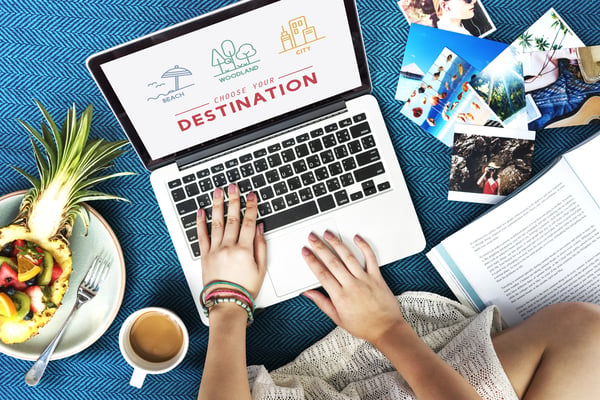 Top 3 Social Media Platforms for Hotels
While there are several social media platforms to choose from, there are 3 which work particularly well for hotels. These will all create a sense of wanderlust among viewers, enticing people to experience what they see first hand:
Instagram: This visual platform is best suited to lifestyle content, which hospitality fits into so well. Since it is all about the aesthetics, the visuals in both photo and video form appeal to the targeted audiences and showcase the details of the hotel. Helpful features include advertising, geo tags, IGTV for longer video content and the ability to market through increasingly popular Stories. Following on the latest trends, many people shortlist hotels for an upcoming trip, then visit their Instagram profiles and make the decision of where to stay based on what they see. Tags and hashtags are used to locate and identify hotels. The content that is organically featured about the place is taken into consideration - i.e it's the user generated content that is just as, if not more, influential than your own polished content. This is the process that younger audiences often take, though it is worth keeping in mind that a picture says a thousand words compared to the traditional consideration phase of purely textual reviews on other booking sites.
Facebook: Facebook remains an authority in the social media sphere, with useful features for hotels. These include targeted advertising, the ability to feature reviews, respond to enquiries, share events and promotions, join relevant Groups, post live content and perhaps best of all, the 'book now' feature, which takes the user directly to the booking platform.
YouTube: YouTube is the world's second largest search engine. It is wise to utilise this platform as a means to showcase professionally shot and edited video content. Provide tours of different parts of the hotel, showcasing what the holiday experience is like, for example, or what kind of features there are available for conferences.
Hotel Content Online
Social media plays an influential role in decision making and that is especially true when it comes to vacationing. People will value the experience as the number one reason to choose a hotel, so your social media content needs to be reflective of that. Your hotel's content needs to share unique insights and snippets that both inspires and delights audiences. It is also crucial for you to take the feedback received to heart.
Perhaps the most important content for a hotel to share is User Generated Content. This bodes well with the users and inspired viewers to imagine their own experiences based on these authentic experiences of others. The goal is for guests to become fans and ambassadors of your hotel as this will leverage reviews for you. In short, ensure your content shares insider stories.
In line with the trend of personalised interactions, your content should have a personal touch - speak directly to your audience and ensure that your brand's voice is distinct. A great way to demonstrate this is through creativity - rather than simply share visuals, your hotel should strive to do so with a unique perspective and engaging storytelling techniques.
A method for success in your area is for your hotel to become locally entrenched. Use your platforms to share local events and make recommendations for your guests, as this will work in your favour within the community and with your guests as you're extending more valuable and inspiring content with them.
Social Media Strategy for Hotels
When assessing the strategy you put in place, the driving force needs to be based on creating and nurturing interactions. Though this has intangible aspects to it, it will be the most important KPI for you to keep in mind. At its core, your role is to understand your audience enough to know what they value and then to ensure that you deliver it to them. Strive to achieve this through building connections, inspiring brand advocates and driving a satisfactory experience.
Successful strategies are those which are tailored to the hotel and require a level of consistency and quality for the hotel to uphold. To build a strong brand, one should have specific hashtags for their hotel. Include this with a mix of other relevant hashtags as this will aid users in discovering your brand and finding relevant associations with it.
As we've noted, the most important concept is about the guest experience. When showcasing this, ensure that your online presence matches the quality of your hotel, that your values are clearly defined and displayed and that you appeal to the instantanity of social media. This combination will lead to engagement and interactions from your audience.
The kind of content you share should be thematic and rooted with purpose. Audiences will be appreciative of the efforts put into the posts and will feel as though their time is valued. This will likely generate reciprocation through conversations and this is key to building valuable interactions. All of your posts will be rooted in helping users reach a call to action. Social media is where people will not only find your hotel, but also book and recommend it.
Hotels have faced tough challenges within the hospitality industry thanks to the explosion of AirBnb. This needs to be factored into the social media strategy as a means of content inspiration. Hotels can communicate the benefits of staying at a hotel rather than a stranger's home.
In conclusion, it is evident that when it comes to showcasing hospitality online, the guest experience is key. Armed with the best platforms, content plans and strategy, your hotel can reach more audiences and engage with your community in meaningful ways that result in increased visits - and raving reviews!
Looking for an agency to handle all of the above for you? Get in touch with us at Nexa.