Influencers. Either you love them or you loathe them - or you want to be them. At the end of the day, no matter your thoughts, marketers need them. An influencer is an individual who has the ability to affect or "influence" the purchasing decisions of others due to their popularity, knowledge, authority and audience. And with the rise of social media apps like TikTok and Instagram, influencers are making their way into popular culture and taking over the celebrity culture of years past. What makes influencers so powerful (more so than the celebrities that lined glossy papers but never actively connected with fans) is their ability to actively engage with their audience and this familiarity is what drives influencer marketing.
This isn't exactly a new phenomenon. Influencer marketing has existed in the era since the 1930s, and can actually be traced back all the way to the gladiators of ancient Rome. However, the word "influencer" as we know it today only entered our modern lexicon recently, and was only added to the dictionary in 2019.
Today, it is almost impossible to scroll through social media without seeing an influencer marketing something. Visit your favorite social influencers page right now and you are sure to see them showing off the latest makeup, clothing, skincare lotions and even cryptocurrency. These posts take many forms, from instagrammable branded images to long YouTube videos, there are always new ways to promote a brand through influencer marketing.
Because the social media influencer space has evolved so rapidly, it is hard to define what a social media influencer is and how one can be identified.
Below we will:
Define today's social media influencers,
Unpack the rise of TikTok influencers,
Take a look at the difference between influencers and content creators, and
Provide influencer marketing tips to better your business in 2021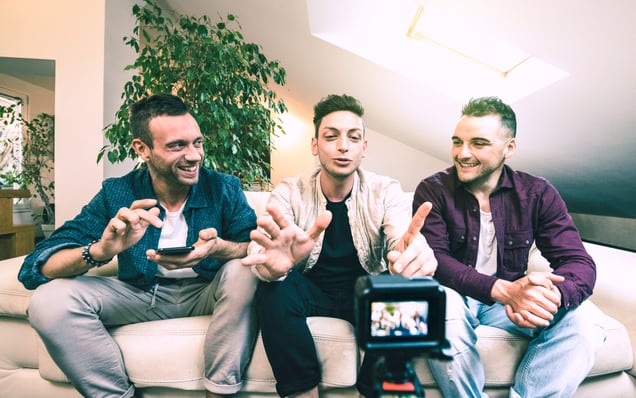 1. Defining Today's Social Media Influencer
Defining influencers is quite simple if you think about it logically. An influencer is simply an individual who has "influence" in a certain area. When it comes to being a social media influencer it comes down to engagement. Think about it like this: if you get one post like, you are influencing one person that is actively engaging with your content. Now, imagine that on a grander scale - and then you have the optimum influencer.
In order to understand the online brand and marketing power that influencers actually yield, let's take a look at how TikTok stars have become the most sought-after social media influencers of 2021.
2. The Rise of the TikTok Influencer in 2021
We know of the Instagram influencer, a person who is usually gorgeous, posts aesthetic images and shares their lifestyle or fashion sense to the world - think The Kardashians. Then there is the YouTube influencer, from the drama-fueled likes of Jake Paul, Tana Mongeau and Trisha Paytas, to makeup gurus Jeffree Star and Nikkie Tutorials through to relatable YouTube stars like PewDiePie, Jenna Marbles and D'Angelo Wallace. All of these individuals hold substantial influence for brands, and when they promote a product, you can be sure their millions of subscribers will be quick to make a purchase. However, one type of social media influencer has taken center stage this year and TikTok stars are gaining greater reach than their social media counterparts.
Data collected from influencer platform Traackr, took a close look at the influencer TikTokers have over their audience. They pulled information and engagement from 50,000 beauty influencers on the app and found that Tiktok has seen a 164% increase in sponsored posts and a 481% increase in engagements. Essentially, this short-form video platform has seen immense growth in the influencer space, with paid-for cosmetic influencer posts down 23%, 10% and 39% for Instagram, YouTube and Facebook respectively.
So, how did TikTok become the influencer hub? You see, as the pandemic hit the world in 2020, millions of people from all over the globe turned to the social media app TikTok for entertainment. And during this time, many TikTokers developed fanbases that go beyond a simple Instagram share or like. Marketers quickly picked up on the fact that at-home consumers are now consuming more content than ever before - and their attention has turned to TikTok. And with this in mind, brands begin to develop strategies for long-term brand building - not short-term sales. And brands are doing this by investing in high-quality video content across bite-size video apps like TikTok and now Instagram Reels. And who better for brands to partner with than individuals with thousands of like-minded followers? Now, influencers are being baked into much broader and long-term brand strategies.
TikTok offers a place for you to source the ultimate influencer for your business, but if most of your target audience are on Facebook or Instagram, you obviously need to find influencers that have a strong presence on those platforms. But when it comes to the latest evolution of social media influencers, TikTok is taking reign.
3. Influencer Terminology: Influencer vs Content Creator
One of the other biggest shifts in the social media influencer landscape is terminology. The word influencer may have made its way into the dictionary in 2019, but some influencers are now calling themselves "content creators."
So, why the sudden shift? This is because influencers are quickly gaining measurable results for brands and their ideas, and their content can help brands flourish. In a sense, they are not merely a voice or face for the brand, they can help in all aspects of marketing creativity.
You see, the influencer hype has soared so much that it has been predicted that brands will spend upwards of $15 billion on "influencer" marketing by 2022. And this is why the term is changing - influencers actually offer measurable value and are now closely associated with monetization through content creation, brand deals and sponsorships. They are no longer just "faces," they are brands themselves and thanks to easy-to-use apps like TikTok or Instagram Reels they have the power to create content themselves. An influencer that creates their own content, thinks of their own ideas and works hard to get a message to the masses is in fact more than an "influencer", rather they are a bonafide content creator.
Essentially, the influencer space is becoming the content creator space and today, they are more than mere celebrities. They are experts in their field as performers, writers, photographers, videographers and editors. And they want to be recognized for the quality of their work - not just their follower count. And this is why brands are trusting them more and more to deliver results.
4. How to Use Social Media Influencer Marketing to Better your Business


So, we have surmised that influencer marketing is no longer about simply paying someone to be the face of your brand and is now about working with creators themselves. These modern-day creators now have the power to contribute to the creative process of your overall marketing efforts through editing video apps like TikTok and Instagram Reels.
With these changes in mind, let's take a look at how you can use this latest influencer evolution to better your business:
Short-form video: We can't stress this enough - video is where it's at! As stated previously, short-form videos have quickly gained popularity thanks to apps like TikTok and Instagram reels, and they are only gaining more traction as the days go by. You see, people want to be entertained and short-term video content is lauded as one of the most "addictive" entertainment sources for today's audience.

Your brand needs to get on top of this trend with creativity and strategy. By working with an influencer in your industry, you are able to create content that does not simply "sell" your product, but intricately weaves it into the viewer's mind.

For example, Subaru created influencer videos to show off their new Impreza. They worked alongside content creator Devin Graham, a YouTube influencer (see, video is key) who has close to 5 million subscribers. Instead of creating a video that shamelessly promoted the vehicle, they published a fun video of the influencer and his friends taking turns on a slip and slide that propelled them off a 500-foot cliff. So, what has this got to do with the car? The campaign was titled #meettheowner and show what kind of individuals are associated with the Subaru brand. The key is emotion and creating a sense of community. It is the emotional aspect of car buying that was focused on - not necessarily the vehicle itself. That is the power of strategic influencer marketing.

In Summary: Today's influencer marketing is about emotion, not "sell sell sell."


Social eCommerce features: Here is another evolution in influencer marketing: social media platforms are now using eCommerce features. Instagram and Facebook are two examples of this evolution. With new purchase features becoming available on these apps, new shopping behaviors are quickly emerging. Influencer marketing and brand sponsorships are now being taken to a brand new level with posts becoming shoppable and videos can provide transitions from simple influencer content to greater eCommerce solutions.
For example:

influencers are able to post images or videos to Instagram and viewers are able to click on a link that takes them to the Instagram eCommerce shop that allows for quick purchases.


In Summary: You are now able to monetize an influencer campaign effortlessly and track the success of the campaign through an online storefront. This offers a great return on investment for brands looking to implement influencer marketing into their marketing strategies.

Authenticity is key: TikTok is a place for all audiences, but Gen Z basically owns the platform and this generation is now becoming the consumer powerhouse with their collective spending being estimated at $100 billion. As the older Gen-Z's begin to enter the workforce, brands need to pay attention to what matters to this generation. And Gen-Z is all about quality, individual expression and authenticity. With this in mind, your brand needs to work with influencers who are viewed as authentic and stand firm on important social issues that apply to this generation.

For example: TikTok and YouTube influencer Trisha Paytas caused immense damage to the skincare brand Glow Skin Enhancement's credibility during a product launch. This significantly impacted support from the brand's Gen-Z target audience who refused to support a business that didn't share in their values.

In Summary: Make sure you partner with influencers who share in your brand values - and do the relevant influence before diving right in.
Key Takeaways:
Short-form video is key
Creating an emotional connection with your audience is vital for campaign success
Take advantage of shoppable content when it comes to influencer marketing
Keep your content authentic and do the relevant research before partnering with an influencer
The Wrap Up
The above outlines the evolution of social media influencers in 2021 and we have provided you with some insights to help you make the best of influencer marketing in 2021. We look forward to watching this marketing tactic grow and evolve further. Watch this space.
Looking to try your hand at influencer marketing to better your business?
We at Nexa can take care of it for you, from putting you in touch with top influencers to managing your social media marketing campaigns. Book a session with us to get started.