Social media marketing is in a constant state of flux, with new trends, platforms and behaviours developing, which require businesses to adjust their strategies accordingly. With the Covid-19 pandemic worldwide, there is a global move towards social distancing in the physical sense, which ultimately requires connections to take place online.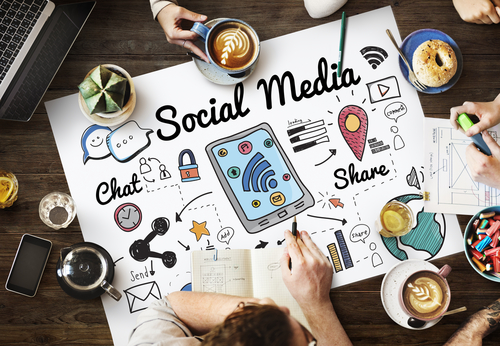 The Top 12 Social Media Tips for 2022
Response Rate: When customers interact with you online, they expect speedy responses to their questions and comments. This requires someone who knows the answers to common questions like the back of their hand, as well as someone who knows the brand voice well and is ready to respond. Show your followers that you are on top of your game by replying within a matter of hours at most - it's all about instantaneity.

Video: Video content has been an ongoing trend in the last couple of years, with no signs of slowing down. Incorporate this into your content plans, both in 'live' video content that you share on Stories, as well as polished and edited high quality video posts. Video content is the key to holding the interest of the viewer and is a great tool to drive engagement from your audience.

Community: Building a community of loyal followers remains a key goal to have, but it is also important for your business to show that it is part of a larger community and is able to add value to it. Get involved in relevant community-based initiatives and find ways to interact with them through specific online groups (for example, Facebook Groups which are on the rise).

Social Listening: This term refers to marketers being highly attuned to their audiences online. More than simply observing people to target them, you are receptive to their behaviours and attitudes, not only in relation to your business, but in relation to the world at large. The aim is to understand their values and speak their language, which ensures that your business is aligned and relevant.

Stories: Content that disappears every 24 hours continues to gain popularity, as audiences want to see what is happening in real time. This content is intensive to create and is not yet supported by social media scheduling apps. However, the engagement is worth the effort and presents a great opportunity to show some creative flair.

Trust: Audiences want to be assured that a business is transparent in their dealings and communicative of that online. Shared values create a loyal following, especially during a time when people are untrusting due to the emergence of fake news. Therefore your social media marketing needs to demonstrate your business's policies in a way that is forthright.

Commerce: Commerce via social media is beginning to take off, though it is restrictive to certain accounts as this is the testing phase of what is already proving to be a successful avenue for sales. Businesses should monitor the opportunities that shoppable posts present and begin to brainstorm ways in which they could incorporate this into their strategy. It feeds into the desire for attaining things at the click of a finger, creating ease for the customer and increased sales for the business.

Influencers: Despite talks of the influencer bubble popping, they are still an important aspect of social media marketing. However, it is important to ensure that the influencers are authentic in the content they share and able to show a return on investment for the business. This is applicable from the famous influencers down to the micro influencers, as it is a natural phenomena to be aspirational and have the desire to belong.

User Generated Content: A great way to show appreciation for your followers is to share their content. There are many content creators in their own right who share high quality and quirky content. By sharing this, you show your support and that resonates with the audience. If people love the business or services they will be inclined to share it and be part of your community, which is a great support to the influencer strategy, without needing a budget to do so.
Artificial Intelligence: Developments in technology continue to soar and with that are two trends: augmented reality and interactivity on social media. Augmented reality assists in creating an in-store experience from home as customers are easily able to 'try' things on using filters, for instance. The interactivity is in the form of quizzes, which people find pleasure in taking part in.

TikTok: The TikTok boom continues to grow and is the next platform for social media marketers. With more than 800 million active users, this is primarily home to Generation Z (aged 16-24). This is where to reach a youthful, creative audience who will become the future generation of buyers.

Messaging Apps: With privacy concerns and some people deciding to take social media detoxes, messaging apps allow for customers to interact with a brand on a more personal level. The direct communication should be personalised where possible and can be automated with chat bots. It is an important additive function as it fosters intimate relations with your customer base.
The vision for the future is very much entrenched in incorporating the latest technology and deepening connections built online. Have you incorporated these marketing trends into your social media strategy?
Book a meeting with us at Nexa - we're ready to help you elevate your social media marketing.