Over a year has passed since the WHO declared Covid-19 a worldwide pandemic. The world has lived through lockdowns, continues to function with social distancing rules and has had to adapt to a new world. With this, many individuals have had to adjust to a remote working environment and as much as we retreated into a world social distance, we were brought together via the world wide web.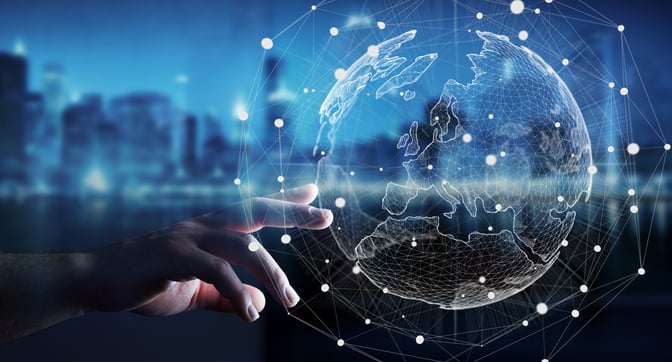 Today, the work environment has shifted and businesses have turned global, being able to employ individuals and align with companies from around the world. Companies are aligning themselves with other like-minded businesses from across the world to achieve a global reach - one that has never been seen before.
But, how do these global organizations work together? The new-normal has also introduced businesses to digital transformative technology such as online communication tools and Customer Relationship Management software that are designed to align departments and house data in a centralised location. This kind of technology makes for seamless communication and organisation as we head into a more globally connected business world.
With the above in mind, it is no wonder that Customer Relationship Management powerhouse Hubspot is making waves with its global agencies and globally connected experts.
Before we dive into the best global HubSpot agencies, let's take a look at what HubSpot offers and how it has helped shape the new-normal for businesses throughout the world.
Introducing HubSpot
HubSpot is at the forefront of digital transformation, global connection, sales, marketing, and service. This platform helps businesses the world over attract visitors, convert leads and close customers. The software brings together a variety of functionalities that allow marketing and sales teams to manage their activity and data in a single location. This includes everything from content creation, social media marketing, workflow automation, email automation and personalization, lead capture and sales pipeline tracking.
The HubSpot platform is setting the stage for CRMs across the globe and providing companies with the technology to manage all their marketing, sales and service activities efficiently - helping better the bottom line significantly. As HubSpot continues to take over the CRM space, HubSpot agencies have taken center stage and are helping their clients reach greater success.
Introducing Global HubSpot Agencies
HubSpot Certified Partners are agencies that work alongside HubSpot to successfully service and manage clients using the platforms. Partners are ranked by HubSpot based on their managed revenue, number or clients and expertise. As the world adjusted to the new-normal, and business began aligning with each other on a global scale, HubSpot partner agencies saw an opportunity to increase their reach and extend their expert services worldwide. This has given businesses from around the world the opportunity to work with some of the best digital marketing and HubSpot expert agencies - no matter where they are located.
This means that no business is left behind in the age of digital transformation. If you are a company looking to partner with a top HubSpot expert, you are now able to work alongside agencies from around the world and are no longer limited by location.
Let's take a look at 3 of the best global HubSpot agencies and how they are changing the face of worldwide Marketing, Sales and Service solutions.
1. DXG Consulting
DXG is the product of four trailblazing agencies that have aligned their efforts to push the boundaries of the digital marketing and digital transformation space. As one of the largest HubSpot Partner Groups in existence, and boasting over 180 experts in 5 countries, DXG is one of the leading global HubSpot agencies in the world. Hailing from France, South Africa, Dubai, UK and Spain – from Diamond to Elite HubSpot partners – DXG provides unmatched technology, marketing, sales and business psychology expertise for truly exceptional results.
What makes DXG stand out from its competitors and in the HubSpot Agency space is that it has opened the space for businesses around the world to gain insight from leading digital transformation experts. Essentially, any business, no matter its location, has access to the world's top HubSpot agencies.
Introducing the leading HubSpot Agencies that make up DXG
The Nexa team is proud to be a part of this extraordinary breakthrough in digital marketing innovation and are honored to have aligned with agencies from three continents - working to help businesses across the world grow better with HubSpot.
2. Huble Digital
Huble Digital is the result of two HubSpot agencies: MPULL and The B2B Marketing Lab. Both of these agencies were formed in 2012 and combine their strengths by aligning B2BML's global presence with MPULL's technical expertise.
Hubble Digital understands that we live in a hyper-connected world and spread the message of customer-centric values and customer-centric campaigns. The agency is committed to transforming the business space using digital transformation technologies within the HubSpot platform.
3. Avidly
Avidly is a global HubSpot agency that provides HubSpot expertise to a variety of businesses across the world. The agency offers martech services that cover every aspect of the customer experience. They are a leader in Europe and the agency is home to over 230 digital sales and marketing professionals.
Avidly's team is able to help businesses expand horizons on what is possible in the digital space. They describe themselves as precise and evolutionary in their approach and have made an impact in the HubSpot agency space.
In Conclusion
We live in the digital age and thanks to technological innovation we have been able to use Martech and related tools to drive business growth during one of the most devastating pandemics the world has experienced. HubSpot has been on the forefront of CRM, Marketing, Sales and Service innovation and is helping businesses throughout the world grow better.
Above are three of the best global HubSpot agencies in the world today. As part of DXG, Nexa looks forward to playing a role in the development of HubSpot accessibility and the HubSpot methodology throughout the world.