Marketers know all too well that there are a handful of powerful social media platforms where their energy and efforts need to be directed to. You can't be on every app, and you've got to invest your resources wisely. That said, we've got three apps that are relatively new to the market and have made waves - enough so that if your audience is on it, your marketing team needs to be too.
These platforms have made their way onto this list by meeting the needs of audiences in how they want to share and consume content, from entertainment and creativity, to new ways of having an online presence. Here are the platforms to keep an eye on, presenting marketers with new opportunities to connect with their audiences. Time is money and with social media platforms typically offering first movers a huge advantage, it goes without saying that acting on these sooner rather than later can have multiple benefits for your business.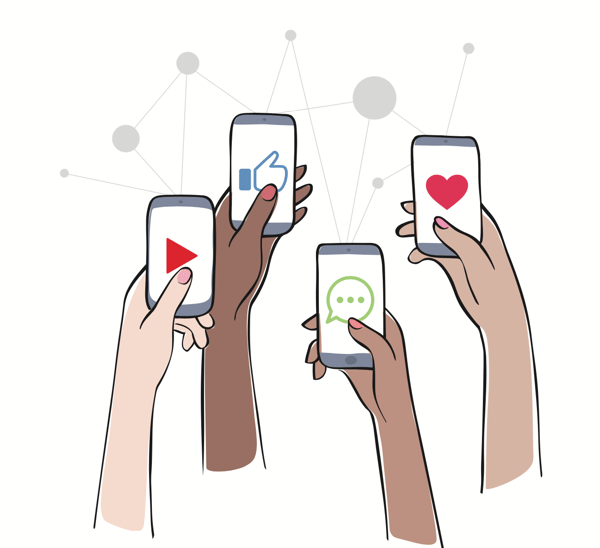 TikTok
Undoubtedly the biggest social media platform to experience exponential growth, with over 800 million monthly active users. It is already one of the top 10 most popular apps, but it is one that many businesses have yet to tap into. TikTok is where Gen Z reside, creating video clips and series with creative editing tools that create effects, filters and stickers. It is like any other typical social media platform, where users rake in likes, follow people and have followers.
In order to develop a TikTok marketing strategy, businesses have several options available to them, namely: creating their own channel where you share relevant videos, working with influencers or creating paid ads. The benefits of using this platform is not only its size, but its user base of the future generation of buyers. Since the content is video-based, it generates a high level of engagement (which TikTok describes as interactivity).
TikTok is also where a new community of influencers are making a name for themselves. With Gen Z being very video ready, they are also likely to create and use YouTube. This presents businesses with even greater opportunity to reach more people.In addition, the app's creative and entertaining content is drawing in older generations as well. All in all, this is definitely a key social media platform for your business in 2022.
Caffeine
Caffeine is where users can watch live streams together with their friends. They can also go as far as creating their own shows for their fans. It is available as an app, or accessible on Chrome and Firefox. To put it simply, Caffeine is a social broadcasting platform.
This platform has drawn in big names., It is the brainchild of Ben Keighran, a former designer for Apple. Since its creation, it has raised hundreds of millions from investors including Fox and venture capitalists. With streaming continuously growing, Caffeine is taking their broadcasting beyond gaming like its market competitors. Instead, it is set to be a platform for entertainment and creators.
All sorts of live events can be streamed on Caffeine, from sporting events to music festivals. With the increase in video streaming around the world, it is a no-brainer that this will increase in popularity with people around the world. To date, the company has partnered with Fox Sports, the Big East Digital Network, ESPN X Games, Red Bull, Dream Hack and FaceIt.
When people log in, they can view trending streams, as well as recommended content to peak your interest. While watching, you can interact with others through comments and emoji reactions in real time. Caffeine is therefore a virtual place to watch together and enjoy shared experiences.
Vero
Vero is a platform which aims to represent the purest form of social media. On it, users can control who sees what and are rest assured that there are no advertisements, data mining or algorithms that form part of their experience. This app's budding popularity lies in its essence: "Everything's not for everyone, so we've made choosing your audience completely intuitive for each post." In other words, privacy is priceless.
You can share a variety of content on Vero, as it acts as a hub for all of your digital favourites. This includes photos, movies, TV shows, music, books, places and links. It aims to be a place where online connections can occur with easy discovery, enjoyment and sharing. This means that content creators have a place where there are more meaningful and genuine exchanges occurring.
The app launched in 2015, rose in 2018 and is now back with a subscription model. While this is not a social media platform that marketers can hack or use to connect with audiences, it does represent an alternative stance on social media, one which marketers need to be aware of. If Vero appeals to your audience, you will need to work on other forms of digital marketing to reach them as part of your social media listening.
Are you ready for the next wave in social media marketing?
TikTok, Vero and Caffeine are our top 3 platforms to be on in 2022 (if your audience is there). With their continued growth, audiences who gravitate towards these platforms will undoubtedly change the way marketers reach consumers. Let us know which rising social media platforms you've got your eye on in the comments below.
Work with us at Nexa - we've got a skilled team ready to assist you with your social media marketing needs. Have a look at some of our work and when you're ready to chat with us, simply book a free consultation.