The economic model of Middle Eastern countries was built on the basis of oil wealth however, in recent years the focus has shifted from hydrocarbons and moved towards technology, innovation and digital development. In October 2019, The Future Investment Initiative outlined the importance of these sectors within the region and highlighted just how much the Middle East was a champion in innovation and digital disruption.
As companies in the Middle East are moving towards digital marketing, there has become a greater need for awareness and adoption of Marketing Technology (MarTech) solutions. With forward thinking marketing technology businesses thriving in the Middle East, it is difficult to pin-point the top 10.
In this article, we outline some of the best marketing and mar-tech agencies in the Middle East to provide you with greater insight into the growth and innovation within this sector.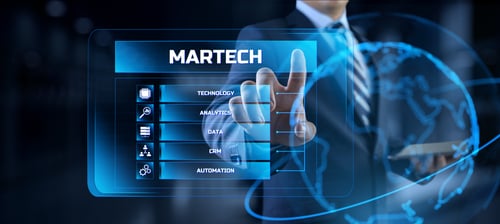 Top 10 Marketing Technology Companies in the Middle East
1. Sarmady - a Vodafone Company
One of the most renowned digital advertising agencies in Egypt, Sarmady is a fully rounded digital media house that prides itself on "infinite digital innovations." Not only does Sarmady provide top-class digital marketing services, the company is an innovator in technology having developed sought after Content Management Systems, which has positioned them as a leader in the marketing and tech development market.
2. HubSpot - Dubai
HubSpot offers a complete CRM platform with all the tools and integrations you need to grow in order to grow your business. Whether you want to increase leads, accelerate sales, streamline customer service, or build a powerful website, HubSpot is the all in one, easy-to-use solution. When it comes to HubSpot and its presence in Dubai, digital marketing and growth agency Nexa, has to be mentioned. In 2005, digital marketing agency Nexa concentrated on website development, but as the years passed, it expanded its remit to include the full range of inbound marketing services.
Nexa went on to partner with HubSpot and this has allowed Nexa to establish itself as an inbound expert and HubSpot expert in Dubai. The agency is also a Diamond-tiered HubSpot Partner, which places them in the top 2% of HubSpot Partners Globally. As a Diamond-tiered HubSpot Partner Nexa is a leader in Customer Relationship Management solutions, sales and marketing alignment and lead generation.
3. Data Direct
Based in Dubai, Data Direct is a mar-tech marketing agency that helps businesses manage their digital footprint. Their services range from website development, SEM, and SEO to chatbots, AR and VR services. Data Direct strives to be a global leader in digital transformation services through their range of data and information processing and call centers. They provide customer centric solutions that help ease document and data processing, customer acquisition and business processes.
4. Clicktale
Clicktale is a cloud-based "experience management solution" that is dedicated to providing the most compelling digital experiences by allowing them to view how visitors are actually experiencing web, mobile and app sites. Located in Ramat Gan, Israel, Clicktale was founded in 2006 and has expanding substantially with offices in New Jersey and California.
The company's marketing technologies include high-fidelity replays of visitor sessions as well as data rich heat maps that reveal a viewers real struggles - helping clients understand viewer intent - helping them achieve their goals.
5. Gigya
Gigya is an innovator in customer identity management. The company's technology is used by organizations in 46 countries and has been put in place to attempt to turn 1.5 billion site visitors (every month) into loyal and engaged customers.
Over 700 enterprises are using Gigya to build and manage identity-driven relationships with their customers based on in-depth, segmented, behavioural and personalised data. The ultimate aim is to provide customers with better services, products and experiences.
Since its inception in 2006, Gigya has expanded beyond its Tel Aviv headquarters to London and California and currently employs more than 325 professionals.
6. Predixia
Based in Dubai, Predixa Dynamix is one of the most powerful business diagnostic software applications available for Consultants during the initial analysis stage of client engagement.
Using the power of AI (Artificial Intelligence), the technology provides a 360-degree holistic view of a business or organisation, harnessing the wealth of knowledge and experience from all company departments, including softer aspects such as culture, leadership, communication and more, to deliver a detailed predictive analysis of where to prioritize focus for improvement.
7. Leadspace
Leadspace specialises in social lead targeting in B2B sales and B2B marketing. The innovative company offers a predictive analytics platform that combines social, web, intent and structured data to help clients discover and score, in real time, both companies and individuals with the greatest relevance as potential leads.
With offices in Hod Hasharon and San Francisxo, Leadspace continues to grow as a company to watch in the MarkTech space.
8. Como
Como helps small businesses build drag and drop consumer apps and develop analytics-driven mobile loyalty programs that consist of a variety of gamified features as well as coupons, loyalty clubs and other premiums.
Although the primary focus is on small businesses, Como has larger clients using its customer loyalty management (CLM) solutions too, inlcuding big names such as: Burger King, Coca-Cola and BMW. Como has its headquarters in Ness Ziona and New York City.
9. Datalytics24
Datalytics AI SaaS integration platform is being used to modernise the digital customer experience for businesses that have an Arabic-speaking audience in MENA region. Their vision is to empower businesses to reap the opportunity within the MENA market with a top quality performance data analytics platform.
With social media monitoring, online content analysis and digital customer experience insight, the online media intelligence CX platform offers companies instant insight in understanding the entire customer digital experience.
10. DealHub.io
DealHub.io is an award-winning CPQ, CLM & Remote Selling platform that enables sales teams to build and maintain engaging, personalised dialogue and communication with sales prospects throughout their buying journey.
Dealhub.io was founded by professional and highly experienced Sales Leaders who recognised an increasing need for a new generation of sales solutions to address the ever evolving changes brought on by digital buyers, and sellers.
In Conclusion
The Martech industry is booming across the Middle East and has managed to streamline the digital marketing and advertising industry through data collection, automation and analytics. We look forward to watching the industry flourish.