In the past few years, the usage of and access to online platforms has seen enormous and continued growth in the Middle East. In fact, the number of online and mobile users in the region is at an all time high. According to Internet of the World statistics and as of 31 March 2021, the number of internet users in the Middle East stands at 199,845,130 and there are 145,441,200 active Facebook users in the region.
The surge is astonishing and with these statistics in mind, and with many new businesses exporting to the Middle East, strong localization strategies need to be developed in order to achieve business growth in the region.
But, what exactly is a localization strategy?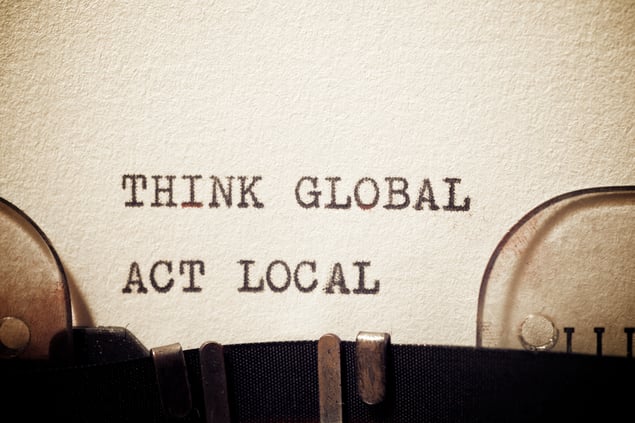 What is a Localization Strategy?
A localization strategy refers to an overall marketing and content plan that is designed to connect with a new audience in a way that feels familiar to them. Your localization strategy should understand the new market you are entering and determine an overall goal for marketing to that particular audience.
Essentially, it is an important way to address the purchasing habits, cultural differences and consumer behaviors in a new region and allows a business to meet the cultural expectations of its target market. With this in mind, businesses cannot simply rely on translating their marketing campaigns from English into another language. They need to incorporate relevant cultural nuances into their campaigns in order to create a personalized and trusted experience for the consumer.
With a strong localization strategy in place, your business can form a strong foundation as it enters a new market.
As stated previously, many businesses are expanding their services to the Middle East and we have put together some tips for creating a strong localization strategy for the region. Let's jump right in.
Creating a Localization Strategy in The Middle East
Creating a localization strategy for the Middle East is vital for business success in the region. By creating localized content and branding, you are making sure your business builds trust with its target audience, helping to establish your brand and of course, better your bottom line.
Below, we take a look at how you can create a powerful localization for the region.
Top Tips for Creating a Localization Strategy in The Middle East
1. Research Your Target Audience
The Middle East covers a large and vast geographical area and encompasses a diverse range of cultures and countries. There are a variety of languages spoken throughout the Middle East and this is why it is vital you do your research and learn more about your target audience.
With such vast cultural differences and with diverse languages comes a variety of consumers and what may work for the middle-class consumer in Egypt may not work for the middle-class consumer in Dubai. This is why in-depth research is vital for localized content and marketing in the Middle East. Native linguistics goes a long way in getting your localized content correct for consumer needs throughout the Middle East - remember, nuance matters.
2. Website Localization
Website localization is the fastest and most important way to engage with Middle Easters consumers. In fact, according to the Common Sense Advisory, 56.7% of Middle East consumers have stated that having information available to them in their own language is even more important than price.
By creating localized content for your website, you have a greater chance of reaching leads and converting users into loyal customers.
3. Brand Tone of Voice
Developing tone of voice guidelines, you are making sure that your brand message is never lost on your target audience in Middle Eastern markets.
This is why it is vital you invest in a professional region-specific linguist. They will make sure that your localization is always unique to the region and of course, always consistent in its messaging.
4. Develop an Arabic SEO Strategy
The Arabic consumer in the Middle East is quite unique when it comes to online search habits. The Harvard Business Review conducted research into the importance of culture, language and religion as a factor for business success in the Middle East Region. Through their research they discovered that businesses that ignore the interplay between language and culture in the region are ignoring a vital factor for success.
When you begin trying to understand the Arabic market, you need to separate the region into different sectors and once you have done this, you need to identify your key market, and optimize for that specific market. For example, if your market is KSA or UAE, you will need to optimize your keywords and content to match the top keywords in those regions.
Then comes cultural and language awareness. You need to optimize your website for your specific audience and consider the cultural impact of your marketing actions - this means that you need to understand slang, relevant marketing messages, trends in the region and most importantly, how language you are using is localized into Arabic. It is also vital that you research the key competitors within your industry and take a look at their keyword ranking, backlinks, and domain authority in the search results. This will give you insight into the landscape and identify any gaps within their content so that you can strategies an even better Arabic SEO approach.
5. Visual, Graphic and Image Localization
We have discussed the importance of language for localization but imagery is also something that needs to be taken into account. Images can be taken out of context when it comes to new markets, and can cause offense unintentionally - many businesses have made this mistake in the past and this is not unique to the Middle East.
Again, a native linguist is vital in this aspect of your localization strategy and they will make sure that all the content you distribute on and offline is in line with your target audience's culture and beliefs.
The Wrap Up
With the above tips in mind, creating a localization strategy for the Middle East comes down to understanding your target market and developing content that speaks to them. And it is all in the detail.
If your business is targeting audiences in the Middle East, there are many aspects of localization to consider, from translation to content strategy. It is important to work with an experienced agency that is able to provide the best services to ensure your website and your business is able to flourish in the region and reach the correct audience.
Nexa, Dubai's Leading Independent Digital Marketing Agency offers everything from Arabic SEO and translations from English for all content, including websites, landing pages, brochures and social media posts to help you reach a new online audience.