As we head into 2022, video marketing is more important than ever as it can help improve your lead generation efforts at every stage in the buyer's journey. Whether it be increasing brand recognition during the awareness stage, delighting leads during the consideration stage, or nurturing sales during the decision-making stage - and beyond. In the past few years video has left its mark and today it's vital that marketers incorporate it into their strategy if they want to attract quality leads, delight current clients, and gain repeat business.
In this article we will unpack the top video marketing strategies and tactics you should incorporate in your current lead generation efforts.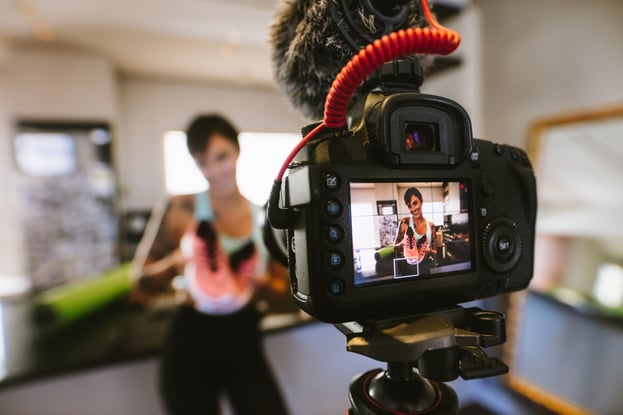 1. Attract Leads Through Video Marketing
Incorporating video into your online advertising efforts is a powerful way to reach new audiences and raise brand awareness for your business, even on a small to medium-sized budget. For the "attract stage" of your video marketing efforts, you should concentrate on creating brand videos or explainer videos that introduce your business, services, and products while displaying your brand voice and brand personality.
Once you have created your script and put together a solid idea for your brand awareness video, you can use your online platforms to get it to your target audience. For example, if your target audience is mostly present on a certain social media platform, develop your video to suit the platform and promote it to your target audience. Make sure that your awareness video has a strong call to action, one that encourages engagement and drives the viewer to take the next step in the buyer's journey.
Social media video advertisements are a great way to engage your audience and are more measurable than traditional online ads. Videos are also more likely to attract the attention of the viewer - and hold their attention for longer periods of time.
Remember that the social platform you run your video ads on should be strategic and reach your target audience where they are online. Make sure you understand your target audience and buyer persona to understand where you can reach them in the online space. For example, if you are looking to attract business leaders or decision-makers, you should consider running your video ads on platforms such as LinkedIn or Facebook. If you are targeting a younger audience, TikTok, YouTube and Instagram would be great places to start your journey.
Once you have attracted prospects to your video, it is time to engage them even further.
2. Engage Leads Through Video Marketing
Once you have attracted new visitors with your video ads, it is time to continue the conversation and engage with them. Using video on a landing page or company website is a great way to engage with a viewer once they have watched your video and clicked through to "learn more" about your business.
Videos on a landing page or videos that direct a user to a landing page are also known to have an impressive rate of return. In fact, 86% return. This all depends on how you set up your call to action and how you drive a viewer to take a specific action.
So, how can you create a powerful call to action on your videos to encourage greater engagement?
Hook your viewer in the first 15 seconds of a video, be it a tutorial or educational video, and then have them "click-through" to access more information. Once they have clicked through they will reach your landing page. The rest of the video should be gated. This means that the user will have to provide their contact information before accessing the rest of your video and the valuable information that is provided in your video.
This helps with data collection and allows you to take steps for greater lead nurturing and re-marketing in the future.
3. Nurturing Leads Through Video Marketing
Once you have collected a lead's information, you add this data to your sales or marketing funnel. A Customer Relationship Management system such as HubSpot would be ideal for this as the system is designed to store all your customer data in a single location while segmenting this data for further lead nurturing. So, how do you go about nurturing leads once you have collected their data?
Video Email Marketing for Lead Nurturing
This is where video email marketing becomes important. Today's consumer receives hundreds if not thousands of emails a week and you want to stand out from the crowd and not become lost in their inbox. Video is what will make your email stand out. Don't believe us? Even creating emails that simply have the word "video" in the subject line result in a 6% higher open rate than all other emails.
When it comes to lead nurturing video marketing, you will get the most value out of personalized video follow-ups. This means that your sales team can create their very own sales video, either via a smartphone or a professional video team. By creating super-targeted videos that are directed to leads at specific stages in the buying cycle, you are making the lead feel more seen and engaged, therefore you build trust and encourage further communication and follow-ups from the lead.
Video Re-targeting Ads on Social Media
Once a prospect provides you with their data via your landing page, you are able to store this data and use it for lead nurturing. We have covered lead nurturing through email marketing, but social media re-marketing is another way to ensure even greater nurturing. Social media retargeting video ads will keep your brand top of mind at all times. What makes this tactic so powerful is that your retargeting ads are reaching individuals who have already shown an interest in your business and your business offerings.
The best videos to use for your retargeting ads would be videos that offer value to the viewer. This includes tips and tricks, industry insight, entertainment or lifestyle, tutorials, and how-to guides. This may sound repetitive however it is just another way to keep your business top of mind and reinforce your brand message to high-quality leads. This is also a way to get your message across in a less spammy way and makes it seem less like a sales tactic and more like an organic reminder.
Now that you have attracted, engaged, and nurtured your leads - it's time to drive them to make a purchase.
4. Video Marketing to Close The Deal
Now comes the decision stage of the buyer's journey and it is time to convert your leads into loyal customers. A great way to do this is by providing them with what is known as "social proof." This refers to presenting your leads with proof that your clients are happy with your service offerings and have gained value from your business.
The best "social proof" videos ease any potential doubts a lead may have about your business or service. This includes video testimonials from happy clients as well as case studies. By creating social proof videos, you give your leads the chance to see actual results of your services which encourages them to take the next step and make the decision to purchase.
The Wrap Up
Video can be incorporated in every stage of the buying process, from awareness to purchase and beyond. Implementing even one of these video marketing steps will help you increase your lead generation efforts and set you on the path to improving your sales conversions in a measurable and creative way.
How We Can Help
Through strategic and professional video production you are able to create a unique brand voice that is authentic and trustworthy - a brand message that resonates with your audience as well as your staff.
At Nexa, we are here to help you find your voice, engage your audience and create effective video content that leaves a long-lasting impression. Contact us for all your video marketing and video lead generation needs today.
And that's a wrap!