When it comes to doing business, sales revenue is the fundamental metric that influences your ROI, more so than any other business activity. In many respects, many of your other business functions are there to support sales. While business is business no matter where in the world you are, there are caveats and nuances that set different regions apart. Here's a guide on the best ways of generating sales in the Middle East.
Generating sales in the Middle East
The role of a company's marketing team is to create sufficient demand for your product or service. This needs to go beyond promotion and brand awareness, instead guiding potential customers along the sales funnel. Let's begin by looking at an overview of the marketing operations that are specifically geared towards generating sales, including:
Targeting: Advanced targeting will ensure that your business appeals to the locals within a market. The idea is segment your market into various niches and appeal to each of them for maximum sales opportunities.

Leads: Business is no longer only about the exchange of a good or service for money. In today's world, the exchange of information is a highly valuable resource for a business as it can be used to facilitate the process of generating sales.

Relationship building: This forms an important part of marketing which requires personalised approaches. This will make the potential customer more engaged and can generate sales in the long terms as it is key to developing loyalty.

Leverage: Each potential customer is valuable and all of your interactions with them can be leveraged. This includes sharing user generated content online, as well as online reviews and testimonials on your website.
As we can see, the above all work together in order to bring in more sales for your business.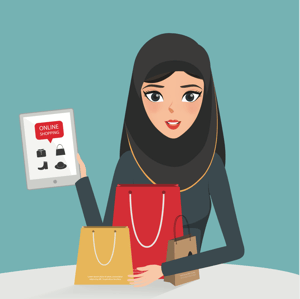 Once the above are in action, there are techniques that businesses have implemented to increase sales. Before we look at techniques that are applicable to new age digital marketing, let's consider traditional marketing that can still be effectively utilised by your business today:
Up-selling
Bundling
Insider information
Rewards
Samples
Word of mouth
The Middle Eastern market
When considering business and sales in the Middle East, these are the trends you should be aware of as they present ample opportunities for your business to generate sales. Currently, there are two that you need to consider for your business.
The first is working with a lead agency. These are agencies who can increase not only your leads, but the quality of these leads as well. Outsourcing this function can save you time and money, while generating many new leads - and sales - for your business. The other aspect to consider is e-commerce, which is still developing in the region but has already shown tremendous growth. There are many opportunities to tap into by extending your business offering online, allowing you to reach more of your customers in a way that is convenient to them.
Tips for Generating Sales
Online ratings: Word of mouth can be much more powerful when done online. Ensure you encourage and manage all reviews and perceptions online to increase trust in your brand.

Direct communication: Take a personal approach and communicate via direct message, or addressing customers by name with all interactions.

Remarketing: Take advantage of technological opportunities, such as advertising to visitors who have already visited your website.

Affiliates and influencers: Generate more sales by leveraging the reach of other people and offering incentives to do so. This is highly effective as a soft-selling approach.

Selling the USP ideal: People don't want to be sold a product or service, but rather a concept, ideal or lifestyle. Ensure your USP communicates that.

Timing: Ensure that you are tapped into consumer consciousness and care about what's important to them. This includes celebrating certain causes, seasons and holidays.

Cart abandonment offers: More than 80% of online shopping carts are abandoned. Ensure yours aren't by offering codes and discounts to encourage follow through sales.

Launches: Increase demand for new offerings with creative launches.

Memberships: Build consumer loyalty and offer value to those who are.

Rewards: These can be offered for various actions taken, such as event attendance or reaching milestones.

Online shopping incentives: You can offer online exclusives and lower pricing, for instance.

Discounts for minimum purchases: This is a great way to ensure a minimum spend per customer.

First time buyer deals: Have an attractive offering for new customers.

Annual or monthly deals: Much like milestones, this secured customers over a longer period of time.
Generating sales for your business is all about the three tiered approach detailed above. First, ensure all of your business functions are working well together to achieve maximum success. This needs to be supplemented with both traditional and modern day methods to increase sales. Finally, one needs to have an in-depth understanding of the market - in this case, the Middle East, to ensure that your business is relevant and able to satisfy consumer needs.
Book a one-on-one session with us at Nexa.
We are Dubai's number one digital agency. We can help your business to generate lead, grow online and perfect your marketing strategy to generate more sales in the Middle East.