In an era when business competition is extensive and new businesses are born every day, strategic marketing is vital for startup business success. 2020 was a challenging year for marketers due to reduced budgets, economic uncertainty and shifts within the marketing space. However, 2021 has brought about renewed marketing focus with emphasis on technology and personalized marketing to accelerate startup growth.
While startup competition is difficult to navigate, there are ways to cut through the noise and this is where technology and personalization becomes important in 2021.
In fact, according to Startupbasics, marketers now recognize that personalized marketing is important for the success of any startup while Entrepreneur magazine stated that in order to solve problems across various startup industries, new technology will be implemented.
By employing growth strategy through digital marketing and technology, you are able to accelerate startup growth and sustain this growth.
Below, we outline some of the top growth strategies for startups in 2021 to help you realize your business potential and reach your goals.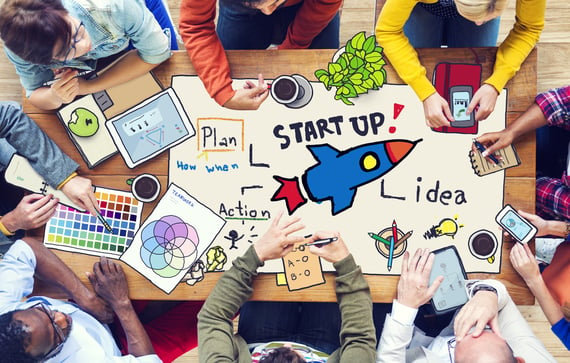 Top 5 Growth Strategies for Startups in 2021
1. Identify Your Target Customer
The process of defining the target customer for your startup requires a qualitative approach. The purpose is rooted in directing your marketing initiatives toward only the most valuable customers, thereby ensuring growth. Essentially, no startup should be targeting a large and vast market when they begin with marketing efforts. It is ok to develop more than one target audience, of course, as long as your targeting meets two criteria:
You are not overextending your team or your budget.
You have a clear understanding of each target audience and their defining characteristics and online behaviors. Your target markets should represent a distinct audience and your audiences should differ in easily identifiable ways.
So, how do you go about understanding and determining your ideal audiences? This should be done through customer personas.
Personas offer a way to make your target market real and help your marketing team get into the headspace of the individual you are trying to reach. This means you are able to create targeted campaigns that are sure to reach your audience via their chosen online channels. This is vital to the success of your startup. In fact, according to Fundera, paying attention to your customers is important since 14% of startups fail due to ignoring customer needs.
Once you have identified your audience it comes down to tracking and analytics to ensure the best possible marketing campaigns for lead conversion.
As stated above, startup business growth in 2021 comes down to technology and personalization. Personalization means data and a data driven strategy is what is required for startup success.
2. Data Driven Strategy: Reach highly targeted consumers and increase conversions
Startups that convert more targeted traffic online ultimately grow. Therefore, using analytics and testing to better your customer journey adds great value to your existing business assets including your website, social media and blog content. Testing offers a reduced risk strategy which is always important for startups with less resources.
Conversion Rate Optimization is the tactic to use when it comes to driving targeted traffic. This is a structured testing and optimization process that works to improve key performance indicators for your website. This includes analyzing audience engagement, conversions, leads, sales and profitability. Essentially, this is the process used for increasing the percentage of online visitors into customers, or getting visitors to take a specific action. When it comes to startups, conversion is the key difference between success and failure online.
Setting up a CRO gives marketers the opportunity to focus on important customer journeys and the outcome. This is not about vanity metrics and is laser forced on what will actually help your startup business grow.
3. An Omnichannel Marketing Strategy for Lead and Customer Nurturing
Your website conversion rate is an important KPI for digital marketers looking to implement startup growth. With an improved CRO, you are then able to drive highly qualified traffic through your marketing and sales funnel to gain greater conversions.
This can be done through omnichannel marketing and the framework of RACE. RACE is a framework that optimizes your marketing channels for every stage of your marketing strategy and stands for: Reach, Act, Convert, and Engage.
In the Reach stage, the priority aim is to promote your brand, the Act stage is to generate quality interactions with your target audience, and this is followed by the Convert stage, where your leads need to be converted into buyers and finally the last stage - Engage - is about nurturing customer loyalty.
Reach: In order to reach your audience, you need to focus on quality content creation.
Act: By creating and sharing helpful, informative, optimized and engaging content on your website, social platforms and email campaigns, you are generating important interactions with your target audience.
Convert: Your content should drive your audience to take a specific action whether this be filling out a lead form or making a purchase. You need to convert them from visitors to leads or clients.
Engage: Once you have lead or customer, you need to nurture and build a relationship with each individual. This can be done through automated and personalized email marketing, social media remarketing campaigns and related digital marketing initiatives. By nurturing these relationships you ensure customer loyalty and create brand ambassadors for your business resulting in more clients and greater sales. REACH requires you use a variety of online channels. From SEO (to ensure reach), content marketing (to ensure conversion), to email marketing and automation (to ensure engagement and nurturing).
By understanding the value of each of these stages you will create the ultimate strategy for growth. You will be able to analyze which marketing and digital channels are working best for conversion. You will also be able to identify which is the best Return on Investment and which channel requires more work.
4. Customer Service is Key
As a startup, your goal is to reach leads and convert leads into customers. For example, once you have directed a user to your website or landing page, you need to make sure they take action. Potential customers want to get answers and will turn away from your business if there isn't enough quality help available to them.
As a start-up you need to be aware of the consumers' need for instant communication and this means that customer service teams need to be available at all times. But how is this possible? Automation is the way forward, from AI and machine learning chatbots to social media managers, email automation, data collection and streamlined processes of communication.
By investing in tools that allow for this level of automation, you elevate your customer experience and ensure they receive the attention and service they deserve at every touchpoint - from your website through to your social media platforms and beyond.
This is where real-time customer support via live-chat comes into play. When a person visits your website, they want immediate answers. We live in the age of instant communication and you want to be able to provide the option of instant communication to your visitors. By offering live chat on your website, you are able to answer your visitors questions in real time, and this kind of engagement is a great way to win them over, establish a relationship, gain trust, and convert them into paying clients.
5. Invest in a Customer Relationship Management Platform
As a startup, your primary objective is to develop and grow and in order to do this successfully and drive momentum, you need an effective Customer Relationship Management (CRM) solution. Many startup business owners believe that CRMs are only used for established businesses, however this is no longer the case. We live in a world driven by technology and it is vital that your startup business invests in technology before your competitors.
There are a variety of benefits that startups can achieve through CRMs. Below, we take a look at how a CRM can help drive your startup business to success.
As stated in our second tip, data is vital for startup growth. However, startups can quickly become overwhelmed with an influx of data. Without a CRM, information and leads can quickly fall through the cracks. Thanks to CRMs such as HubSpot, all data is organized and stored in a single and easily accessible location. This results in improved interaction with leads and customers. Thanks to the level of data storage, analytics and tracking, a CRM will increase the efficiency across your marketing, sales and service teams by making them more optimized and in sync.
Gain Clients and Nurture Relationships
Customers are at the heart of business growth for startups. And customer experience is vital to winning new clients and retaining existing clients. A CRM is the ideal solution to make this possible. A CRM like HubSpot is able to keep track of all customer communication, purchases and conversation history, ensuring everyone in your startup has the information they need about a customer at their fingertips. This helps people in your sales department or customer service department nurture relationships with individual clients - understanding their specific needs and wants.
Once customers have been identified and potential leads captured, startups are able to use a CRM to manage them. In fact, a CRM like HubSpot is able to manage all of the contacts that a startup acquires. No lead gets left behind. Contact segmentation also allows marketing and sales teams to track the progress of a lead, allowing them to identify when a lead is sales qualified. This makes the buying process smoother and helps direct potential customers through the sales pipeline effortlessly. Essentially, a strong CRM helps make every customer and employee engagement as streamlined as possible.
A Customer Relationship Management platform is often the secret to transforming a startup into a vibrant and rapidly growing business. It is important to remember that we live in the age of tech innovation and CRMs are no longer just for large corporations with large sales teams. As a startup you should invest in a CRM that is able to scale with your business as you grow and HubSpot is the ideal CRM in this regard.
The Wrap Up
The first 4 points can all be implemented with point 5. Essentially, a CRM is able to help your startup business identify, segment and nurture your audience while storing analyzing and tracking data through omnichannel marketing tactics.
The key to a successful startup growth strategy in 2021 lies in understanding your customer and their behaviors through in-depth data collection. This is done by using your marketing efforts to acquire, analyze and track data - which can all be done via a Customer Relationship Management platform.
Since 2005, Nexa has been creating marketing strategies for brands and businesses located around the globe and have a vast portfolio of clients, including homegrown businesses and large global corporations. If you want your startup to flourish in 2021 - we are here to help.
Contact Nexa for all your marketing needs! Start by completing the form on this page.