When it comes to digital marketing, there are a lot of acronyms to get used to. You have probably heard of SEO, CRM, SEM and SERP, and today, CMS is the latest to be added to the list.
CMS is a particularly important acronym to get to know, especially considering that today, over 68 million websites are built using a CMS.
CMS stands for "Content Management System" and is the solution you are looking for if you want to create, edit and maintain a powerful website with limited technical know-how.
In this article, we will take a look at what a CMS is and how it can benefit your business.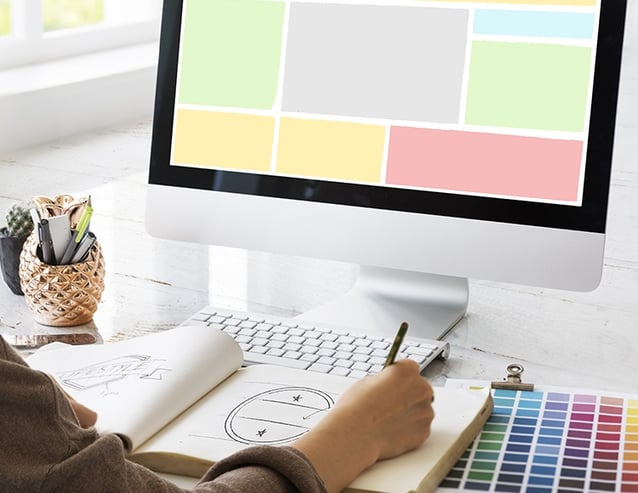 What Is a CMS?
As stated previously, CMS is an acronym for Content Management System. This is a software platform designed to allow users to fully build and manage a website without having to code it from scratch - and without having to code at all.
By using a CMS, you are able to create, manage, edit and publish content in the most user-friendly interface, saving your marketing and design team a lot of time and resources. Through a CMS you can customize the design of your website as well as its functionality, simply by purchasing extensions, integrations or templates offered by the CMS platform you choose. What makes a CMS so sought-after is that it allows for multiple users, which means everyone from your content writers to your designers, have access to the website at all times.
A CMS is powerful in its simplicity and allows your team the space to concentrate on improving your business without having to waste time going through coding and long-winded processes to simply get a blog or webpage published.
Below, we outline the primary benefits that come with using a CMS to manage your website.
What are the Benefits of Using a CMS?
1. Provides Ease-of-use
One of the stand-out benefits of using a CMS for your website and content creation is that the system is designed for user-experience. The basic CMS functions of writing, publishing and editing content, as well as adding media to a page, is easy for any user to grasp. With drag-and-drop options as well as a easy-to-use dashboards, a CMS is made for ease-of-use.
Learn how to build and manage your website with a CRM in greater detail here.
2. Accommodates Multiple Users
When it comes to a website, there are many people who play a role, from those who add product or service pages, to those who create blog posts for content marketing purposes. A CMS makes managing these different roles simple and provides publishing permissions for all users that you allow to publish directly to your site. Your content writers can also create their blog posts on a CMS and you can then proof-read them and publish once approved. Whatever your process, it is made smoother through a CMS as everything is kept in a single location.
3. Streamlines Content Scheduling
Any CMS should give you a status of all your content, whether this content is live, in a draft or being reviewed. This kind of status reporting doesn't just apply to your blog pages, but across your website, from your About Us page through to your product pages. This kind of technology also allows you to assign tasks and check-up on what has been completed and what has not been done. This makes it easier to plan your content and marketing efforts, keeping all teams on the same page at all times - and ensuring nothing falls through the cracks.
4. Improves Website Maintenance
If you don't have a CMS and want to change something on your website, you would probably have to go through numerous pages making changes on each and every one. You will also have to spend money on outside sources to ensure these changes get made timeously. With a CMS, you are able to make maintenance updates and change website functionality on your own without fear of breaking the site. Plus, you don't have to waste money on outside sources to get the job done - you can do it on your own time and ensure it gets done faster than the professionals would have delivered the final result.
5. Simplifies Design
Changed your brand design and need to overhaul your site's design? A CMS makes this design process simple because the design and content features on a CMS can be edited separately. This means any design changes you make will not affect your content or break the site's functionality. With smart CMS systems you are also able to overhaul the site automatically and propagate design across the entire site, ensuring brand consistency with zero mistakes.
6. Makes for Easy Content Management
Well of course, it is a content management system after all! However, a CMS isn't just about publishing content on your website, it is also about being able to edit, remove and even track the success of your content. For example: if you are creating a holiday special or a once off discount, you are able to create the landing page for this promotion through your CMS and set it to be automatically removed upon completion. Another important feature to note is that most CMSs offer SEO capabilities and help your content reach SEO excellence - helping it rank well in the search engine results. All of this can be done in a single location and this is the power of Content Management Software solutions.
7. Gives You Complete Control
All of the above points to departmental alignment. Instead of being reliant on outside teams, a CMS gives your internal teams the ability to optimize their work in a single location and all tasks and roles can be easily checked within the CMS system to ensure all teams are kept up to date and following the right processes. Essentially, a CMS puts you in the driver's seat when it comes to content management and marketing.
So, with all of the benefits listed above, which CMS is best for your business?
There are a variety of CMS options available today, and one of the most powerful being the HubSpot CMS Hub.
Introducing the HubSpot CMS
We've always been huge fans of the HubSpot CMS at Nexa. After all, the last 2 versions of our website have been built on the HubSpot CMS platform and have allowed us to truly understand our website data like never before.
Not only do we now understand the pages of our website that generate the most revenue for the business, but we can also integrate a whole host of automations, personalization's and actions that would never have been possible without using HubSpot's CMS platform.
Some of the key benefits of the HubSpot CMS specifically include all of the above as well as the following:
Simplified creation of new website sections and pages
Personalisation of your website content based on visitor history, purchase information or demographic data
Easy to integrate forms for lead generation
Fully customisable for brand compliance
SSL security as standard
Nexa is a diamond-tier HubSpot Partner. We can help you navigate all things HubSpot. Book a catch-up with us today.