HubSpot is renowned as one of the leading marketing, sales and service automation software's on the market today. In short, the advanced platform is known for its inbound marketing and sales automation abilities that are designed to help businesses attract visitors, convert leads and close customers.
The platform achieves the above by giving marketing and sales people the opportunity to manage all their processes and activities in a single place. This includes social media sharing, workflow automation, lead capture, customer relationship management, performance tracking, sales pipeline mapping and content creation. With the platform at hand, businesses can better manage all their marketing and sales efforts while nurturing the customer journey effectively.
By now, you have probably heard about HubSpot and how the platform has helped businesses the world over. However, HubSpot offers a variety of services and one of its most powerful offerings is its Content Management System (CMS).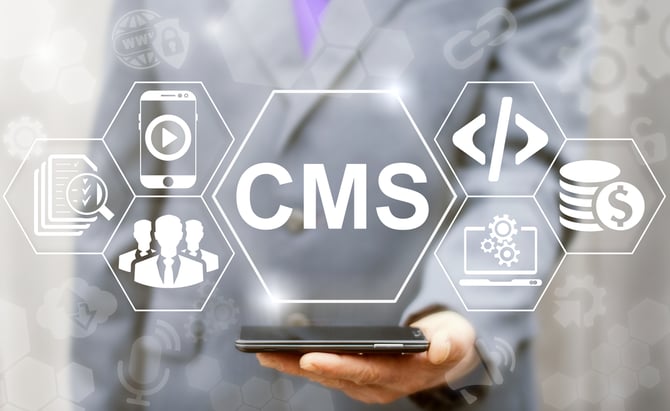 What is a Content Management System?
To put it simply, a CMS is a web app that uses database methods to create, edit and store web content in an easy-to-manage way. This means that your online content can be created and edited in a single place and can then be published online through the same application.
Introducing The HubSpot CMS
This year, HubSpot announced that it is providing a standalone CMS platform, which means that businesses can use the product without having to purchase a HubSpot marketing license. This is great news for businesses as the CMS offers marketing and sales value by aligning content strategies across departments - ensuring high quality leads are reached and easily converted without any miscommunication.
The CMS also solves a variety of other issues that businesses face when it comes to websites. This is because websites are usually built using separate tools which more often than not, don't communicate or integrate with each other. The HubSpot CMS solves this problem by bringing all of the tools together in a single place - ensuring your website offers a great experience for the user while optimizing your lead generation efforts.
You see, the HubSpot CMS is the ideal platform for merging your website and marketing efforts. The system is feature-rich and has tools to help grow your business by providing a fully-integrated and user-friendly CMS solution. As the CMS brings everything into a single easy-to-use panel, all users (across teams) can manage their website, create and publish content to their website, perform A/B testing and receive feedback and reporting through a single login.
To sum it up, the HubSpot CMS is the home-base of your website and controls the entire visitors experience, allowing your team to perform a variety of tasks in a single place, including:
Web design
Web content
Search Engine Optimization
HTML
Personalization
Website performance tracking
Analytics
Security
Social media integration
It is also important to note that the HubSpot CMS is able to integrate with off-site ads, email, customer relationship management systems and a variety of marketing tools.
With this in mind, HubSpot offers one of the best CMS platforms on the market today as it provides a sense of versatility and sophistication that goes beyond other run-of-the-mill CMS platforms. As stated previously, the HubSpot CMS has the ability to integrate with a variety of software's and ensures your digital marketing can be managed from a single location. This means you will no longer require additional integrations and plugins to handle all of your data sets.
Below, we take a look at how the HubSpot CMS can benefit your business
5 Benefits of HubSpot CMS
1. Manage your content in a single place
Many marketers and copywriters have had to use disconnected tools and processes to publish content to a website - which leads to miscommunication and significant human error. Thanks to the HubSpot CMS, marketers are now able to create, distribute and track content from a single location.
2. Personalize every website visitors experience
As you are able to integrate the HubSpot CRM with the HubSpot CMS, you can create the best customer experience for a website visitor - from their first visit, through to every marketing, sales and service touch point. This means that instead of having to send out generic, run of the mill content to your database, you are able to track the visitor through your website, learn what products or services they are interested in, understand where they are at in the buying cycle, and tailor your remarketing content to suit the individual. This allows for a more personalized marketing message, which builds trust and ultimately improves the bottom line.
3. Use a website template or your own design
The HubSpot CMS offers a variety of templates that you can use to create a website. The templates are easy-to-use (making for a much more streamlined and efficient website design process) and are easily customizable. However, you are also able to build your designs from scratch if this is something you would prefer to do.
4. Optimize your content for mobile and search engines
HubSpot provides responsive design and this means that your content can automatically be optimized to suit every device, whether mobile or desktop. You are also able to use Search Engine Optimization tactics through the platform to help your website rank in the search results. And all of this can be done in a single place, ensuring all teams are in the loop, from designers and content writers to SEO specialists.
5. Tracking and reporting
The CMS provides unparalleled website analytics related to your content strategy. This means you are able to identify any problems that need solving. For example. You are able to see whether you require more CTA's, landing pages or internal links on your website. This is a valuable tool as it helps you track organic traffic and potential leads - ensuring a greater customer experience which in turn, increases sales.
Bonus Benefit: The entire system is easy-to-use and ensures all your team members are able to use the tool comfortably.
The Wrap Up
The reason HubSpot offers one of the best content management systems is that the platform not only allows you to "manage" your content - it helps you optimize it to ensure the best possible results. The CMS is scalable, easy-to-use and most importantly - has the power to better your bottom line significantly.
How We Can Help
Nexa is proud to be a Diamond-tiered HubSpot Partner and this places us in the top 2% of HubSpot Partners globally. If you are interested in using the HubSpot CMS for your business, we are the team to speak to. Contact us today for all your HubSpot requirements.