One of the greatest Search Engine Optimization (SEO) mistakes a marketer can make is ignoring the importance of content creation. A lot of businesses focus their SEO efforts on the more technical aspects of SEO including keywords, title tags, schemas, internal linking and headlines. And because of this singular focus on technicality, content often becomes a side thought and something used to simply fill a page.
This issue has caused a great many businesses to fail in the SEO space. In fact, compelling and informative content that is backed by a technically sound website will improve website ranking significantly. Without impactful content, your readers will quickly turn away from your website and go elsewhere.
It's all well and good to rank top of the tops, but if you're not providing your audience with the right information, they will swiftly move to your competitors for help. It's also important to note that these days, Google scours the internet for quality content and if your content is not up to scratch, even though you have a great technical website, your page will lose its ranking and you will become lost in the digital noise.
Technical SEO forms a strong foundation for your website and helps your content rank organically, but you need to have powerful content on your website to build trust and ultimately encourage visitors to take a specific action.
Today, taking a content-first approach to SEO is vital. This tactic means that you need to educate your audience, encourage user engagement and drive viewers to take a specific action through quality content.
Before we dive in, let's take a look at some compelling content marketing statistics:
The above statistics outline the importance of a strong content marketing strategy to boost SEO efforts. So, where do you begin when putting together an SEO content strategy for your business? Let's take a look.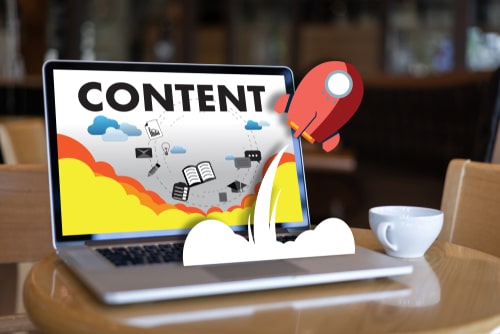 Write the Right Content for your Audience
The term "content is king" has been around for years and this term sums up why a good content strategy is vital for your SEO efforts. Think about it like this, if you publish high quality and informative content alongside a strong SEO strategy, your website will be viewed as relevant by Google and therefore, you will rank higher in the search results. This is why you need to take content marketing seriously and make it a part of your overall SEO strategy - the two go hand in hand.
Another important element to consider is that content is multi-dimensional and it doesn't JUST help your website rank higher in the search engine results. It also informs your viewers and directs them to take certain actions on your site. Quality content builds viewer trust, drives action all while helping you rank above your competitors in the search engine results.
With this in mind, by focusing your efforts on creating valuable content, you win in all other areas of the business.
Let's take a look at 5 content marketing tips to implement across your SEO efforts.
5 Tactics for Writing Effective SEO Content
SEO writers are used to focusing on keywords and headings, but it's time to stop solely focusing on the technicality of writing for ranking. It is important to focus on creating the right kind of content for your audience and delivering only the most valuable information at a time when your audience needs this information the most.
Essentially, don't just write for the search engine bots - and here's how.
Understand your customer: Your business is providing a solution to a consumer's problem and you need to keep this front of mind throughout your content planning. Ask yourself, what is the biggest challenge your audience is facing, identify their pain points and address these issues through your content - explaining how you are able to solve this particular problem. This allows room for keyword insertion (that is not keyword stuffing) and gives room to helpful information that adds value to your customers life.
Keep an eye on your competitors: When it comes to putting together a strong content first SEO strategy, it is important to take a look at your competitors content. This doesn't mean you are going to copy their approach, rather, better it and make it work for your brand. This strategy allows you to identify certain topics your competitor is focusing on and what they are not focusing on - and how you can provide greater information and more value to your customers. This will also help you understand their keyword strategy and identify what you need to better your own and optimize your content at a greater level.
Know your niche: Even if you are in an oversaturated market, you have something that is just yours. Your brand is unique and has its own story to tell. Identify what products and services set you apart from other industry players and make this a running theme throughout your content. Use this knowledge to answer customer questions with your content and to drive further action. Once you know your niche - make it stand out!
Research content topics: Of course, research will be done when it comes to creating content for your website but many businesses fail to see what kind of content is already out there. Search a topic to review what your competition is writing about it and identify which topics have decent search volumes and low competition. You can use tools such as the Google Keyword planner to identify these content pillars and put together a powerful strategy to help you rise up the google ranks. However, the key is to make sure your content is well written. It's all well and good to identify a trending topic but you want to make sure that you provide the highest quality content when it comes to this topic.
Preserve your content: As you create blog posts or website pages, hold onto the content you have created - it doesn't have to just stay in one place and can be rewritten and recycled for other platforms. This content can be reused on your social media platforms to drive further customer engagement and direct users to your website. Essentially, you can recycle your content for other platforms to ensure greater reach and visibility on all areas of the digital space.
In summary, when implementing a content first approach to your SEO efforts make sure to:
Create content that adds value to your customers life.
Understand your competitors in order to better your deliverables.
Identify your industry niche and make this a running theme throughout your content.
Research the best topics and keywords for your industry but make sure to create quality content around these topics and keywords - no keyword stuffing or copy and pasting here!
Recycle your content creation for other platforms for greater reach.
In Summary
Content-first marketing improves your SEO ranking while boosting website visits and engagement, ultimately driving new leads and sales. It is important that you develop a technical SEO strategy right alongside your content strategy to ensure the most streamlined processes and best results.
Quality content can market your business in more ways than one.
It is what attracts online prospects and it is what informs the search engines. Whether it be videos, informative blog articles, or e-guides, high-quality content has a significant effect on the effectiveness of your SEO efforts. With this in mind it is easy to see why content creation generally makes up a third of marketing budgets.
The team at Nexa have worked with brands from various industries to create award-winning content creation that helps with SEO performance. We understand the power of content and believe all businesses need to harness it.
Contact Nexa today for your content marketing and SEO efforts - and get ranking!