We all know what WhatsApp is, and there is a high probability that you have opened and closed your WhatsApp several times before you came across this blog. You may even be checking for notifications as you read this. But for the sake of context, let's outline what WhatsApp is and why it has become such a popular part of our lives.
WhatsApp Messenger, or simply referred to as WhatsApp, is a free platform for instant messaging and voice-over-IP service that is owned by Facebook, Inc. The app allows users to send and receive text messages, voice messages and video calls and also allows them to send documents, images, videos and related content through the app. As of 2021, WhatsApp is the most popular and most used messenger app in the world, with 2 billion active monthly users - even outranking Facebook Messenger. With these numbers in mind, it is no wonder WhatsApp is becoming a vital part of a brand's online presence, and this is why you should consider integrating WhatsApp into your business website.
Integrating WhatsApp and your website has the power to generate a variety of benefits for your business. By implementing this tactic strategically, you are able to increase brand reach, retain current clients, attract leads and better your bottom line.
But, how does it work? What does WhatsApp integration actually mean for your website and your business?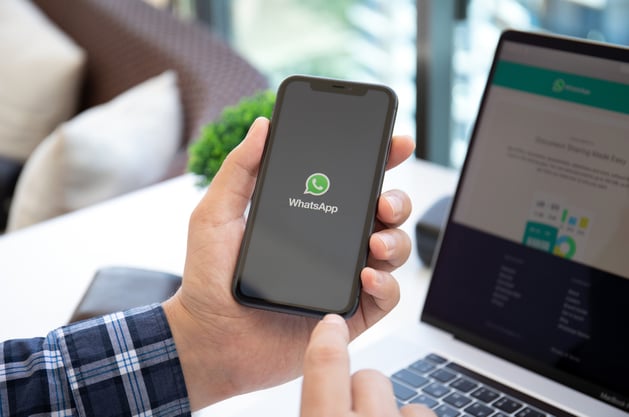 WhatsApp and Your Website
WhatsApp has a function that allows you to integrate the app on your website. This function is known as "click-to-chat" and uses WhatsApp APIs so that your website visitors are able to open a new chat that connects directly to your WhatsApp Business profile. This streamlines the communication process between your brand and potential client, giving the user the power to contact you immediately. This tells you, as a brand, that the user is opting-in to your service by taking this action, and helps you establish them as a quality prospect.
By having such a strong, easy-to-use call to action on your website, you are guiding the customer journey and making it as streamlined as possible.
But, are there options when it comes to integrating it across your website? Let's take a look.
WhatsApp Website Integration Options
Below we take a look at the top 2 ways you can better your business with WhatsApp integration across your website.
1. WhatsApp Chat
A chat widget is a function or window on your website that allows your website visitors to instantly communicate with a service or sales representative in real-time. It is usually found in the bottom right corner of a website page and directs the visitor to take a specific action.
A chat widget can work well when it comes to integrating a WhatsApp CTA on your website. This will work similarly to using a Live Chatbot on your website and will allow your visitor to start a conversation with your business at the click of a button.
This tactic offers your website visitors a rich and trusted customer experience which in turn, helps with engagement and customer retention.
2. WhatsApp Button for Content Sharing
Sharing content through WhatsApp is simple, and we all know how to do it. By integrating a WhatsApp share button to your website, you are giving your visitors a chance to share information about your business with their friends and family, ultimately increasing your brand reach and bettering your bottom line in the process.
If you are an e-commerce business, you are also able to add a WhatsApp share button below each of your products, and your visitors will be able to effortlessly share your product with their loved ones - resulting in quicker purchase decisions and of course, extended brand reach.
Benefits of Using WhatsApp for Your Business and On Your Website
WhatsApp integration is vast, and with WhatsApp business you are able to integrate the platform in a variety of ways, including with your website. By using WhatsApp in your business marketing, sales and service endeavors, you lay a solid foundation for business growth.
The Benefits of Integrating WhatsApp and your Website:
Combining Tech and Human Elements: What makes WhatsApp so powerful does business is its ability to automate responses and messages, providing your customers with the information they require as quickly as possible. This is why integrating WhatsApp to your website and related business applications is so vital. With this tool, you are able to reduce inefficiencies and speed up the sales process when customer service agents aren't readily available to personally answer questions. However, it isn't just about automating your processes, you are able to add a human element to your WhatsApp integration too. Real humans are able to jump in and take over from automated conversations, which is important for conversations or disputes that require hands-on engagement and a personal touch.
Quick Response Time Leads to Quicker Resolutions: The immediacy of WhatsApp communication is what sets it apart. By integrating WhatsApp across your website, you have a two-way channel with your consumer that encourages quick response time. This makes communication that much easier than previous forms of communication, including email or telephonic conversations.
Security: One of the greatest parts of WhatsApp is its end-to-end encryption, which ensures a secure environment. This means that everything sent through the platform can only be read by the chat participants. With this in mind, businesses can send private information and even private documentation without worrying about customer privacy or data leaks.
Analytics: Businesses can benefit from WhatsApp analytics and with this insight, adjust their tactics and strategies. With the platform you are able to track a variety of metrics that will help you better understand the consumer, helping you pinpoint any possible opportunities or issues within your strategy. With this kind of data, your marketing, sales and service teams are able to finetune their strategy to better your bottom line and increase business revenue.
The Wrap Up
WhatsApp is one of the most powerful apps in the world and it's no wonder businesses are beginning to integrate it into their overall business strategy, including their website strategy.
By integrating WhatsApp with your website, you have the power to build customer relationships and drive the entire sales journey from start to finish.
How We Can Help
If you are interested in creating and implementing a powerful WhatsApp strategy for your business, we are here to help. We are also a HubSpot Diamond-Partner Agency and are able to assist you with WhatsApp and HubSpot website integration.
Here are some benefits of the HubSpot & WhatsApp integration:
2-way sales interactions can be mapped into HubSpot. This allows businesses to trigger automation based on specific responses.
Send and receive messages inside of HubSpot CRM
WhatsApp conversation histories can be found inside of your CRM
To get started, contact Nexa using the 'Request a Quotation' button on this page.