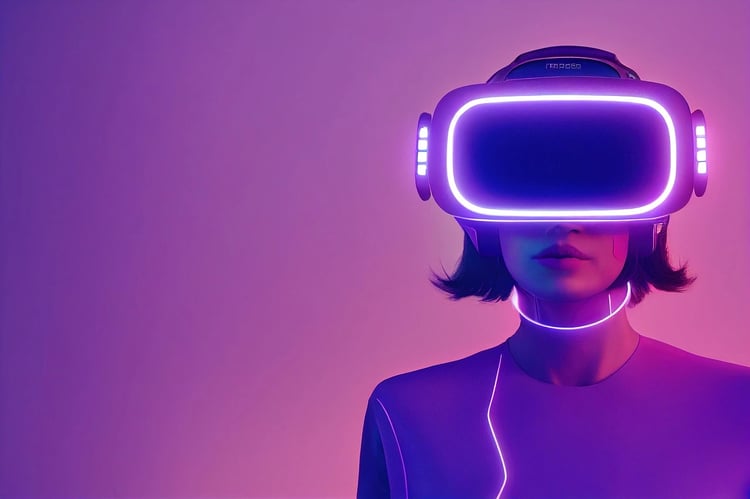 The metaverse is still a major talking point in the tech industry, especially as new developments unfold around the implementation of AR and VR in China. On 22 May, the country launched the China Metaverse Technology and Application Innovation Platform to advance metaverse research and development across the country, strengthening research endeavours in related fields, and combining the resources of academic institutions and enterprises in China.
The country had recently labelled the metaverse as a key industry, and one that's expected to grow by 40% in 2023. China is no stranger to innovation in technology either, meaning the adoption of metaverse tech has the potential to integrate seamlessly with the country's existing tech infrastructure. With its metaverse stance and its technological prowess, the country is well-positioned to take the lead in the industry. Let's take a look at China's potential to become a metaverse leader in 2023.
One of the most significant factors in China's metaverse strategy is its unification under government backing. China's metaverse expansion is not being driven solely by tech giants but by active input from government sectors. As the government prioritises metaverse development, more and more of China's provinces are increasing their investments and issuing development plans of their own.
Several cities, including Nanjing, are vying for a prominent position in this broader planning. Nanjing revealed in February a metaverse strategy of its own, aiming to create an industry with annual revenues topping USD $19.13 billion by 2025. Shanghai has presented a grouping of 20 use cases for the metaverse as well while predicting that its own metaverse industry will reach USD $49.6 billion by 2025.
Additionally, Chinese universities are offering new qualifications based on the study of the metaverse, while also opening new virtual departments. With strong institutional and government support, the degree to which China can engage with metaverse technology is far more significant than it could be with only tech corporation input. And that isn't to say that China's large tech companies are not involving themselves in the space. Alibaba, Tencent, NetEase, and ByteDance have all made inroads of their own in the metaverse industry, with Alibaba, an organisation that forms part of China's largest tech conglomerate, launching a metaverse for luxury brand shopping last year.
Having enterprise involvement occurring alongside government and academic interest creates a formidable combination, one that's evident in the data as well. Research firm, Global Data, has published findings indicating that China is in fact set to overtake its Western counterparts in metaverse investment this year. It will be interesting to observe how things unfold for the country, which still heavily regulates other Web3 technologies such as NFTs and cryptocurrency. Former Deputy Minister of the Ministry of Science and Technology, Wu Zhong-ze, commented on the importance of expanding the use of the metaverse in various sectors, including education, commerce, healthcare and entertainment. One thing that is apparent in China's state-backed intentions with its metaverse technology is that it's far more geared towards functionality than entertainment; a key difference to Western tech iterations that have aimed metaverse technology at the consumer. China's focus appears to be far more on utilising the metaverse to enhance economies and infrastructure.
Ultimately, government prioritisation of the metaverse is leading more and more of the country's tech companies to up their investments in the virtual worlds of this Web3 technology. This comes at a time when Western metaverse engagement, which is far more consumer-reliant, is decreasing, making the opportunity for China to take the lead further convincing still. However, with the government's limited scope of intended metaverse application, it remains to be seen how convincingly China can sustain its lead should it capture it. The world of Web3 is constantly evolving, and we will see how the Eastern powerhouse contends with this enigmatic technology.
-
Do you want to find out more about how your business can capitalise on Web3 technology? Speak to us today. At NEXA, we pride ourselves on staying on top of every development and trend in metaverse tech and working with our clients to use it all to their advantage. Let the NEXA team help you with your Web3 strategy.