YouTube is the third most viewed website in the UAE. That, along with the 800 million active users makes this platform great for advertising. We've got all you need to know about the advertising options available to you, as well as the goals, targeting, strategy and best practice tips to get you started.
In terms of cost effectiveness, video ads on YouTube are significantly cheaper than TV ads. They're also more targeted and arguably more effective too. In fact, stats show that these ads, even if not watched to completion, will increase the chances of someone taking your call to action 10 times. They will be 23 times more likely to take action when watching the video in its entirety.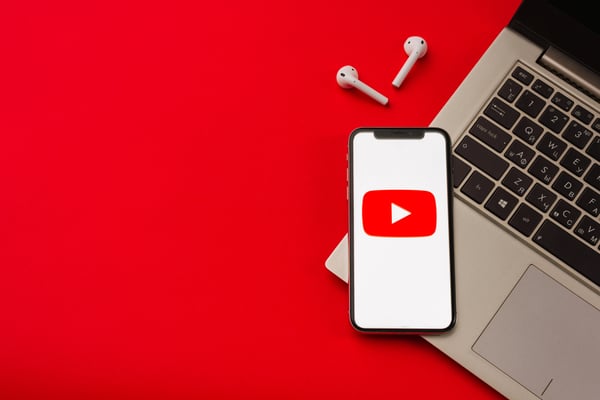 How YouTube advertising works
YouTube advertising is managed on the Google Ads platform. The process is simple: a video is selected from YouTube, the targeting is defined and then the budget is set. The video you create should be a combination of sight, sound and motion that is compelling and includes a call to action.
People on YouTube can find your ad when watching something or searching for something. Once your ad is seen, people then watch it and ideally take action. YouTube's advertising catch phrase aptly sumises their services; "Be see where everyone is watching." - where billions of people are watching. However, you don't need to be afraid of your ad getting lost in a sea of advertisements. The Find My Audience is a tool used to target people effectively by determining:
Specified keywords
The device used
The key interests of the user
The topic itself
The type of video
Remarketing to people who have visited your site, therefore building a relationship and staying as a front of mind option
It is therefore clear to see that advertising on YouTube allows businesses to reach audiences. In addition to this, you can connect in meaningful ways, since video is proven to be a growing medium that is both powerful and engaging with audiences.
YouTube Ad Formats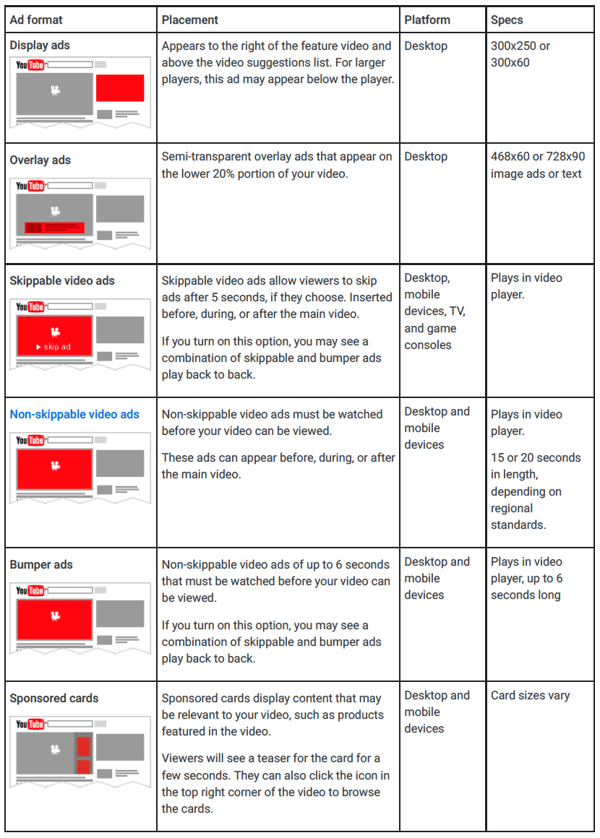 The cost of advertising on YouTube
In fact, the platform values engagement so much that when you advertise, you will only pay for the engagements your ad receives. This can be determined by your bidding strategy, which you should select based on your marketing objectives.
These are the options:
Maximum cost per view: cost is based on the views and interactions garnered
Maximum cost-per-mille: cost is based on every 1,000 impressions received
Viewable cost-per-mille: cost is based on every 1,000 viewed impressions (excluding website bouncing)
Target cost per acquisition: cost is based on the action taken by the users who viewed your ad (ie following the call to action)
Google Ads has an offer of $100 credit for spending $50 on creating a YouTube ad. If you're wondering exactly how much to budget for advertising, consider at least $10 per day for a local campaign. That being said, there are various factors to consider. One of the benefits of advertising on YouTube is that it is flexible - you will be able to make adjustments at any point. There are also platform experts who you can contact should you require assistance with your campaign.
As mentioned above, this should be informed by your goals. These include the following:
Leads: Interactive ways to generate leads in an effort to increase sales
Website traffic: Directing people to your website with call to actions
Consideration: Influence purchasing decisions or deciding factors that
Awareness: Promoting your brand in order to gain visibility and improve brand recognition
You will be able to select your 'Inventory Type,' which refers to the kind of content your ad will be displayed with. Options range from limited to standard and expanded, which determine the levels of sensitive content in the videos (eg violence, profanity and graphic visuals).
Tips for advertising on YouTube
Leverage the ability to re-target audiences
Consider capping the frequency that your video is viewed by each user
Segment your ads to target niche audiences in personal ways
Consider the timing of your ads
Video mastery - you'll want to be compelling yet concise and hook the viewer within the first few seconds
Measure your results often and in real-time to make necessary adjustments
Working with an agency
A digital agency can assist you with creating, running and monitoring YouTube ads for you. They will be able to assist with the conceptualisation, creative and high quality video production, as well as advanced targeting and social media management. Video can be complex and you'll want it to be of a high quality to have the desired effect and results. Here is an overview of the processes involved in this:
Prep: Deciding upon the story, the casting and the location. You'll need a concept, a storyboard and script
Shooting: The equipment (such as the camera, audio and lighting), space to shoot and potentially a crew to assist
Editing: You can use YouTube Editor, though an agency can also use their advanced software to edit the clips, adjust or add in audio and overlay titles if necessary
Video marketing is highly effective and powerful. YouTube is one of the best platforms for this medium. Empowered with the know-how, the costs and the tips you need, you are on your way to creating a successful campaign.
Looking for an agency to work with? Book a meeting with us at Nexa to discuss your next campaign.