With the COVID-19 pandemic altering everything we have become accustomed to, from business processes to social interactions, 2020 and 2021 have been years of unprecedented change. During this time, restrictions have been placed on individuals and businesses across the globe and with social distancing rules in place, many employees and employers have found themselves becoming accustomed to working from home. With a lot of businesses now implementing remote working completely.
Without doing the relevant research and putting systems of communication in place, this kind of transition can quickly become difficult and overwhelming - and can lead to miscommunications and human error. However, it isn't all doom and gloom because the good news is that we live in the digital age and have the online tools to help support this remote lifestyle - tools that have the power to make the work environment even more productive than before.
The statistics speak for themselves:
Working from home can increase performance by up to

13%

Remote work lowers attrition rate

Employers who work from home have a

77%

higher productivity rate

Remote employees are 52% less likely to take time off

82%

of remote workers have lower levels of stress while working from home

Employee monitoring and productivity software makes team management simple and effective
By implementing advanced and easy-to-use productivity tools, your business is able to optimize your remote workforce, encourage productivity, empower employees and take your business to new heights. So, where do you begin?
In this article we take a look at the top 10 tools to support remote working in 2022.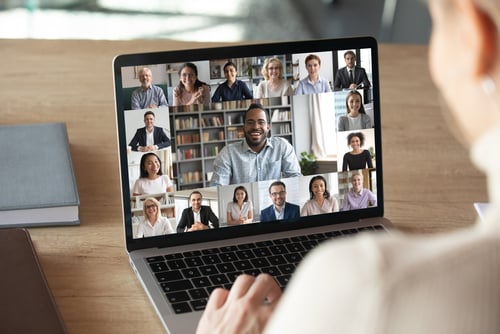 Top 10 Productivity Tools to Support Remote Working in 2022
1. Zoom
When we were hit with COVID-19 and forced into lockdown and isolation, video conferencing quickly became vital for businesses around the world - and Zoom stands out as the go-to tool in this regard.
As one of the most reliable and easy to use video call and screen sharing apps available, Zoom has become an integral part of business communication. The platform offers great video quality, a simple and intuitive user interface, and comes at a very low price - with a free option available. Through this platform you are also able to record calls and share screens - ensuring for the most streamlined communication.
Zoom features include:
HD Video and Audio
Video Conferencing for up to 50 participants
Ability to Share Screens, Documents and Images
Live Chat
Recordings and Transcripts
With this tool readily available, remote workers no longer need to worry about miscommunications or missing out on important meetings - and managers don't have to scramble to set up processes of communication. If it is for a quick catch-up session, team meeting, conference call, or webinar, Zoom is ideal for meeting productivity.
2. Slack
Working with a team, while working remotely, can quickly become a challenge if you do not have the relevant systems for communication in place. Weak communication can run team productivity into the ground, and working from home can make team work seem like a monumental task.
Slack is a remote team tool that provides streamlined team communication and offers an always-on digital communal space for your team to chat, discuss ideas, ask questions, and share comments instantly for effective collaboration throughout your company.
Slack Features Include:
Chatrooms
Private Chat
Integrates with a variety of apps including Google Drive
File Sharing
Voice and Video Calls
Workflow Builder (automated communication)
What makes Slack such a powerful tool for teamwork is that it is centralised and you are able to create a variety of channels for different themes and subjects, ensuring all communication is catalogued and easy to find. Slack is also not exclusive to PC's and laptops and has its very own mobile app that can be used on iOS and Android for an even more streamlined and easily accessible service.
3. ClickUp
ClickUp is a cloud-based software designed for collaboration and project management, and is suitable for businesses of any size and sector. ClickUp is on the fast track to becoming one of the most sought after productivity tools as its features include collaboration tools, communication, task assignment, alerts and a task toolbar (to name a few).
In the software, users are able to assign comments and tasks to specific team members or groups, and comments and tasks can be tracked and monitored in real time - allowing for streamlined management and ensuring remote workers are kept up to date at all times.
ClickUp Features Include:
To-do Lists
Project Management
Spreadsheets
Email Integration
Chats
Reminders
Goal Tracking
Time Tracking
Resource Management
This fully rounded software is also easily integrated with other tools including Slack. Essentially, ClickUp houses all your work and communications in one place including tasks, documents, chats and goals and objectives.
4. HubSpot
HubSpot is an inbound marketing and sales software designed to assist businesses in attracting potential clients, converting leads, closing deals, tracking sales and nurturing client relationships. HubSpot is designed to capture contact information, keep your sales and marketing team on the same page when it comes to lead generation and client acquisition and offers a full Customer Relationship Management (CRM) service that is scalable, easily customisable and offers a great user experience.
What makes this CRM software so powerful for remote workers is that it stores information in a central location - ensuring your team members are able to access any data they require at any time.
HubSpot provides a variety of tools that are exceptionally powerful, and designed to help your marketing, sales and service teams achieve their goals.
HubSpot Features include:
Sales Hub: Email automation, email tracking and meeting scheduling.
Marketing Hub: Lead generation, marketing and analytics.
Service Hub: Knowledge base and customer feedback to help you connect with customers.
HubSpot has been created to provide a full CRM solution that is fully integrated with your marketing and sales platforms, ensuring you receive the best value for money and a return on your investment.
5. Trello
Trello is a digital list making tool used to manage business projects as well as personal tasks. he app is easy to use, flexible and free, and it offers a visual way to manage and organise your tasks and projects - and it is this visual element that sets it apart.
Trello Features Include:
Built in Workflows
Rule-Based Triggers
Custom Card & Board Buttons
Calendar Commands
Due Date Commands
Trello is made up of boards, lists, and cards that allow teams to organise and prioritise projects in a fun and rewarding way - think Instagram and Pinterest meets business.
6. Google Drive
If team members cannot be reached, files will not be properly accessed and this is why every business needs to manage internal digital files.
Google Drive is a cloud storage tool that gives your team the power to store files, spreadsheets, documents, images, presentations and more, in a single and highly secure location. Through this platform users are also able to sync accounts across multiple devices and can share files with each other, as long as they have access to the internet.
Google Drive Features Include:
A cohesive file experience.
Easily add shared files from Teams or SharePoint to OneDrive
Upload files up to 100GB
Sync libraries
Use visibility and controls for security.
As this is a Google product, the tool integrates with all available Google applications including Google Documents, Sheets, Slides and more.
7. Airtable
In order to be effective as a remote worker, you need to have strong self-management skills and Airtable helps you navigate the world of self management. It is a visual, easy to use project management system that provides users with a personalised way to manage and organise their workflow, schedules and times.
Airtable Features Include:
Bases
Checkboxes
Automation
Document and File Sharing
Task Management
Records
Workspaces
Airtable can be used to schedule reminders for projects, provide timelines and deadlines, and helps you organise your schedule accordingly. You are also able to collaborate with teams through the platform which makes it easier to monitor workflow and an entire team's progression on a project.
This is an exceptional tool for all remote workers as it helps them stay on top of things, ensuring nothing is missed. The platform also uses both desktop and mobile apps, which allows remote team members to comment, reorganise and edit their tasks on the go.
8. Teamwork
Teamwork is a powerful project management platform that's ideal for remote teams. It is feature rich yet easy to use and boasts an intuitive user interface. It is trusted by over 20,000 businesses worldwide.
Designed to be "Powerful when you need it to be", it is a great choice for remote teams looking for an all in one solution and an ability to grow into the platform, utilising more and more of its powerful features as you do so.
Remote teams will see the most benefit from Teamwork due to its abundance of friendly features such as time tracking, multiple view and format live project tracking and individual team member workload management. For professional service type businesses like agencies, the client permissions feature is a nice feature. This feature allows you to manage individual permissions and access to your clients to areas such as time tracking and invoicing.
Teamwork features include:
Manage multiple complex projects with ease
Time Tracking
Workload Management
Client Permissions Management
Team Chat
Gantt Charts
9. Loom
Screen recording is one of the most effective ways to quickly share information between teams. Screen recording tools allow you the benefit of speaking in a video call while providing information through screen sharing - and with screen recordings, you are able to send videos to team members regardless of whether they are able to speak with you immediately. This helps when team members are unable to meet with you and related team members due to different time zones .
Loom is one of the most used screen sharing tools as it comes with a variety of features within an easy to use interface.
Loom Features Include:
Ability to Pause
Ability to Resume
Ability to Trim and Edit Recordings
Video automatically uploaded to Loom's cloud storage
Unlimited Video Storage
Users are also able to contribute by commenting and reacting to specific time marks in the videos - making communication that much easier. These features are helpful and save team members time that would otherwise be sent trying to re-record video after video.
10. Zapier
By automating manual tasks and creating workflows, remote workers are able to streamline all their processes. Zapier is a platform that does just that - and moves information between your web apps automatically so that you can focus on your important works.
Zapier is a useful automating tool and can be integrated with Slack messages, Emails, and Google Calendar.
Zapier Features Include:
Integration with all of your favourite apps including Gmail, Slack, and more
Automate repetitive tasks without coding or relying on developers
The platform basically allows you to use all of the apps that you work with on a daily basis and get rid of the tedious menial work of carrying information between those apps.
In Conclusion
Since COVID-19, more people are working from home, and this brings with it both challenges and opportunities. It also requires a shift in a range of working practices, and remote workers need to have the relevant tools in place to achieve productivity and efficiency while working from home.
It is important for all remote workers to have access to applications and platforms that help them focus on goals, organise tasks, communicate seamlessly with colleagues and managers, and track performance.
By investing in remote working tools such as the ones mentioned above, remote workers will be able to combat any sense of isolation they may feel by optimizing their work processes and team communication.
About Us
A digital-first company in existence since 2005, Nexa has helped thousands of businesses flourish and achieve their true potential during this time.
A humble, yet highly ambitious company, Nexa prides itself in its ability to support businesses from start-ups to large multinationals, providing the same professional, unwavering support for all.
Contact the Nexa team today for more information about how we can help your business with our CRM solutions.