Webinars have risen in popularity significantly in the last year. It is a highly valuable form of marketing, with signups producing qualified leads as viewers. For many businesses, webinars are a great way to build stronger connections with their audience, engaging and nurturing them in a meaningful way, ultimately resulting in increased sales. With webinar marketing now past its peak stages where a flurry of subpar sessions were hosted, businesses now know that webinars require a lot more than a recording to suffice. Here are our top 12 tips on how to drive signups and registrations for your upcoming webinars.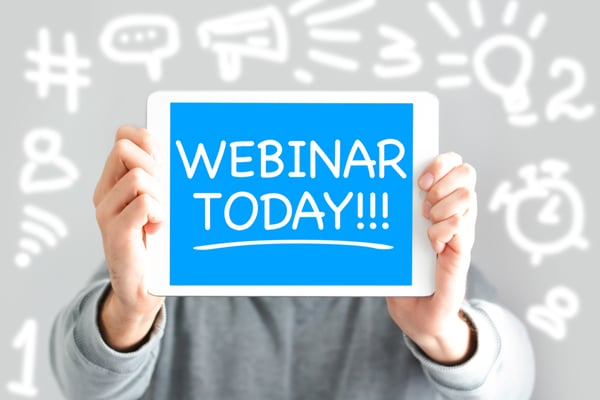 1 - Webinar Strategy and Relevancy
The starting point cannot be anything other than a guiding strategy. The topics you choose need to be relevant and alluring enough to drive signups. Therefore work with topics that you know are appealing to a target audience to match your ideal signup figures. The subject also needs to be more than just a discussion - it should ideally combine educational content with the entertainment factor. Part of this planning stage needs to include selecting the best possible time and date to host the webinar.
2- Evergreen and Series for the Win
Once you have a range of topics that will work, you need to decide the best way to deliver the content. To make the best use of the resources required to produce a webinar, it is best to create evergreen or series-based webinars. Pre-recorded evergreen webinar content can be auto-scheduled and played on the hour or as needed by newcomers. On the other hand, a series is a way of engaging with audiences over the long-term and is a great way to build loyalty. Once-off webinars can and do work; however, they cannot drive signups or engagement in the long-term.
3 - The Power of Partnerships
In today's world of business, partnerships are golden. The webinar strategy should, therefore, include seeking suitable partners as guests and sponsors. By having guests, you can leverage a complementary audience, which will naturally drive webinar signups. There is also the option of partnering with a brand through sponsorship, which can boost your credibility and industry-standing. This can provide audiences with the authoritative vote of confidence that your webinar will be worthwhile to tune into. This is one of the ways in which webinars can grow your business.
4 - Incentives and Value
The content you cover needs to be of high value. What does this mean? Well, webinars require viewers to dedicate a considerable amount of their time, so it needs to hold their attention and be worthy of that watch time. Many businesses offer incentives to audiences to encourage more signups and viewers to join in. This can include special deals for those who tune in or prizes for the guests. If you have something worthy of sharing and can do so well, your signup rates will increase. Consider incentives as an option to boost these numbers if need be or as a token of appreciation.
5 - Optimization is the Driving Force
As with most online activities, optimization is both necessary and rewarding. By having a title that includes keywords, you will be off to a good start. Refining the target market and utilizing retargeting will ensure it is reached by the right people, who are most likely to sign up. Other things to consider are having a dedicated and well-designed landing page for the webinar where people can get all the necessary information and signup quickly. This needs to be appealing and easy to find. Have a look at Nexa's signup page for our Digital Growth Series webinar for reference.
6 - Promote your Webinar
One of the best ways to drive signups is to publicize and promote the webinar well. This begins with allocating enough time - ideally a month, with most signups occurring in the two weeks before the webinar. Personalized email marketing is a great way to do this, as it is pinned social media posts, hashtags, and advertising. Your webinar's landing page should also have all of the links readily available for people to share it within their own social media networks. This is twofold, as people need to know about it and want to join in. If you're struggling to justify a paid marketing approach to promote your webinar, try to establish the success of previous webinars in terms of new clients and revenue generated. For example, at Nexa, we use HubSpot to help us attribute revenue from webinar registrations: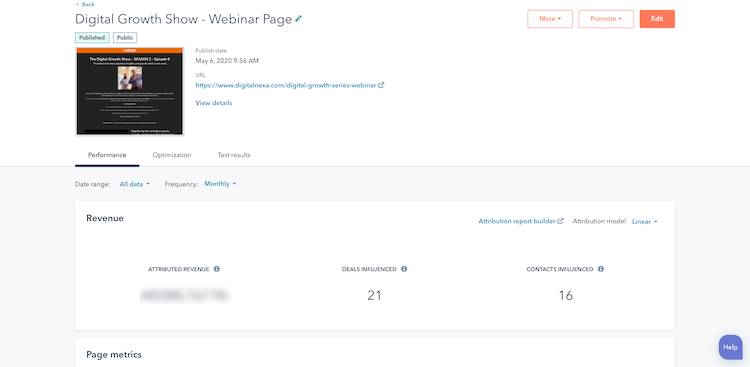 This helps create the argument to create advertising campaigns to drive even greater success.
7 - Research and Rehearsals
The research will begin with your strategy creation; however, it is important to continue throughout the marketing process. This goes beyond research about the target audience - it needs to include your competitors. Having a firm grasp of what's happening in your industry and the standards set by those around you, you can strive to provide better webinars to encourage more signups. Rehearsals are also crucial as winging it will show and be a poor reflection of your brand among viewers.
8 - Production and Branding
Good quality webinars will need to be produced well. While it can certainly be done - and done well - on an iPhone, there is also the webinar platform to consider, sound, and all editing required to repurpose the content. Having a good technical team on board will help you provide interactivity and multimedia, which create better webinars, which will boost the number of people who want to watch your webinars. It also needs to give an accurate reflection of your brand throughout, which can be translated in obvious and subtle ways (for instance, being consistent with your set up and knowing when and how to show your logo.
9 - Calls to Action and Interactivity
With more signups, you'll, of course, want to secure more viewers, leads, and sales. Calls to action are among the most vital aspects of webinar marketing, as investing time to no end will not bode well for your business. Attendees of webinars will be encouraged to signup when they know there is an element of interactivity. Often, they don't only want to be talked to, but rather to have the opportunity to engage directly through a Q&A or contribute to a poll or survey.
10 - Sharing and Repurposing
Any marketer will tell you it is in your best interest to record your webinar. By doing this, you can have more than a record - you can repackage it to share in various other ways to increase the content's lifespan. It is an easy way to create an on-demand viewing option or shorten it into videos, the most coveted content on social media. Other ways to repurpose this content include creating slides and blog posts related to and driving signups for future webinars.
11 - Reminders and Thank You's
Anyone interested in signing up for your webinar should be able to add it to their calendar easily. The reminders need to be there, though they should be shared in a balanced manner. Offering the option to check-in and share that as a status update on social media can also help drive last-minute signups. Finally, offering a well considered 'thank you' to attendees with packaged material and useful resources will increase audiences' satisfaction and encourage more registrations in the future.
12 - Auditing and Testing
Audits are necessary to learn from previous webinars and see where improvements can be made to encourage more signups. Testing for email subject lines and social media captions are also helpful in this regard. Remember, registrations are only one of many metrics to monitor. Once a signup is secured, other metrics such as completed viewings, conversions, and engagement need to be reviewed and included in your marketing KPIs.
There you have it - 12 sure-fire ways to drive more signups for webinars. This form of marketing continues to be a high-value opportunity for businesses, yielding favorable results. We at Nexa would be happy to help your business produce and promote your next webinar. Get in touch with us to get started and be sure to tune into Nexa's weekly Digital Growth show.