This article is all about how to get started with a successful marketing plan for the year 2021. We're unpacking it in a step-by-step guide, which you can use as a template to strategize for your business including the trends, processes and channels.
Marketing Plans for 2021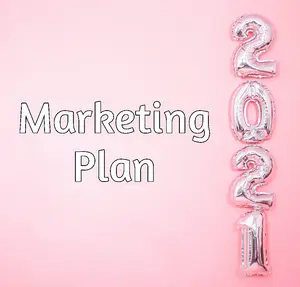 Online digital marketing will undoubtedly be the top form of marketing used by businesses in 2021. This is due to its efficiency and effectiveness. There are various techniques under this umbrella, all of which should form part of your 2021 plans. We'll come back to this a little later in this article.
When developing your marketing plans, ensure you are communicating all brand-related updates and information most effectively and appropriately possible. Messages that fall on deaf ears and blind eyes will deem your work redundant otherwise. There are creative ways to grab and hold attention, which should be one of your primary focus points when creating content.
The power of video content cannot be underestimated. Ensure that you are developing high-quality videos, as this has proven to be the most engaging form of content. For more on the kinds of video content to create in 2021, see our guide here.
Finally, in the online world, social standing is highly influential with audiences. Your marketing should, therefore work on encouraging customer feedback online, from positive reviews to conversations and recommendations.
How to get started with a 2021 Marketing Plan
Audit: Before you embark on the new year, conduct a thorough audit of your current social media activities. Use data to create in-depth reports and insightful facts. This will alert you to opportunities and strengths, as well as weak points that need to be addressed. All of this should inform your goals and digital strategy.

Research: Research is essential, and it is something that needs to be updated. Revisit your audience personas and see if they have changed or grown. Assessing your customer base is crucial as the lives of people around the world changed drastically in 2020, which will undoubtedly affect them going forward. It is also vital that a competitive analysis is conducted. Being informed on the activity of your competitors and industry at large will also provide you with informative and helpful insights

Goals: With all of the information collated in the two previous steps, you can outline your goals. Ensure that these include short term and long term goals. Be specific about what you want to achieve, as honing in on key areas is the way to ensure optimal success. Also, consider objectives that span the sales funnel at all levels. Set measurable KPIs to measure these goals.

Budget: Planning your marketing budget needs to come in at this point, as it will inform the intensity and types of campaigns you can share. Aim to maintain ad spend online to build momentum for your brand. This is also the point at which you need to plan for the allocation of resources.

Content: Once you know what you'd like to achieve and what you have at your disposal to achieve it, you can plan out your content. At this stage, you need to consider your online marketing channels and core campaigns for the year. Fine-tune these by developing plans about how you can repurpose content to suit various channels. This planning should be plotted out on a content calendar, being sure to leave room for some levels of flexibility.

Community management plan: Once you have your content ready to go, you need to ensure you have a team who can deliver and publish it. They will need to be dedicated to ensuring that audiences are responded to and engaged with. Using CRM tools can automate such processes which can significantly assist your marketing team.

Tracking: As with any efforts carried out by your business, you need to track and measure the performances. Ensure you have the necessary tools set up to do so, whether its Google Analytics or insights from social media platforms. This should be done at planned intervals, ensuring that you are capturing the right data (to measure in relation to your KPIs) and that you compare this data to pick up on patterns.
Recommended Marketing channels for 2021
When you're getting started, you may not even know where to begin when it comes to the kinds of marketing to use. These are the best platforms you should have as part of your marketing mix for a well rounded and effective strategy:
Social Media: Increase your brand awareness and engagement, both organically and through paid advertising. Social media is one of the most effective channels for digital marketing for a reason!
Email Marketing: Email marketing is still highly effective, so work on cultivating your emailing list and sharing valuable content with them.
Search Engine Marketing: Increase visibility in related online searches with paid search ads.
Content marketing: A recession-proof form of marketing that provides your audience with added value.
Website: Ensure your website looks and plays the part to gain favourable brand perceptions. In many cases, this is the 'final' destination that other channels direct audiences to, so ensure you have lead forms available and simple selling if you're an e-commerce retailer.
Digital PR: Work on your digital public relations as this form of communication provides a supplement to regular marketing communication which can help your brand's image and reach among audiences.
That wraps up our step by step guide on how to get started with a marketing plan for 2021. With these steps, you can create a cohesive plan that will result in significant results if conducted thoroughly and adhered to.
Let us take care of it for you
Nexa has experience and expertise in all things digital marketing. It's our job to carry out all of the above for all sorts of businesses, both big and small. Get in touch with us to find out what we can do for yours.