Virtual events have provided a lifeline for companies and individuals since the COVID-19 pandemic outbreak in 2020. Since the pandemic began and social distancing restrictions were put in place, physical events around the world came to a grinding halt.
But with the world opening up again and with premier events such as the World Expo in full swing, will virtual events slow down?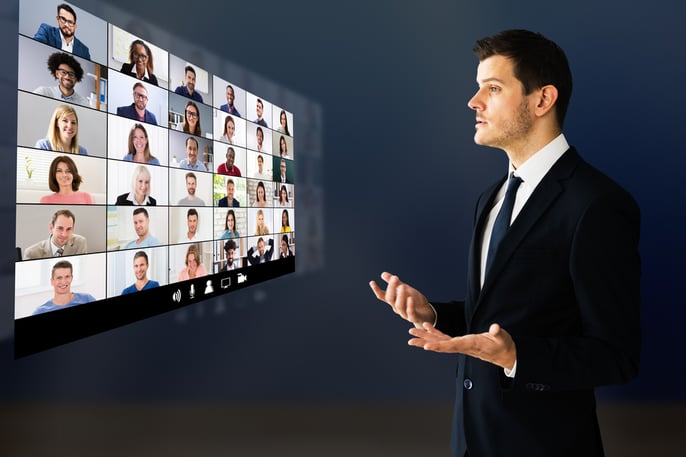 The Growth of Online Events and Online Event Technology
The fact is that virtual events had already been gaining popularity pre-pandemic, with the industry itself being valued at $78 billion in 2019. The industry is also expected to have an annual growth rate of 23.2% - and this proves it's not a passing fad. If anything, it is the new normal. Still not sold? LinkedIn conducted a study about the future of B2B events in which they discovered that 45% of all future B2B events are set to be held virtually. Data from LinkedIn's own platform also showed that live streams via the platform have been increasing by 400% year on year - and this number is set to rise.
Business budgets are even reflecting this change in the norm as investments in virtual events are 3 x more than those of physical events in 2021, while a third of event budgets are set to be spent on virtual platforms in 2021.
With these statistics in mind, it is no wonder many digital platforms are bettering their virtual event technology.
One of the most professional and groundbreaking virtual events platforms on the market today is Welcome. The company has set the standard for virtual events, having established itself as a high-end, white-labeled platform that focuses on quality and design, to ensure an unforgettable experience for event attendees. Since the pandemic, Welcome surpassed a whopping 7 figures in revenue within 3 months of its launch and now boasts top tier clients like Okta, Netflix and Oracle.
Welcome has set the standard for virtual event excellence, and many other platforms have launched their own virtual event offerings. In April 2021, Zoom launched a $100 million venture fund and launched Zoom Events. Zoom Events has been described as an all-in-one platform with the power to create interactive and engaging online experiences. Zoom Events is set to enable large businesses to host internal events, summits and external events and is also able to help smaller businesses and up-and-coming entrepreneurs to host and monetize events from fitness classes to theatre productions through the app.
With the above technologies available to everyone, businesses are quickly jumping on the online events train. Not only is this event option more cost-effective than in-person events, the opportunities for event creativity are endless. So, what kind of events can you host through one of these easy-to-use platforms? Let's take a look.
Types of Virtual Events
Many people believe virtual events to simply be daily, weekly or monthly work-related meetings or discussions. Although this does fit under the virtual events umbrella, it is only the tip of the proverbial iceberg when it comes to the power of online events.
A true virtual event is a curated and interactive experience that all businesses and industries can capitalize on in their own way - be it financially or for brand awareness purposes. By creating interactive online events or gatherings, you are able to draw in new business while providing a chance to better your brand perception and increase your business revenue.
Virtual events can be specific and unique to you, and take a variety of forms including:
Webinars:

A webinar can be a once-off or series-based workshop/class/ discussion that takes place online. This kind of virtual event is a great way to speak with and educate your target audience, introduce new and improved products or provide relevant industry insight that will position you as an industry thought-leader.
Employee / End-of-year Events: With an increasing number of remote employees, you can host internal events for your team where you partake in team-building activities. This is particularly valuable for businesses that have employees from all over the world. It offers a place of connection, brand building and employer branding.
Conferences: This may sound like an impossible task because a conference is usually a few days (or weeks) long, and is made up of key speakers sharing specific industry-related insights. With the technologies mentioned above, it is easier than ever (and more cost-effective than ever) for anyone to pull off a conference.

Roundtable discussions: If you want to create intimate and exclusive events you can put together a virtual roundtable discussion that is invite-only. This is a place where you can invite key personnel in your industry to discuss certain topics and unpack the latest industry news.
The opportunities for brand building, information sharing and revenue generation is endless with virtual event technologies.
If you are interested in learning more about how to put together a virtual event for your business, take a look at our article, here.
But, the real question is - why are virtual events on the rise as the pandemic and social distancing regulations begin to slow down?
We have become accustomed to online communication, and virtual events not only make us feel safe after the pandemic, they also provide a great opportunity for businesses. You see, virtual events provide businesses with a more granular look at how attendees are engaging with an event, all sessions are recorded and this data is invaluable to salespeople following up with prospects and developing new and improved event and campaigns strategies.
So, virtual events not only make attendees feel safe, they have the power to drive business growth and improve the bottom line substantially.
Ready to Host Your Event or Conference?
Chat with us at Nexa. We've helped numerous businesses host and market successful events and conferences online and we'd love to work with you.