With more and more of the world having to move their events and conferences online, you may be wondering exactly what is required for you to host your own. In this guide, we're sharing everything you need to know about how to host an event or conference online, including to the opportunities and types available, as well as the step-by-step processes required to make the virtual space work for your business.
What types of virtual events are there?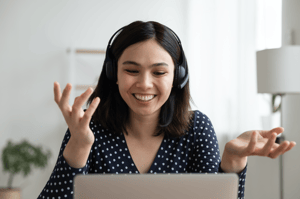 First things, let's establish what we mean by virtual events. We are not referring to your weekly or monthly meetings hosted online, or video discussions that form part of your LMS training and onboarding. This is a curated experience that is interactive. All sorts of businesses and niches can benefit from online events. These meetings can draw in new fans for your business, while providing you with the chance to improve your brand perception, increase your revenue and interact with your audiences.
Service providers are known to attract high volumes of clients, who believe are happy to exchange their time for the value received, while product-based events are great for creating communities and facilitating user experiences. Events are unique and specific, and can take various forms, including:
Roundtable discussions: For intimate events, you can create an ind-depth discussion session between key personnel in a particular field or industry.
Webinars: This is either a once-off or series based seminar that occurs online. It is great for discussing concepts or introducing new products.
Employee events: With an increasing number of remote employees, you can host internal events for your team where you partake in team building activities.
Conferences: A conference can be a few days long, with several key speakers forming part of the schedule.
How virtual events work: Step by step
Strategizing: Event planners and conference organisers often have little experience in hosting online events, so you need to be careful with your selection. These are, after all, relatively new normal ways of business and gathering people. Set your goals before selecting the type of event you'd like to host. Another key aspect is deciding on a topic - these sorts of events are best when targeted to a niche audience, so do not try to appeal to everyone with a blanket approach. You should also determine whether this will be a free event, an invite-only event, a paid-for event or a partially free event with options to upgrade.

Planning: This aspect cannot be stressed enough - just because an event is online, it does not mean there is less planning involved. In fact, there is often more required in terms of preparation. At this point, you need to consider the format of the event, including the specifics of the theme, as well as the method of delivering the content or the proceedings of the event. For instance, you may need to prepare workshops, discussion sessions, networking sessions and panelists for panel discussions. Next up, you need to decide on your platform, which will host the event. There are several options to choose from, so carefully compare the benefits and see what suits your needs best. Options include Zoom, Cisco WebEx, GoToWebinar and On24.

Preparing: You will need to create a micro-site or web page that will form the basis of your event's ticketing system. This is where you will direct people to register their RSVPs and find all of the relevant details pertaining to the event. Other preparations include having a support team ready to deal with any technical issues, including on the day of the event, as well as assisting with the uploading of a content library, where attendees can access all necessary content after the event. You need to ensure you have high quality sound, lighting and camera equipment ready, as well as integration with your CRM system for automated emails.

Marketing: When it comes to virtual events, you need to utilise digital marketing in order to reach your audience. This can be done via your website, email, social media channels and any related publications. If you are hosting speakers or performers, it can be highly beneficial to leverage their networks too. Marketing should include snippets of information with the relevant details and CTAs. Marketing post-event is also important, a business should strive to gain feedback from attendees on their experience.

Hosting: It is important to note that registrations are not an accurate reflection on RSVPs. It is just as easy to skip an event online as it is to sign up for it. Therefore, careful planning and marketing are required to secure your guests. To attend, people will follow a link which has been shared with them, requiring only this and a device and internet connectivity to join. It is vital that as the event unfolds, you are presenting high quality content to the attendees that is visually stimulating and enticing.

Measuring: As with most online activities, there are significant ways to measure the success of your event. In order to make the most of the event, you should set your KPIs during the strategizing phase. These can include increasing your brand awareness, increasing your revenue or simply providing satisfactory experiences for your audience. Some of the metrics you can base this off are the number of registrations, the number of attendees, the feedback received as well as the leads generated.
Ready to host your event or conference?
Chat with us at Nexa. We've helped numerous businesses host and market successful events and conferences online and we'd love to work with you.