TikTok, the short video sharing social media platform, is the fastest growing platform in the digital space. Today, this powerhouse of media is rivaling massive companies such as Meta, Twitter, YouTube and Netflix.
For some perspective, the app has garnered 2 billion downloads in over 200 countries in just 4 years. However, the app hasn't come without controversy. In 2018, the Indonesian Government stipulated a one-week restriction on the app due to allegations of inappropriate content while the former U.S President, Donald Trump, made an attempt to ban TikTok out of security concerns.
Yet, with such monumental controversies and challenges, the app continues to grow among diverse markets and communities and the rise of TikTok is ever-growing.
In fact, new data released from Cloudfare suggests that TikTok is the most popular website of 2021.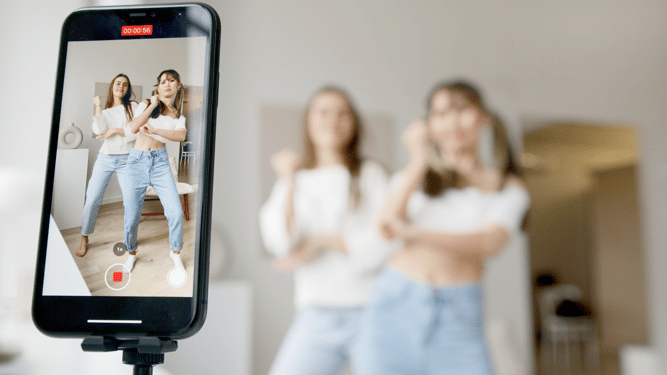 Is TikTok Surpassing Google in Popularity?
In 2020, TikTok was only ranked 7 on Cloudflare's list of the most popular sites, but this year it has jumped to the top spot.
The tool the company used to track website popularity is called "Cloudfare Radar," which first launched in September of 2020. With that in mind, the data from last year only encompasses data from September to December, and 2021 is made up of data collected over the entire year.
According to Cloudfare's year-in-review article:
"It was on February 17, 2021, that TikTok got the top spot for a day, and also in May, but it was after August 10, 2021, that TikTok took the lead on most days. There were some days when Google was #1, but October and November were mostly TikTok's days, including on Thanksgiving (November 25) and Black Friday (November 26)."
TikTok was not only given the prestigious honor of being named the most popular website by Cloudfare, it even overtook the one and only Facebook as the most popular social media site.
Cloudfare also stated in the above-mentioned article:
"In what was the second year of the pandemic, social media domains continued high on our ranking," Cloudflare wrote in its blog. "The nine main social media applications were all in our top 100 list of most popular global domains ... We can see that TikTok ... took Facebook from its crown of the most popular social media website-domain in our ranking.
Your Brand and TikTok
With the above in mind, it is important you investigate how you can use TikTok for your digital marketing efforts in 2022 - you don't want to get left behind.
TikTok has 1 billion active users worldwide and in 2020 the app had been downloaded 2.6 billion times worldwide and as of January 2021, the app had 62 million downloads. TikTok is also full of active users and the users are almost addicted to the app, spending an average of 52 minutes per day scrolling through the platform.
These statistics are mind-blowing but what makes the app so powerful for brands is its level of user engagement. The TikTok user is highly active which makes TikTok a massive marketing field with even greater potential for brands.
How We Can Help
Nexa will create engaging, creative, and trending campaigns for your brand through the interactive, video-based platform.
Collaboration is key when it comes to TikTok and all TikTok campaigns are about community and getting your target market to participate in interactive campaigns - and this allows for absolute creative expression - almost without limits.
Contact Nexa today for all your social media marketing needs.