It isn't always a case of 'out with the old, in with the new.' In fact, a combination of traditional and digital marketing can result in a boost to your business's ROI that you've been missing all this time. In this article, we're looking at how your business can benefit from the powerful combination of mixing digital marketing and sales with telesales.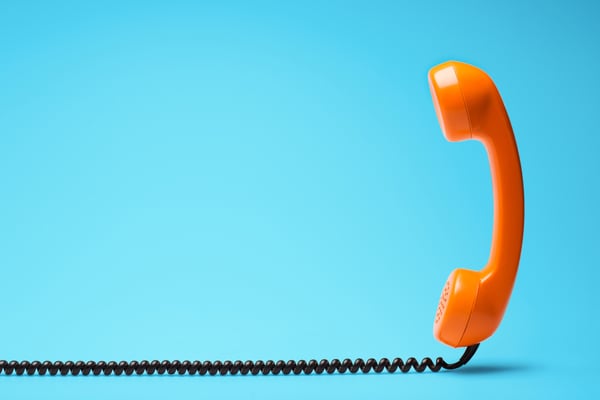 Digital Marketing for Lead Generation
Digital marketing refers to any marketing that is communicated via digital channels. In today's world, while it is common for people to have personal computers, billions of people have phones, with mobile-driven content at the forefront. Marketers today, increasingly use a variety of methods to target consumers this way, from search engine marketing to content and email marketing. With this shift to digital demand generation rather than traditional lead sourcing, many efficient and effective traditional channels have been overlooked - often without reason. One example of this is telesales.
It is a well established fact that most purchasing decisions happen, at least in part, online. This is where the importance of digital marketing comes in. As such, there are several ways to engage a consumer both online and offline. The communication channels your business uses should be integrated and measured for effectiveness in order to getting lost among the overwhelming flurry of content that people consume on a daily basis.
As a business, you need to consider the buyer's journey as they trek through the sales funnel. You need to coordinate your digital marketing and telesales so that you can effectively reach your audience as they move from the research stages from awareness to consideration and finally the decision to purchase.
Telesales for Lead Generation
Telesales refers to the selling of a product or service telephonically. While this form of communication was used extensively before the advent of digital marketing, it can be a useful tool to add to your marketing mix. That being said, as the consumer has changed over time, so too has telesales. By adapting your strategy, you can boost your leads and sales, restoring the value that is to be found in traditional marketing and telesales in particular, once the number one strategy for businesses.
Telesales has evolved from aimless cold calling to strategic conversations. These changes help you to reap in the benefits of this method, without taking on the disadvantages of random and unsolicited calls. This relieves the pressure on both the caller and the receiver.
However, these personal interactions can also be very powerful and resonate with consumers. It allows your business to be direct, rather than relying on being seen and encourages purchases via real interactions in the sea of digital media. The decrease in frequency of telesales alone makes it a useful tool. Depending on what product or service you offer, you can tailor your approach and find that telephone conversations work better in certain situations, for instance when it comes to getting quick responses that are relevant to a particular case, explaining a complex offering, or offering assistance when it comes to taking on a new service provider.
The goal of these conversations needs to be about creating engaging connections and ultimately adding value to the consumer. By achieving this, you can attract, engage and convert leads. This is most effective when used in conjunction with digital marketing, meaning your business should have a strong presence and strategy in place.
Success: A Combined Digital Marketing & Telesales Strategy
When you're utilizing both digital marketing and telesales, you can more effectively budget for each lead. Rather than random attempts at reaching out, you'll have calculated content with people that is efficient in terms of both cost and time. That being said, this strategy does require energy and time on behalf of the business.
Digital marketing and telesales complement each other well in various ways. All of your digital marketing efforts target a broader audience, whereas telesales can come in to make direct contact. You may get sign-ups or form fills from email or social media marketing campaigns which you then follow-up with a telephone call that is based on the consumer's active interest. Digital marketing can't be quite as personal, so this form of communication allows your business to have a direct line and literal voice available to consumers that is otherwise missing.
Finally, both of these functions can indicate consumer needs that gear you towards better providing for your audience. For instance, analytics from your website can inform you of what people are looking for, as can collected information from telesales conversations. Both digital marketing and telesales are therefore ways to gain insight into consumer needs and give your business the opportunity to satisfy that.
In conclusion
When used correctly, it is clear that telesales can be the element that gives a necessary nudge to convert a lead. Telesales can also be what solidifies the faith a consumer has in your brand by offering a personal touch - a deeper connection that fosters loyalty. All you need to do is re-think your telesales strategy so that it is more realistic and appealing to modern consumers. This, with strategic digital marketing can provide your business with the boost its been looking for.
Need experts to take care of your Digital Marketing and Telesales needs?
Nexa recently acquired a stake in Pipeline - A Business Development specialist that operates a lead generation focused call centre run by telesales specialists. With this partnership, Nexa and Pipeline's combined offering means that clients can engage an award winning digital marketing and lead generation agency and have a dedicated telesales operation that can qualify each lead within minutes of being generated. The end result is that clients receive only verified sales leads, reducing the loss of valuable sales time allowing sales teams to focus on closing deals and generating revenue.
Book a session with us at Nexa to learn more about this partnership and how we can help your business to sell better.