The world is digitizing at a rapid pace and this evolution has had a significant impact on all business sectors. Digital transformation is now providing new opportunities to help businesses, organizations and industries maximize efficiencies, reduce cost and increase collaboration across teams.
The educational sector is not immune to digital transformation, in fact, it is vital that schools and universities embrace and adjust their tactics to suit the times. The educational sector is becoming more and more competitive and digital transformation is a means of survival. Educators need to make an effort to adopt new digital technologies, mindsets and methodologies if they want to grow in their space.
In this article, we take a look at the challenges and solutions that come with digital transformation in the education sector, and outline its importance.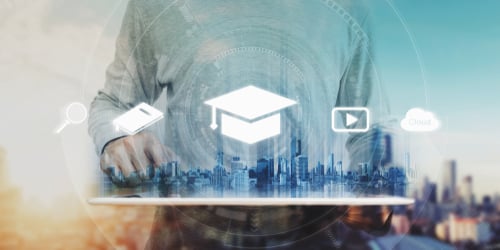 The Challenges and Solutions of Digital Transformation in the Educational Sector
Institutions may face potential challenges as they consider adapting digital transformation technology and processes through their organization. However, all these challenges are easily overcome,
Challenge 1: Reluctance to Change
People get used to doing things a certain way and become complacent in these activities. Essentially, people become stuck on what they know and are fearful to make any changes as they feel out of control. In the educational sector, organizations and institutions within the public sector are not moving forward with their digital capabilities as quickly as those in the private sector because key decision makers are complacent in what they are currently doing and are reluctant to take steps toward digital maturity, In fact, 70% of organizations operating in the public education sector believe their digital capabilities are falling behind as technology progresses.
The Solution 1: Develop a Strategy
In order to ease uncertainty, it is important to investigate and understand the benefits that come with digital transformation within the sector. By understanding this, individuals within the organization are able to communicate these benefits to key decision makers and stakeholders within the organization. But it is also important not note that strategy is key when presenting this to the decision makers.
Digital innovation in any sector needs to begin with a strong strategy and in order to create a strategy that ensures successful digital transformation, educational institutions need to identify core business goals and identify what digital technologies, software, and methodologies can be used to achieve these goals.
For example: If you want to streamline your enrolment process, a Customer Relationship Management tool such as HubSpot is a great way to monitor your leads, enrolments and relationships with students. Once you have identified your goals and the technologies able to drive your objectives, you will be able to communicate with key decision makers or stakeholders within the organization - driving change.
Challenge 2: Too Much Data
The digital age has provided us with a wealth of data and metrics to assist educational institutions. This kind of data offers much needed insight into prospective students, internal processes, communication and efficiencies throughout the organization. This kind of information is vital and invaluable however, many institutions have siloed this data which makes it almost unreadable and unmanageable. Now, when "data collection" is mentioned, many of those in the educational sector may experience pushback due to previous mistakes or wasted resources.
However, it is important to understand that educational leaders are now able to make educated predictions and important decisions by using advanced technological systems that are able to store this data and organize it in an easy to access and easy to read way.
The Solution 2: Leverage Data & Easily Integrate it into your Processes
With advanced software such as Customer Relationship Management systems, educational leaders are now able to store vast amounts of data in a single location and leverage this data to make better choices regarding marketing, communication, and service. This is because these tools are designed to track your data, prospective learners and current students, and provide you with available insight that can benefit your organization.
For example: When it comes to marketing your institution for enrollment purposes, you are able to track prospective students and guide them through the enrollment process - from your website and social media campaigns through to emails and registration forms. And once a student has enrolled with your institution you are able to ensure continued communication through automated and personalized communication (based on data and individual student behaviour) - ensuring you create a sense of community and trust with your organization. By tracking every lead throughout the process, you are able to discover what avenues are working in your favour, and you can analyze what is not working - and amend your processes accordingly.
The Challenge 3: Not Knowing Where to Begin
When it comes to digital transformation, the biggest challenge for business leaders is to know where to begin. Implementing a digital change in processes can be overwhelming however, it doesn't have to be daunting. It is this daunting feeling that is holding back much needed change in the education sector - and it is unnecessary and hindering growth.
As stated previously, strategy is key to digital transformation and your teams need to put together a powerful strategy - or consult with a digital transformation expert - in order to understand your needs, wants and expectations.
The Solution 3: Consult with Professionals and Upskill Staff
It is vital that educational sectors invest in hiring professionals or upskilling staff in order to close the gap. As an educational institution your staff are consistently being upskilled and to ignore digital transformation would be a roadblock to greater success.
By upskilling your internal departments you are able to implement a digitally motivated upskilling program that will give your colleagues, staff and business leaders a chance to understand the new technology, use it to their advantage and help them grow your institution and thrive in their positions.
For example: By consulting an agency that is experienced in the education sector as well as digital transformation technology, you are able to provide your staff with the knowledge and ability they require in order to use the new technology to the best of its ability, and in turn, optimize your business operations and processes. A professional agency will be able to outline business models and digital technologies that will work best for your institution, and help you understand what software and tactics will work best to serve your goals and objectives.
The Challenge 4: Integration of New Technologies
All businesses and organizations are run on technological systems and software's to ensure streamlined day to day operations. Many educational leaders are concerned about integrating their current software and systems into new and improved systems and software's. Will these new software's be easily integrated? Will the staff be able to adapt to the new tools? The concern around incompatibility is making leaders worry about time and cost and this is hindering them from moving forward toward digital transformation.
The Solution 4: Integration has become Easier
As we move forward into the digital age, most tools and technologies such as Customer Relationship Management software's, can be easily integrated with your current systems - making the transition smooth and cost-effective.
For example: HubSpot is a powerful digital transformation tool designed for Customer Relationship Management, data collection, marketing, sales and service solutions. HubSpot has a strong integration system and integrates with some of the most used tools in the world. When you begin with HubSpot it takes a simple plug in software to start sharing data across all your major systems.
Now that we have highlighted some of the challenges educational institutions may face and have outlined the solutions, let's take a look at the benefits that come with digital transformation.
3 Benefits of Digital Transformation in the Education Industry
Automation: Digital transformation tools provide automation services and solutions that will propel your marketing, sales and service tactics. Implementing automated systems and technologies such as HubSpot will assist educational institutions with operational tasks, admin workflow, data collection and marketing (including personalized and automated emails). Essentially, digital transformation will increase productivity across your institution and decrease long-term costs thanks to minimal infrastructure and easy integration.

Digital Citizenship: By fostering an environment of digital growth or digital citizenship amongst your students and faculty, you create a strong culture of learning and growth within your organization. This means that digital transformation will become a selling point for your institution. Think about it like this: with a streamlined onboarding process powered by digital transformation tools, you put your institution ahead of its competitors, as faculty and students integrate with your organization seamlessly. And this is what will drive your institution forward as a leader in the education sector.

Marketing and Customer Service:

When it comes to student enrollment it is vital that your sales and marketing teams are in alignment because if these teams are in sync, less leads will fall through the cracks and your enrollment team will have greater insight into which prospective students or learners have a higher chance of conversion than others. A strong Customer Relationship Management tool allows these teams to work together by information and data sharing which ensures all departments are on the same page when it comes to delivering the right message to a potential student or learner.




In Conclusion
Digital transformation is vital for the success of educational institutions and by harnessing the powers of these tools to help you understand your target market, learners and prospective students through data collection, departmental alignment and streamlined processes, you are able to steer your institution toward your goals.
Essentially, digital transformation comes with a host of benefits that cannot be denied and if you want your organization to thrive, you need to make the digital changes - today.
About Nexa
From implementing the HubSpot CMS and CRM systems to training your teams, we transform educational institutions with the inbound methodology and we adapt HubSpot to suit your business goals. Whether your focus is generating leads, accelerating enrollment or developing a powerful marketing strategy to provide a personalized learner experience, we offer the complete range of HubSpot services to meet your needs.
Together, we build your custom digital transformation solution.
Contact Nexa today for all your digital transformation needs.