"Digital Transformation" is a phrase echoed from boardroom to boardroom across the globe. But what is digital transformation, and how can it help your business grow? More specifically, how relevant is it for the Financial Services industry?
What is Digital Transformation?
Digital Transformation refers to the adoption of digital technology in order to transform a business or service by replacing traditional and manual processes with efficient, advanced and data-rich digital tools. Today, it has become crucial for businesses to invest in digital transformation tools in order to stay competitive and relevant in their industries. This is because digital transformation makes way for in-depth lead and customer data, helping your marketing, sales and service teams analyse which campaigns and processes are working toward your business goals and which need to be amended.
Not only do digital transformation tools provide you with deep insight into consumer behaviour, but by implementing these processes you are able to enhance the productivity of your staff, allowing for open and smooth communication and alignment between teams.
Digital transformation isn't limited to industry, and is a practice that needs to make its way through every business if they want to survive in the digital age. With this in mind, it's important that financial service providers take the time to understand the relevance of digital transformation within their sector.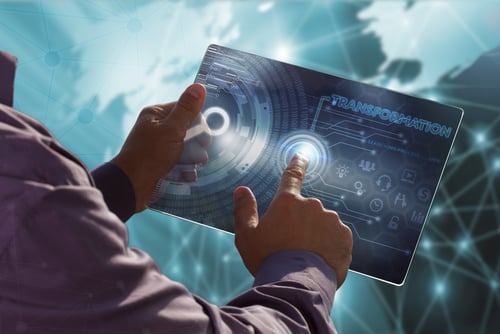 Digital Transformation in the Financial Services Industry
Digital Transformation in the finance sector isn't simply a technology strategy, it's a business strategy in its entirety. This is because it leads to quicker, more cost-effective and time-saving business processes while increasing consumer trust and bettering customer experience.
Below, we outline the key benefits of digital transformation software and tools for the financial services industry.
Benefits of digital transformation tools in the financial sector:
Team Alignment: When it comes to the financial industry, clients have a multitude of reservations and fears. Therefore, it is important that you build trust with leads because any hint of miscommunication will quickly drive a potential client to one of your competitors. Digital Transformation tools are designed to align teams within your financial organisation - from your marketing team to your sales and service teams. This ensures seamless interaction with leads and clients as all individuals within your organisation are able to work collaboratively and communicate effectively - essentially, nothing gets lost in translation.



Understanding your Client: Digital Transformation tools allow you to create smooth and streamlined processes, from setting up meetings to tracking customer behavior and storing all communication between teams and customers. By having these tools in place, you are able to become agile in your marketing, sales and services as you provide better service and gain greater insight into what your target audience is looking for from your business.

Educating the Consumer: In the financial sector, organisations or firms often (if not always) encounter prospects who are uncomfortable - specifically when it comes to policies and insurance. What we mean by this is that these prospects have either heard terrible stories about financial advisors or have experienced something they never want to experience again in this regard. This is becoming increasingly prominent in the financial sector as we head into unstable economic times and negative social media comments and reviews flood the world wide web. This is why it is important to dig deeper with your prospects and understand what questions they need answered. By understanding their behaviour, questions and what problems they need solved, you can educate them with helpful content that is informative and transparent. This approach allows you to build trust and increase the confidence that a prospect has in your business and your approach. Digital Transformation tools allow you to communicate with prospects in a highly efficient and personalised way. Digital communication allows your business to track your prospect's online behaviour and engagement with your brand, allowing your marketing team to create personalised campaigns that reach your prospect with the right message, at the right time, through the right channels.
There is a common theme outlined above and that is today, building consumer trust is vital in all industries, particularly in the financial services sector.
The modern day consumer is able to self-educate, research your services, and find your competitors at the click of a button. And if you don't educate the consumer about your service offerings with transparency and honesty, you will lose them to your competitors.
But how do you educate your target market and how do you let them know how your policies or plans can help them and better their lives? In order to do this successfully, you need to fully understand the needs of every individual lead and this can be done through Customer Relationship Management software - the foundation of digital transformation.
Customer Relationship Management for Client Acquisition in the Finance Industry
Customer Relationship Management (CRM), is a software and business strategy that companies use to manage interaction with potential customers and current customers. A CRM is designed to streamline processes, build and nurture customer relationships, increase sales, better customer service, and ultimately increase profitability.
HubSpot is a leading CRM that can be defined as an inbound marketing, sales and service platform that helps organisations attract visitors, convert leads, close deals and nurture relationships. The software offers functionalities that manage marketing, sales and service activities in a single location - aligning all departments to better business processes.
HubSpot for Client Acquisition in the Financial Services Sector
Financial service providers have been following the same processes for years but these traditional marketing, sales and service methods are no longer relevant in the digital age - and are not able to scale your business. Financial firms and organisations need to grow and advance, and this can be done through CRM software that forms the foundation of Digital Transformation.
HubSpot is renowned for its CRM tools and is the ideal platform for financial organisations. Whether you function on a retainer model or once-off model, HubSpot and its Inbound Marketing capabilities can help your business grow in the digital age.
How HubSpot can drive your client acquisition efforts:
Attract Qualified Leads: Building trust through education and transparency is vital to your success in the financial industry. HubSpot website, blogging, social media and Search Engine Optimisation tools are designed to draw candidates to your website and through content creation while related HubSpot functionality is able to track their behaviour on your site, learn what they are interested in on your website, and store this information and data in a single location - helping with remarketing campaigns that speak to what your specific lead is looking for from your organisation.


Client Nurturing: Through HubSpot you are able to create personalised and automated email campaigns to build trust with leads and nurture relationships with current clients. This strategy helps potential clients understand your services and offerings which is vital for the financial industry.



Streamline the Sales Cycle: As HubSpot is able to track lead behaviour and education leads through content distribution, your representatives are able to reach out to the highest quality leads - at the right time. For example: You will be able to track when a potential client takes a specific action on your email or your website and your representative will be informed of this - knowing it's the right time to make contact.

Upsell Services to Current Clients: You are able to cross and upsell your service through hyper-segmented communication with your database. As you are able to keep data in a single location - your representatives are able to have a complete view of clients and client behaviour with ease.
In Conclusion
Marketing can be challenging in the financial business, but by aligning your marketing, sales and services teams and collecting important customer data through HubSpot, you are able to provide leads and clients with information they want and help guide them through the sales process.
Digital Transformation and Nexa
Nexa is proud to be a Diamond-tiered HubSpot Partner and this places us in the top 2% of HubSpot Partners globally.
If you are interested in implementing HubSpot for your financial business, our HubSpot development team has experience integrating HubSpot's CRM with a number of platforms that can increase the efficiency and data access for your business.
Contact us today for more information and to learn more about our offerings.