No business is immune to digital disruption, and the real estate industry is no exception. Real estate developers have been later adopters of digital transformation technologies compared to retail, healthcare and banking organisations. However, with the rise of Customer Relationship Management software, digital marketing, digital lead generation and automated communication, the real estate development industry has the tools it needs to improve operational efficiency and make more sales.
So, are real estate agencies needed for off-plan developments in 2022? Essentially, developers (particularly those in off-plan development), have access to in-depth lead data and this means they are now able to cut out the middle man.
So, as it stands, real estate agencies are under threat. It comes in the form of digital transformation technology. Let's take a look...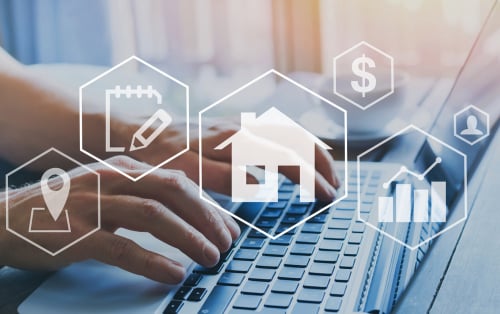 What Digital Transformation Can Do for Off-plan Development Sales
Selling off plan real estate can be difficult as you are asking for buyers to commit to a property that is not yet built. This is why many off plan developments invest in the services of a real estate agency. It is the real estate agencies that hold the key to vast databases as they have collected contact details over a number of years. This kind of information is incredibly valuable.
The good news is, this kind of data has become more accessible than ever before thanks to Customer Relationship Management (CRM) platforms and related lead generation technology. Instead of having real estate agents cold-calling countless individuals based on a vast database (who are probably not interested in your property), you are now able to contact those who have actually engaged with your development and shown interest in your offering.
So, what is a CRM and how can it help your off plan development sales in 2022?
Customer Relationship Management for Lead Generation, Lead Scoring and Sales
CRM technology is designed for managing all your company's relationships and interactions with potential and current customers. The goal of CRM is simple: improve business relationships and increase the bottom line. A CRM system will help your off plan real estate company stay connected to your target marketing, streamline processes and ultimately improve sales.
So, how does it actually work?
Quality CRMs such as HubSpot provide a single location for marketing and sales teams to implement, manage and track all their efforts (cutting out the middle man). For example, all digital marketing campaigns (from social media and search engine marketing to landing pages for lead generation purposes) can be run through the platform.
Not only can your marketing team run all campaigns through a CRM, they are able to track the success of every campaign in greater detail in order to learn what is working and what is not working. Your off plan real estate marketing team and sales team will also gain greater insight into your leads through the platform, identifying warm opportunities by tracking lead behaviour and understanding where each lead is within the sales pipeline.
A quality CRM will also be able to send out automated and personalized emails to leads based on their behavior and level of interest, sending them the right message at the right time - making for better customer service and more conversions. This automated service also saves your real estate sales department time, and instead of typing out personalised emails, the system will do the work for them so that they can spend time making quality sales calls and setting up lucrative meetings with quality leads, instead of focusing on time-consuming tasks.
The benefits of HubSpot CRM for Off Plan Real Estate include:
Digital Marketing Integration
Quality Lead Generation
Lead Data Storage
In-depth Lead Tracking
Digital Marketing Reporting
Marketing Automation
Sales & Marketing Alignment
As a CRM is able to target your ideal buyer through digital marketing and lead generation tactics, you are able to store lead data in a single location, nurture those leads through automated and personalized marketing, track their behaviour and monitor them as they make their way through the sales pipeline.
This means that you no longer have to rely on real estate agency databases which saves commission and reduces VAT cost of sale, thereby improving your bottom line.
In Summary
Real estate developers are now understanding the importance of marketing and sales alignment through a centralized CRM. And by aligning marketing and sales processes (and cutting out the middle man), real estate sale agents are able to understand the buyer's journey in greater detail and reach out to a lead at the right time - with the correct message.
This strategy eliminates the need for expensive real estate agencies, takes low quality leads out of the equation and ensures that every call and follow up email has value - saving off plan real estate developers time, money and resources.
Since 2005, Nexa has provided inbound marketing and sales lead generation for the real estate industry. We are proud to be the region's leading and only HubSpot Diamond Agency Partner and have been recognized as thought leaders and innovators within this field. If you are looking to generate leads for your real estate business, we can help.
Contact Nexa today and drive highly qualified sales leads for your business.