Real estate professionals - are you ready for 2022? 2020 was a difficult year for the real estate industry, 2021 came with renewed hope and 2022 is the year all real estate professionals have been waiting for. It's time to strategize for success.
2022 will be a year of marketing innovation and disruption for the real estate industry, and all real estate professional need to embrace digital transformation in order to navigate the coming year.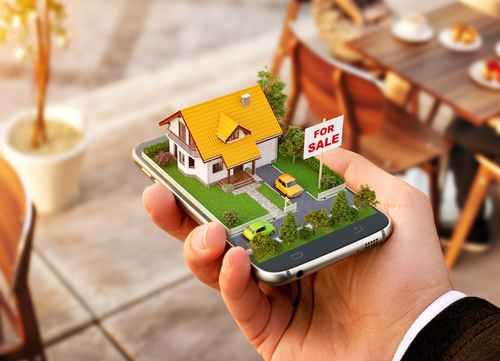 In this article, we take a look at the top digital marketing trends for real estate in 2022:
Digital Lead Generation and Digital Content Creation
When digital marketing first hit the mainstream, the real estate industry was cautious to jump on the bandwagon. The industry was so used to print media, word of mouth marketing, face to face consultations, events and magazine advertisements that the thought of handing marketing over to an online entity was way too unpredictable.
Fast forward a few years later and every realtor is using online marketing in one way or another. Then came 2020 and all businesses, no matter their industry, had to focus most of their marketing efforts on digital marketing due to social distancing regulations and lockdowns throughout the world. Since 2020, real estate professionals are aware of the power of digital and social platforms, and are using these channels to generate high quality leads and conversions.
Digital marketing lead generation is powerful for the real estate industry because digital platforms such as LinkedIn and Facebook allow for highly targeted lead generation campaigns that weed out low quality leads - saving realtors time and resources when it comes to following up with leads. In order for real estate marketers to create a successful lead generation campaign in the digital world, their marketing strategy needs to take "content creation" into consideration.
With a world of information at our fingertips and a social community ever present on our screens, content is something we are inundated with on a daily basis, and without even realizing it, we are consistently digesting and searching for new content. Real Estate agencies need to capitalize on this and provide potential customers and current clients with engaging and high-quality content to boost sales.
So, how is this achieved? Instead of sourcing customers through mass advertising campaigns like realtor marketing of the past, marketers need to reach high quality leads by sharing thought-leadership articles, creating interactive and shareable social media posts, and providing targeted audiences with helpful information that benefits their lives. By doing this, real estate agencies have the opportunity to create close-knit communities, and it is these communities that build brand trust and lead to increased property sales.
In 2022 it comes down to helpful digital content and quality digital lead generation!
Building a Community
COVID-19 took its toll on all businesses and all industries including real estate - and real estate was hit hard. And in this time, marketing has had to shift from direct conversations to community building. In the past, if a person was interested in viewing a property they could book a viewing whenever it suited them and be taken through the property by a realtor. Nowadays, even a year after the pandemic hit, meetings have become common-place on Zoom and because of world-wide social distancing precautions still in full swing it has been harder to book a time for a viewing.
This is where community building comes into play. Staying top of mind during these slow periods will drive leads and conversions once the industry begins to pick up and finances stabilize. By creating communities and engaging with prospects during this time, you will have warmed them up to a sale when the time is right for them to buy.
In order to do this, real estate agencies need to keep active on their social media platforms and continue sharing email communications, blog posts, and newsletters with their prospects and current clients. If communication and brand awareness dwindles, a real estate agency will quickly plummet and lose the trust of its target market. So, the key is to keep active, continue putting out quality content, help your audience by providing them with valuable information about property buying at this time, and keep your brand front of mind.
In 2022, establish yourself as an industry authority and you will win the trust of your audience - who will turn to you when they are able to make a property purchase.
CRM Software for Real Estate
In the past (almost) 2 years, real estate marketers have realized the importance of marketing and sales alignment. By aligning marketing and sales processes, real estate agents are able to understand the buyer's journey in greater detail and reach out to a lead at the right time - with the correct message. This strategy eliminates low quality leads from the equation and ensures that every call and follow up email has value - saving real estate agents time and saving real estate brokers and developers resources.
In order to do this, real estate marketers need to invest in Customer Relationship Management (CRM) Software. CRM is a strategy that businesses use to manage interactions with customers and potential customers, helping organisations streamline marketing processes, build and nurture relationships, increase sales, improve customer service and ultimately increase the bottom line.
Quality CRMs such as HubSpot provide a single place for marketing and sales teams to implement, manage and track all their efforts. For example, all digital marketing campaigns can be run through the platform including search engine optimization, social media marketing, blogging, lead generation, email marketing, and paid online advertising efforts.
Not only can your marketing team run all campaigns through the platform, they are able to track the success of every campaign in greater detail in order to learn what is working and what is not working. Your marketing team and sales team will also gain greater insight into your leads through the platform, identifying warm opportunities by tracking lead behaviour and understanding where each lead is within the buyers funnel.
A quality CRM will also be able to send out automated and personalized emails and communications to leads based on their behaviour, sending them the right message at the right time - making for better customer service and more conversions. This automated service also saves your real estate agents time, and instead of typing out personalized emails, the system will do the work for them so that they can spend time making sales, instead of focusing on time-consuming tasks.
The benefits of HubSpot CRM for Real Estate include:
Digital Marketing Integration
Quality Lead Generation
In-depth Lead Tracking
Digital Marketing Reporting
Marketing Automation
Sales & Marketing Alignment
All the tools that you require to run a great marketing campaign are available within the HubSpot software, and these tools work together to attract, engage and delight potential and current property buyers and investors.
In 2022, you need to align all your marketing and sales efforts in a single place to ensure streamlined processes and increased sales.
In Summary
Real estate marketing in 2022 is all about digital strategy:
High quality digital content builds community and trust
Social media marketing increases engagement and keeps your real estate agency top of mind
Quality digital lead generation saves agents time and resources - and ensures more sales
Customer Relationship Management software aligns your sales and marketing efforts ensuring greater marketing, sales and customer service
Since 2005, Nexa has provided inbound marketing and sales lead generation for the real estate industry. We are proud to be the region's leading and only HubSpot Diamond Agency Partner and have been recognised as thought leaders and innovators within this field. If you are looking to generate leads for your real estate business, we can help.
Contact Nexa today and drive highly qualified sales leads for your business.