To answer this question simply: Yes. In fact, HubSpot has a track record of working for an array of businesses, healthcare-based included. So, what can it do for you? Read on to find out about this software, engineered to provide your business with ease and customer satisfaction.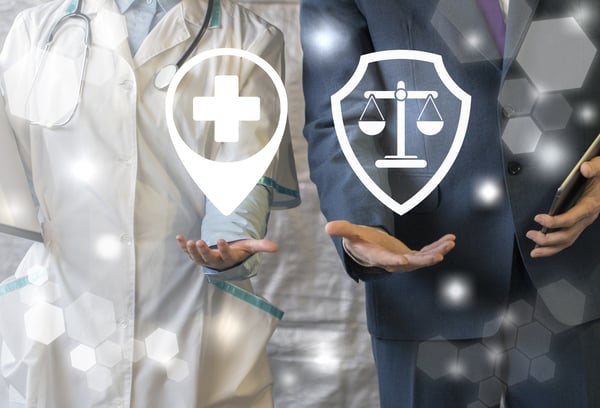 The business of healthcare
If you're a healthcare business, you'll fall into one of two categories: B2B or B2C. In the case of the former, you're in the business of marketing and supplying other healthcare businesses with services, products and equipment. B2C in this case, refers to healthcare businesses who offer services to patients. HubSpot, a customer relationship management (CRM) platform, is relevant and applicable to both of these types of businesses.
The basics of HubSpot
Businesses use the HubSpot platform to organise, track and build better relationships with their leads and customers. It is an all-in-one offering that can help you to create and manage tasks and deals. As is the case with almost all businesses today, having a website is not a nice-to-have - it's a must-have.
So, why not utilise the power of HubSpot, which offers you so much more than that, not only behind the scenes, but on the frontend too. What we mean by this is that HubSpot allows you to create effective, functional and aesthetic websites that are designed with positive user experiences in mind. Thousands of businesses around the world make use of this technology. With it, they build and grow their businesses by effectively presenting their brand and operating optimally.
Healthcare Marketing
HubSpot is founded on the term 'inbound marketing.' This refers to the growth of a business by using a helpful approach. In healthcare, this is essential - you need to have an empathetic standpoint and personal touch when dealing with issues that lead to wellbeing and in some cases, matters between life and death.
In order to implement inbound marketing, you need to create and share high quality, valuable content. The purpose of this is to increase your views and generate leads, thereby growing your customer base. With this method, you can 'attract, engage and delight' people, while providing them with value and build trusted relations with them - another key philosophy when it comes to healthcare businesses. HubSpot is built to equip you with the ability to master inbound marketing and these tools and features help you to streamline your marketing activities, while aligning them to support sales processes:
Marketing Automation driven by manually implemented marketing actions or automated, trigger-based activity
Ability to track all marketing touchpoints:

Website and Landing Page visitors
Emails - both marketing and sales emails
Documents
Social Media interactions

Fully integrated Sales CRM with Marketing Platform allows sales sequences and workflows to combine
Full visibility of all lead generation from Google and social media campaigns
Account Based Marketing (ABM) was launched as brand new feature in 2019 allowing B2B businesses with the opportunity to target high-value prospects using this platform.
Funnel to Flywheel
HubSpot does not look at sales through the traditional sales funnel lens. Instead, they work with a flywheel, which encapsulates a repetitive, interconnected process. Here's the three main aspects of the flywheel and how it relates to healthcare businesses:
Marketing: On HubSpot, marketing is grounded in content creation. That is what leads to traffic and leads. With so many healthcare providers, it is important to master this aspect in order to stand out and appeal to your customer base.

Sales: Here we're referring to demonstrating your product or service to effectively close deals. HubSpot streamlines the process for you for different outreach options and, of course, tracking. For healthcare businesses, providing insightful information that is verified and authoritative is important for marketing and building trust. B2Bs in particular can benefit from video content to showcase their offerings.

Service: The follow up experiences are an important aspect of healthcare businesses. For B2Bs, this is based on follow up support and long term relationships. With B2C, there are often returning patients and care treatments that require long term relationships. All businesses need to garner positive feedback and testimonials as this can have significant effects on whether people will engage with your business. HubSpot offers the tools in order to communicate this effectively, keeping record of all of your interactions for best practices and personalisation.
Additional benefits of using HubSpot
Marketplace: Access hundreds of apps that can be integrated with HubSpot. These allow you to access additional sets of tools, which can improve your data collection and simplify your business processes. This means that your healthcare business will be able to connect existing systems with ease when you begin using HubSpot, or simply add to your existing collection with ease.

Academy: With the many aspects of HubSpot, you may be weary of the technology. In order to combat this, the platform has an academy that is jam packed with useful and insightful courses that are directly applicable to your business. Immerse yourself in knowledge on various topics to expand your capabilities and understanding both personally and professionally. Watch your skillset grow along with the growth that is evident for your business with the effective use of HubSpot.

Analytics:

HubSpot software provides rigorous reporting for marketing, sales and services provided. Because the platform integrates various business operations, your teams enjoy the benefit of analytics that influence their activities. Through collaborative efforts, your healthcare business will provide a collective effort best suited to individual clients and patients. This will not only improve business, but will also create seamless, personalised and supported experiences for customers.
As you can see, HubSpot is an invaluable software for businesses to use. With so many benefits wrapped up in one platform, the ease of use and creation of a top notch experience for both your internal team and your customers, it's no wonder that HubSpot is a primary choice among healthcare businesses.
Work with a Healthcare Award Winning Partner
Nexa has been recognized as a high-quality healthcare marketing partner and recently were awarded the Best Digital Marketing Award - Healthcare by the MENA Search Awards in 2019 for our extensive work with Invisalign.
Nexa is Dubai's Leading Independent Digital Marketing Agency and a HubSpot Diamond certified agency partner. We're here to help you with everything HubSpot - book a virtual meeting to get started.