With the COVID-19 pandemic still having an impact on many countries around the world, the demand for healthcare businesses is ever present. But for an industry that is highly dependent on face to face interactions, the pandemic has caused challenges for many healthcare providers. Online marketing channels have helped fill this void and many healthcare businesses are now turning to social media to help them to remain visible and engage new and existing customers.
The primary reason for healthcare businesses to be on social media is to cater to information seekers. With many decisions and discoveries made online today, your social media marketing could very well be the reason someone decides to seek your care.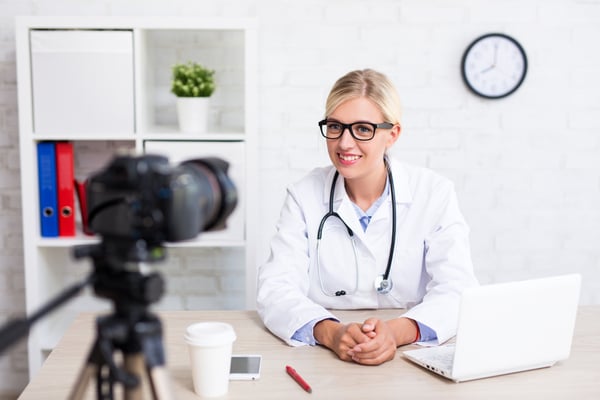 Before building your presence online, be sure to read up on the industry related rules and regulations in your region that you will need to adhere to. There are threats presented by social media usage by healthcare businesses, namely bad reviews and misinformation. In addition, people are more aware than ever about their health, who they should trust and who can provide them with the best care. Therefore you need to establish your business as a trusted source of information and service.
Social media and healthcare may seem paradoxical at first glance, since the most important relationships in the industry are those of privacy and sworn trust of confidentiality between patient and doctor. However, being on social media does not affect those relationships in any way. In fact, it can increase customer trust in your business, based on the content you share. It is an opportunity to be transparent with patients and to utilise the platforms to be active and grow your business, just as any other business would.
Healthcare on social media
Awareness: Social media provides you with the opportunity to create awareness for developments that happen not only within your business, but about general, emerging, and annual health concerns too.
Grow patient base: People online are your potential patients. Identify them, target them and appeal to them to increase your visibility and invite them to your practice. Having geo tags on social media connected to your account is also an easy and effective way of increasing your visibility.
Networking: You can build your professional network by connecting with important industry figures and establishing your business within that network.
Advertising: All businesses can benefit from advertising and social media provides you with cost effective ways of reaching your audience effectively.
Reminders: You can use social media as a tool to remind people about your practice and what you can offer. In addition to this, you can send out relevant reminders about healthy practices and living habits.
Offers: You can share promotions with your actual and potential customer base, sharing information about seasonal offers or new procedures that you may have. This can assist you in generating leads.
Lead generation: Once reaching your customers, you can create sign up forms as a means of generating leads. This can be to schedule appointments or sign up for newsletters, for example.
Support: You can support your patients with care outside of the business through caring messages and follow ups. Another great way to do this is to connect patients (with their consent) to similar patients in social media groups for added support.
Social media content
The main objective of the content that you should create is to build trust and confidence in your business by offering insights and knowledge and helpful tips in a non-technical, easily digestible way. The following will help you to find different ways of creating this type of content:
Engaging content: In order to stand out on social media, you'll need to create content that is interesting and sparks engagements. Consider creative ways to incorporate multimedia with relevant links to your website if need be and whether you'll need to incorporate stock images.
Testimonials: Word of mouth is highly effective on social media. Having positive reviews displayed on your accounts (including Google Reviews) can help to build trust. Patients can also send referrals by recommending or sharing your content.
Informative and accurate: Your social media accounts can be a tool to provide clarity on misinformation that is circulating, so you should monitor the news and conversations happening online. THis will help to establish your business as a trusted source who shares published, credible information.
Timely: Social media relies heavily on timeliness, so be sure to keep abreast on updates relating to your industry. You can also join in on relevant and trending conversations to increase your following. Social media is also an important medium for crisis communication when need be.
Doctor profiles: Bring in a sense of personality to your social media accounts by introducing the doctors or practitioners at your healthcare business. This will help people to connect with them, understanding their values and expertise.
Answer Questions: Host Q&A sessions, or simply respond to questions as they roll in. These can be helpful to audiences and you can do this creatively, through short videos, for instance. This will also help you to build trust and confidence in your business from patients.
As we can see, there is great value in having healthcare businesses online. With goals in place and planned content, your strategy will be effective and beneficial, not only to your business but to society as well, providing valuable information that is powerful and necessary.
Need help devising a social media strategy and creating effective content for your healthcare business?
Speak with us at Nexa, we're a growth focused agency with all of the expertise needed for your business to succeed.