These days, email marketing is often considered quaint compared to the sophisticated and advanced ways we engage on the internet these days, but the number of email users throughout the world continues to grow. In fact, in the beginning of 2020, email users reached a staggering 2.9 billion - a third of the world's population. So, when people say email marketing is on its last legs, think again. Email marketing is more relevant in 2020 than it has ever been before, but your email marketing efforts require strategy, personalisation and automation in order to receive the best results.

In this article we will take a look at statistics released at Inbound, HubSpot's annual marketing conference, which was held in September 2020. These statistics are based on data collected from over 200 million emails between the months of March 2020 and August 2020. Essentially, this data proves how email marketing has soared during the "new normal" and how it will continue to grow during and post COVID-19.
The History of Email Marketing
Before we unpack the statistics provided by the study, let's take a look at a brief history of email marketing and how this instant communication tactic changed the way we do business forever.
The very first email was sent in 1971 by Ray Tomilson. A renowned computer engineer, Tomilson developed a new system of sending messages between computers that became known as electronic mail or email as we know it today. The method of sending and receiving these messages using electronic devices actually pre-dates the invention of the internet and relied on a US Department of Defense system called ARPANET in order to function, and this became the basis for the internet as we know it today.
With the rise of the internet and instant communication, it wasn't long before the first email marketing campaign took place. With an approximate count of 400 recipients, Gary Theurk of Digital Equipment Corporation sent out the very first email marketing campaign in 1978. The email blast was a strategic promotion for his businesses which resulted in $13 million worth of sales. And due to the incredible success of his campaign, email quickly became the worlds most sought after tool for marketing.
Since then, email marketing has continued to flourish and its rise (and in some cases, fall) has led to advancements that have made it an even stronger form of marketing communication. When implemented strategically, email campaigns have the ability to advertise, promote and engage with consumers on an incredibly powerful level. However, the key is creating campaigns that are relevant, insightful and engaging - and all campaigns need to be designed to drive the receiver to take a specific action.
As the new normal hit the world in 2020, we found ourselves stuck behind our 4 walls and behind a computer screen. And with the below statistics in mind, online communication during the time of COVID-19 has become even more vital for our survival, both socially and in business.
Let's take a look at how email marketing has made a big comeback in the past few months, and how you can make this form of communication work for your business and your bottom line.
The Study: Results compared between 30 days in March 2020 and 30 days in August 2020.
March v August 2020 - the data.
In the 60 days of the study (30 days in March 2020 compared to 30 days in August 2020):
Email inbox activity went up by 22%
B2B Open Rates went up by 16%
B2C open rates went up by 25%
Email newsletter open rates went up by 19%
Email sign up open rates went up by a staggering 40%.
The increase in email marketing success is notable as per the above the statistics, and it is important to understand what has made these campaigns such a success. The study went into greater detail regarding what works for email marketing in the new normal and what is hindering campaign success.
The Impact of Email Subject Lines
As COVID-19 hit the world, businesses scrambled to get their brand message across to their customer base, and prospects and current clients became bombarded with even more email communications, all of which were competing for the recipients time and attention.
In order to filter out unnecessary messages, most people spend a fraction of a second evaluating email subject lines before making a decision. If the subject line does not immediately grab attention, they will move on to the next message in their inbox even if the main body of an email contains information they may find valuable. The bottom line is that subject lines always matter - especially in the "new normal."
Sometimes our email subject lines may be filled with too many words and the "key" or "focus" word gets away from the user. In order to make sure your keyword stands out, you need to make your subject line as relevant, and straight to the point as possible.
Subject Line Word Count to Increase Open Rate
The study revealed that subject lines with less than 20 characters had a significant open rate increase during this period.
Open Rate for subject lines with less than 20 characters during this period:
B2B Open Rate Increases by 27%
B2C increases by 29%.
Significant Subject Line Words to Increase Open Rate
The study also showcased the best words to use in subject lines during this time.
According to the study, the subject line words that increased open rates during the 60 day study included: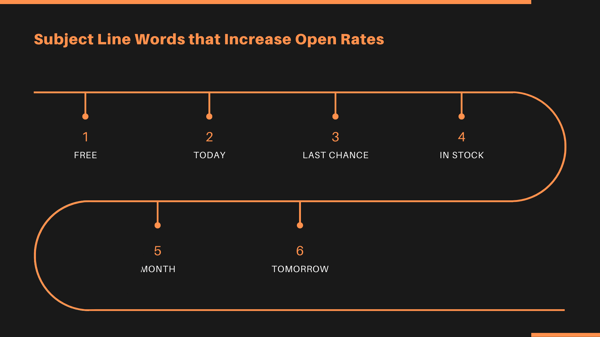 The reason these words are so effective is because they give the receiver a sense of urgency, that is: they only have one shot to claim the deal and it is this urgency that drives them to action during this chaotic time.
Use of Emojis in Subject Lines to Increase Open Rates
The study also highlighted that brands using emojis in their subject lines increased their open rates during this period.
Over the last 30 days of the study, emails with emojis in their subject line increased significantly:
BToC went up by 17%
while BToB increased by 14%.
Words that Hinder Email Open Rates
Now that we have an understanding of what email subject line strategies are currently working, let's take a look at the words that have a negative effect on email open rates based on the study conducted.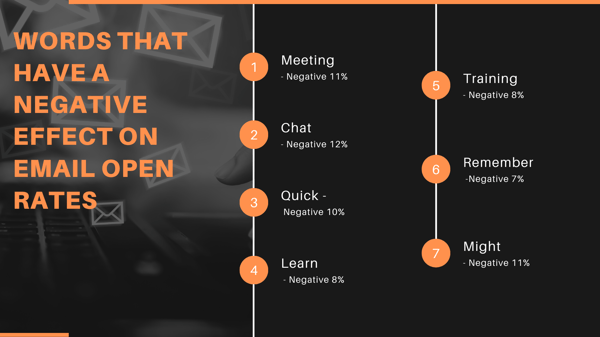 All of these words seem to create a level of anxiety as opposed to urgency, and during this time, no one wants to have to experience more anxiety than necessary. It is about creating subject lines that insight interest rather than subject lines that make the user feel a sense of discomfort, over-commitment and stress.
Now that we have a greater understanding of how to attract the consumer to take action based on the subject line, what drives them to take further action?
The Impact of Offer Related Emails
Promotional or offer related emails are a simple, yet powerful way to spread the word about your business and your brand offering. The objective of promotional emails is to increase awareness, generate revenue or improve customer retention/ loyalty but how did offer related or promotional emails fair during this time?
Offer related emails before March 2020:
BToC Average: 3x touch over 2 weeks
BToB Average: 2x touch over 2 weeks
Offer related emails now:
BToC Average: 4x touch over 2 weeks
BToB Average: 3x touch over 2 weeks
How did the audience take to receiving more offers during this time than they did previously?
For BToC, the response rate to offer related emails increased by 64%
For BToB, the response rate to offer related emails increased by 47%.
So, what is driving people to engage with offer related emails over this time and what kind of offers get them to open their mails and engage with the content?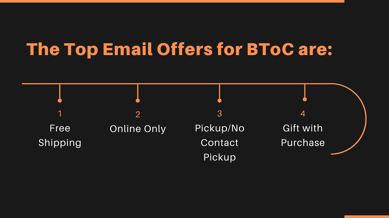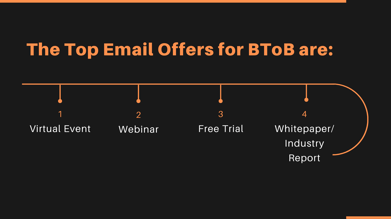 The offers that are driving the receiver to take action are designed to provide the receiver something that can better their lives and something that adds value to their lives, from webinars and free trials to gifts and free shipping.
The Impact of Pandemic Related Emails
We have learned through the study that viewers are driven to open emails that provide a promotion or offer that betters their lives at this trying time however, should businesses be sending out communication that is directly related to the pandemic?
As it turns out, people like and appreciate transparency, and emails that address the current world wide crisis received an increase in Open Rates during the period of the study:
B2B Open Rate increased by 48%
B2C experienced an Open Rate increase of 34%.
With the above in mind, it is safe to say that consumers are appreciating email communication more each day, even at this unpredictable time.
In Conclusion
Email marketing has been around for years, and every year, it becomes smarter. It is a powerful tool that when used correctly, can reach prospects or up-sell to current customers.
An important aspect of email marketing is to tailor your message and subject line to target specific segments of your leads database. As it is today, marketing automation is a great method to assist marketers in sending highly targeted emails to potential clients. Learn more about Customer Relationship Management software and how it can assist in your email marketing automation efforts and targeting, here.
There's a common misconception in the digital marketing world, with many commentators suggesting that 'email marketing is dead'. At Nexa we believe and understand the power of Inbound marketing when implemented strategically. We believe that email marketing has most certainly changed over the years - and for the better!
If you put time and effort into your email campaigns and ensure you have strategies in place for lead generation through this platform, you will attract more leads in 2021.
Does your business need a regular flow of qualified sales leads? Email marketing is the way forward and we are here to help.
Nexa has been generating highly qualified sales leads for businesses of all types for almost a decade. We have both the experience and track record to help businesses in all industries generate highly qualified sales leads.
Contact Nexa for all your email marketing and lead generation needs.