Customer Relationship Management refers to a software system that businesses use to manage strategic interactions with potential and current customers. This system, also known as CRM, helps businesses streamline processes, build and nurture relationships, increase sales and increase the bottom line.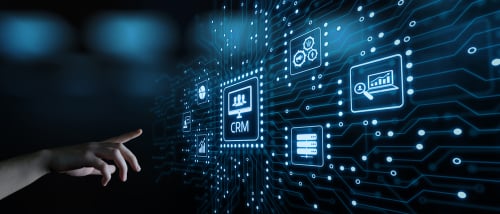 If you are a decision maker in your organisation, you have probably heard the term CRM but you may not know why it is important to have a this platform in place for your business. To provide some insight into the importance of CRMs, the CRM industry is expected to exceed $40 billion this year alone, as they have become an indispensable part of sales and customer service processes in businesses. According to a study made by Nucleus Research back in 2014, every dollar that is spent on CRM gives a return of $8.71, and this was a big deal for businesses back then. Now, in 2020, the return on investment has risen dramatically as these platforms become more and more advanced.
So how does a CRM work and why do you need to have a CRM for your business in Dubai?
Let's take a look.
What is a CRM?
A Customer Relationship Management platform is a software or program that helps manage relationships between your business and potential and current customers. CRMs also get rid of the potential of human error when it comes to customer service as the software or platform stores all of your potential and current customers details in a user-friendly, and highly organised database however, an advanced CRM goes much further than that.
CRMs perform a large variety of tasks and can be used at any stage in the buyers cycle, from building brand awareness and creating marketing campaigns to finding quality leads, managing and nurturing these leads, and offering service and support to clients and your sales team.
Every bit of customer data you record in your CRM will be able to tell a story, and explain how these leads and clients were acquired, how far along the buyer's journey they are, and how they would like to engage with your business - essentially through this platform you gain insight into your leads, and learn how to convert them into paying customers.
One of the most valuable elements of CRM technology is that the system keeps sales teams up to date, and assists them in document templates, emailers, lead nurturing, calendars and tasks. Sales people also gain insight through the tool as they are able to figure out what techniques work best when converting clients, and it increases communication between sales management and sales teams.
A CRM will not only help your sales team stay on track by nurturing relationships, it also offers in-depth reporting to ensure your sales team knows what works and what doesn't. All this information can be accessed by your team members, ensuring they are on the same page at all times.
Who should use a CRM?
Any organisation with a large customer base would benefit from using a CRM system as it is an incredible asset for any sales team, ensuring they are able to find all the data they require to generate leads and close a sale, while making the customer experience as streamlined and positive as possible.
However, just about any business can benefit from a strong CRM system, if a business has a relationship to manage from suppliers or staff to clients, a CRM can assist in these processes. Just like most technology based businesses, CRMs come in a variety of forms and can be designed for businesses based on their size or industry, and the businesses with the highest use of CRM systems in Dubai are businesses in retail, technology, financing, business services, manufacturing and banking.
As CRMs can be customised, they have universal appeal and can help businesses of any size, from large corporations to small one person companies.
How can a CRM better your business?
As stated above, CRMs bring value to business and by having one, you are able to gain a complete picture of your customer, their communication with your company and their buying behaviour. All of this is vital to building and maintaining a lucrative, trusted and positive relationship with the individuals who are the foundation of your business success.
Storing all customer and lead information in a single place benefits your sales team as a centralised history of all interactions between your company and a lead will be time saving and prevent any opportunity for human error. This gives your sales team the ability to do what they do best - and that is selling.
All of this fosters productivity and cohesion within your workforce as everyone is working toward the same solution and your team is able to access everything they require to do a good job and stay up to speed.
Do you need a CRM for your business?
No matter how large or small your business, having an organised space to store your customers information will undoubtedly make your processes easier, and your business more efficient.
A CRM eliminates time consuming tasks and creates a streamlined customer service experience. By streamlining your processes, improving team productivity, and nurturing new leads, a CRM will give you a great return on your investment and help your business flourish.
In Conclusion
If your marketing efforts are closely aligned to generating sales, it's vital that your organisation, no matter its size, has a powerful Customer Relationship Management software system to help you track not only the performance of your sales team but also to measure the effectiveness of your sales process, win rates, success factors and closing patterns.
HubSpot provides a highly powerful sales CRM that will help you better understand the sales processes within your business. In addition to the core CRM features, HubSpot provides optional Sales features for SMEs and large enterprises that streamlines efficiencies even further.
Nexa is proud to be a Diamond-tiered HubSpot Partner and this places us in the top 2% of HubSpot Partners globally. Contact us for all your CRM requirements today!