HubSpot is a developer and marketer software product that has been designed for inbound marketing, sales and customer service. By using HubSpot, you are able to turn your website visitors into leads, and eventually convert them into loyal, paying clients.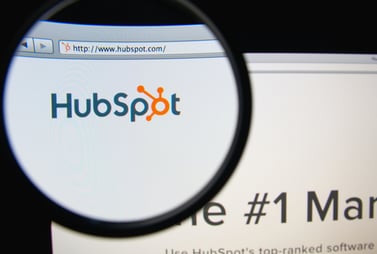 Leads are the fuel of any business, and lead generation refers to the process of sourcing and converting online users into potential customers. To put it simply, a lead is a person who has shown interest in learning more about your products or services. It is about engaging those leads, and nurturing interaction with them, making them more receptive to purchasing your products or services. Sales lead generation is about investing time into getting to know those who have shown interest in your business and learning more about them through online forms, engaging content, emails, and even through live chats.
HubSpot provides a platform that allows you to do all of the above.
Creating Online Forms through HubSpot
Every time a visitor lands on your site, they should be able to contact you or leave their information. Without this, how do you convert your visitors into paying customers? You need to provide a place for them to fill out their information or else you will lose all means of converting them into leads.
If your website and offerings manage to capture the visitors interest, once they have filled out your form, you are given a direct line to them and are able to continue the conversation around your business and your offerings.
By creating forms, you are able to collect your potential customers contact information, as well as other helpful data, which allows for you to follow up with them at a later stage. Take a look at how you can create strategic forms through HubSpot, here.
These forms are available for any landing page, blog post, or website page that is hosted by HubSpot. You can also add these forms to external pages by installing the HubSpot tracking code on your external site, you are also able to install a HubSpot form to a WordPress site using the HubSpot WordPress plugin.
An advantage to using HubSpot for online forms, is that all data automatically flows into the HubSpot CRM. Once you have collected the data, it will be updated on the CRM and you are able to use this information to send out email campaigns and nurture your leads.
HubSpot Newsletters and Email Campaigns
Once you have expanded on your database using HubSpot forms, you need to carry on the conversation with your prospective clients. This is where newsletters become important. By sending your prospective clients personalised, informative and relevant emails, you have the power to convert your contacts into warm leads. If you want to take an in-depth look at how to create your newsletter or email campaign using your HubSpot database, click here.
You can also take advantage of HubSpot's email marketing automation platform. This platform allows you to create timed sequences of mails that will be sent out to each contact.
This kind of email-driven marketing is a powerful tool for lead generation and offers a way to warm up a lead. This is done with tailored email campaigns that showcase your products, upcoming events, white papers, informative blog content or case studies.
HubSpot Live Chat
HubSpot offers a variety of ways to engage with your audience, from email campaigns to lead generation forms. HubSpot's live chat is another useful tool to make use of in your lead generation endeavours.
When a person visits your website, they want immediate answers. We do live in the age of instant communication and you want to be able to provide the option of instant communication to your visitors. By offering live chat on your website, you are able to answer your visitors questions in real time, and this kind of engagement is a great way to win them over, establish a relationship, gain trust, and convert them into paying clients.
Through HubSpot live chat you are able to customise your chat widget to ensure it fits with your brand identity, you are also able to automate a "chatbot" to qualify your leads, answer frequently asked questions, book meetings, and so much more.
Learn more about creating your HubSpot live chat, here.
In Conclusion:
At Nexa, we know that lead generation is the lifeblood of any business. We have been providing Inbound Marketing and Sales Lead Generation to a wide variety of businesses for well over a decade, and we have been using HubSpot as the primary platform for these services. This is because HubSpot offers a variety of sales lead generation tools that are successful in turning leads into sales.
We are proud to be the region's leading and only HubSpot Diamond Agency Partner and have been recognised as thought leaders and innovators within this field. If you are looking to generate leads, we can help. Contact Nexa today and drive highly qualified sales leads for your business.