We live in the digital age, an age of disruption and constant change. Everything around us is continually transforming and the business and marketing world is no exception. Today, anyone with a thought-out strategy is able to establish and share their brand and capture the market itself.
While Artificial Intelligence (AI) may seem like a buzzword and an up in the air concept, it's important to note that we are using AI every day. From Siri to machine learning technology and even online chatbots, AI is everywhere. There are, of course, many future predictions and expectations around this topic and without a doubt, AI is set to shape our future and the future of business.
In this article we will be taking a look at the following topics:
AI in business
AI and marketing
AI and hiring
AI and analytics
AI and customer service
Let's dive right in.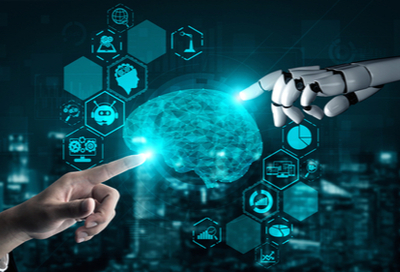 1. AI in Business
Businesses that implement AI apps are set to become more diverse, as they have the ability to fully analyze data across a variety of functionalities including Customer Relationship Management (CRMs) platforms. This kind of strategy and having this form of data on hand helps business owners gain a competitive edge over their competitors as they have clear insight into the behavior of individual prospects and current customers. With this knowledge, they are able to create personalized inbound marketing campaigns that direct the prospect to take action and nurture them through the buyer's cycle with ease.
But that is not where AI ends. AI is able to find solutions to considerably complex business problems in a more human manner, resembling characteristics of human intelligence. An example of this would be website chatbots that are able to answer individual and unique questions posed by the online user. This makes customer service that much easier and builds trust between audience and brand.
In summary: AI helps solve business problems, nurture relationships, generate leads and guide prospects through the buyer's journey, ultimately improving a business's bottom line.
2. AI and Marketing
AI has the ability to analyze your customer and your marketing endeavors. This kind of predictive analysis can be applied when it comes to collecting data and insight via your website, social media, and related digital channels. Because of AI and machine learning being applied to Customer Relationship Management platforms you are also able to take your customer experience to the next level through in-depth customer insight. This means you are able to track your customer's journey with your brand, identify what product or service they are interested in and create a marketing experience that drives the specific customer to make a purchase - reaching your prospect with the right message, at the right time, through the right platforms.
This can be particularly helpful for start-up businesses as they allow small business owners to identify specific opportunities and work on solutions to enhance business growth, brand awareness, and sales. Essentially, AI helps you put a magnifying glass on quality prospects.
For example, just about all your customers are present on social media and AI data mining techniques can be used to analyze your social media traffic and the most effective influencers can be quickly identified, and because of this, your marketing approaches can be classified.
In Summary: AI software is so powerful that unlike other statistic based approaches, they are able to learn. This means these software's can adapt market behavior changes and continually improve performance based on this data.
3. AI and Hiring
Since 2020 and the outbreak of the Covid-19 pandemic, many businesses have had to make the switch to remote working. With this in mind, businesses are hiring people from all over the world and HR managers are quickly becoming overwhelmed with the number of applications coming through. With advanced AI algorithms and customer relationship management software designed for HR purposes, HR professionals are able to use these algorithms to help in the decision-making process. This kind of technology helps them identify the right candidates for positions. This intelligent software is able to filter resumes based on certain segmentations, helping businesses find the right candidates for the interviewing process - taking hours off of the hiring process.
This process also eliminates the risk of bias in the hiring process. Prejudice is a human trait and machines are impartial to this kind of harmful thinking. This allows recruiters to pick candidates based solely on their potential and skillset.
In Summary: AI in the HR industry is making the process of sourcing quality candidates that much easier while eliminating human prejudice, making for a fairer and more rewarding hiring process.
4. AI and Analytics
Thanks to AI, businesses are able to make the entire customer experience that much better thanks to in-depth customer insights. Data collection through mobile surveys, lead generation forms, chatbots, and email surveys are one of the most effective means of research but how do you match leads to the right surveys - at the right time? AI is able to do just that.
Using machine learning technology and models, market research is able to completely personalize mobile and market surveys by presenting personalized questions to the audience when they are the most receptive. Once this insight is collected, AI will filter low-quality data from high-quality data and will also be able to identify where individuals are in the buyer's cycle - making sure that follow-up emails and campaigns reach the individual at the right time, with the right message.
In Summary: AI is able to fully analyze data and automatically segment leads, creating personalized campaigns designed to meet the individuals leads needs - guiding them through the buyers cycle.
5. AI and Customer Service
Today's consumers are used to engaging with chatbots online. These machine learning bots are able to engage with consumers on a human level and have conversations with them via text and speech commands. Even though this kind of technology isn't perfect (yet) it is able to solve customer problems and answer customer questions in real-time.
This is the kind of support that consumers appreciate. We live in the age of instant communication and instant gratification and by providing consumers with a way to communicate with the business 24 hours a day - you are building trust and directing them to act in real-time.
In Summary: AI such as chatbots deliver a personalized experience, encouraging brand loyalty and increasing conversions.
The Wrap Up
AI offers a creative and automated way for businesses to better streamline and personalize the entire marketing, sales, and service process. This is the creativity of AI - taking all of your manual, time-consuming processes and making them more automated, more personalized, and more efficient.
Which business doesn't want that?
If you are looking to implement AI across your business, from Chatbots to Customer Relationship Management systems - we are here to help.
Contact Nexa for all your marketing, sales, and service optimization needs.