Facebook Ads Manager updates usually happen in the blink of an eye and one day, marketers will wake up having to relearn everything they once knew about Facebook ads. That's the nature of digital marketing and as a marketer and business owner, you need to stay up to date with these changes in order to adapt and grow. This may seem overwhelming (and at times, it is) but we are here to help.
In this article, we take a look at the recent changes made to Facebook Ads Manager and how you can implement these changes in 2022.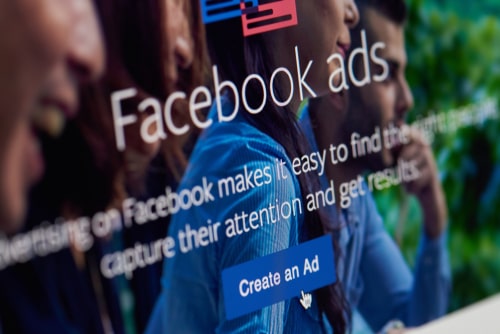 1. You can now optimize your text per person
It's time for even greater personalization and customization, your inbound marketing strategy just got a whole lot better. In June of 2021, Facebook (or Meta, as it's now technically called) rolled out a new Ads Manager feature that can be found in the ad setup process. This new feature is called "Optimize text per person," and it does exactly that. The new feature allows for greater ad customization - perfect for the digital age.
Essentially, this feature is similar to the Responsive Search Ad feature that we have all come to know, but the Optimize Text Per Person tool allows Facebook itself to rotate your ad captions and descriptions based on machine learning and what Facebook believes a person will respond to best.
So, how does it work? Good news! It's daily simple. In the setup process, simply enable Optimize Text Per User and you're ready to go. And get this, the feature doesn't require you to create different copy per post; rather, it relies on existing ad elements and predicts the user's response.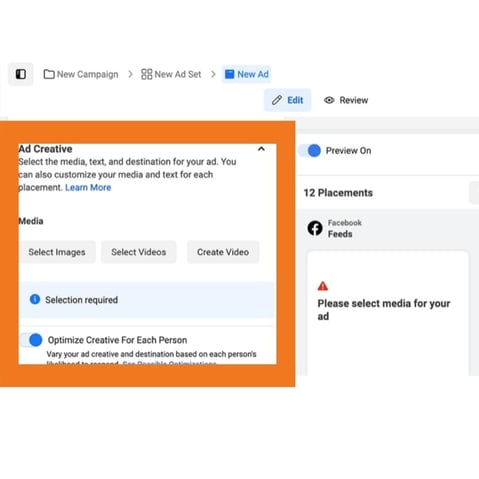 2. Instagram Reels available to all
Since TikTok became such a popular app on the social media market, short clips have become increasingly popular. Toward the end of 2020 Instagram, owned by Facebook (or Meta) created its very own short clips feature known as Instagram Reels.
Reels are designed to create fun, short-form video content designed to catch the user's attention. It was in 2021 that Facebook began to see Reels as a great advertising tool and they began testing this concept in select countries. The test was a success and in 2021, Facebook allowed all users to make use of Reels for advertising purposes.
Reels have become powerful as it is the best place to reach people who don't follow you on Instagram and they offer a great way to reach new audiences with Instagram promotions that can be shared to Facebook as the two are connected. Reels are displayed in a full scream format and can reach up to 30 seconds (perfect for advertising). Users are also able to share, save and engage with Reels - allowing space for the delight, engage, and convert stages of the buyer's cycle.
3. Teens and advertising targeting
In 2021, Facebook introduced a new privacy update that restricts ads targeting teenagers. This means that advertisers can no longer target teens based on their online activity or interests. This is a global rule and applies all over the world. So, how are you able to reach this audience if you aren't able to target based on interest?
Well, you can target teenagers based on age, gender, and location - and that's about it. The reason for this change is safety and privacy for minors. So, with this in mind, if you are targeting a younger audience you need to change your strategy by investing in only the highest quality ad creatives to grab the right viewers' attention.
4. Image text for Facebook ads
Remember how frustrating it was to get your image text approved by Facebook? The 20% text on ad images rule is finally no more. Facebook will no longer reject your ad if its text takes up more than 20% of the image - this means your design team and the content team finally have more creative freedom.
However, the 20% rule is still recommended by Facebook as it results in the best ad performance. So, you may have more space to be creative, try to keep in mind that Facebook Suggests its best to take it down a notch if you can.
But before you think you have finally won the battle against the Facebook advertising team, consider that Facebook won't necessarily reject your ad based on text; however, it may limit the reach of your ad. There is always a catch!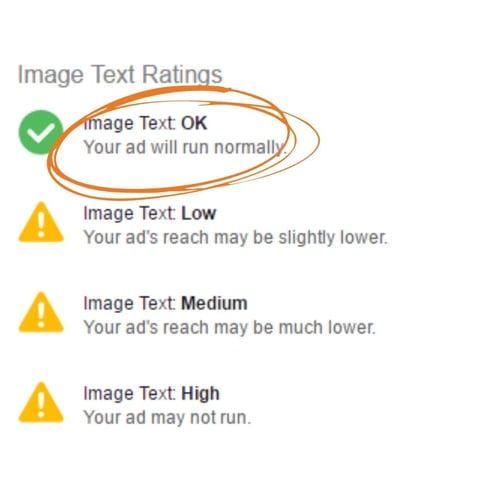 5. Automated app ads to reach new users
Facebook launched what is known as Automated App Ads and this feature allows app-specific advertisers to create fully optimized ads for the highest performance. So, how is this achieved? With machine learning, of course. The feature is a significant upgrade from Facebook's standard manual App advertisements. The difference is that the Manual App Ad gave you multiple ad sets in a single campaign and you needed to manually check and test creatives and the combination of creatives. The AAAs are much easier and because it's so dynamic, you are able to automatically test different creative combinations and no longer have to spend time testing these manually. All you need to set it up is to provide 50 images and videos and just 5 headlines and descriptions - Facebook will do the rest.
However, as with most things in life, there are certain drawbacks. The AAA option does not support certain features such as targeting based on demographics, age, etc. Targeting can only be done based on language, operating system, and country. This feature is still a work in progress and as the days go by, you can be sure that Facebook will step up their game on this one.
Take a look at this infographic, outlining the difference between manual and automated app ads: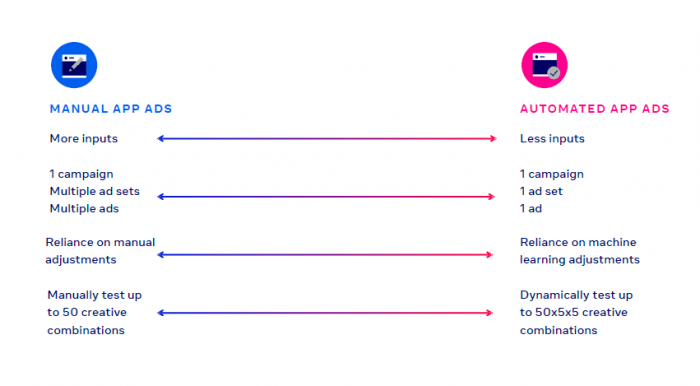 Image source: Pocket Gamer
The Wrap Up
The above outlines 5 important Facebook Ads Manager updates you need to know for 2022. Make sure to keep an eye on any changes that may occur within the Facebook Ads Manager space as these updates can happen quite quickly.
About Nexa
Nexa has experience working with a variety of brands on successful social media campaigns. From content ideation to development and management, we are your fully integrated creative agency, ready to take your social media to the next level.
Contact us today, and get social!