The real estate industry is tough and highly saturated, making it difficult to find investors for emerging off-plan properties and to sell these properties to buyers. Off-plan real estate refers to purchasing or investing in a property before it has been built, and basing your decision on the developers "vision" as reflected by architectural plans and artist impressions. With the rise in popularity of digital channels, the complexity for real estate sales increases. So how do Real Estate developers or real estate sales agencies find investors in the modern era?
In order to sell your off-plan property it is vital that you get your marketing message to your target market and key-accounts as clearly as possible. And this can be done through informative, personalised and relevant content and communication. But how do you reach your ideal target audience, and how do you provide them with content that suits their specific requirements? We live in the digital age and with advancements in software and technology we have the tools to reach high-quality leads with personalised messages, and guide them through the decision making process.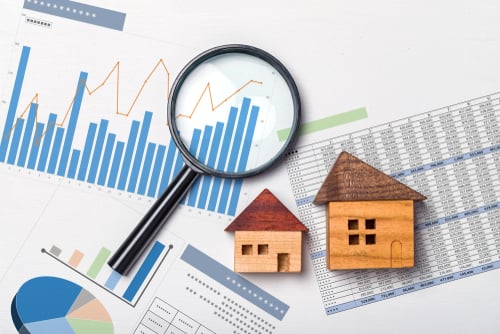 Digital Transformation for Off-Plan Real Estate Developments
Digital Transformation refers to the adoption of digital technologies that are used to transform services or business by replacing non-digital or manual processes with streamlined, personalised and automated digital processes. Thanks to digital transformation, marketing and lead generation has been significantly altered, and the process of reaching the right audience, with the right message, at the right time has never been easier.
Digital Transformation tools provide precise audience segmentation, lead generation and lead tracking, and this is particularly important for off-plan real estate developments looking to attract, engage and delight potential investors.
So, how do you use Digital Transformation tools to reach your audience, gain investors and make more sales?
Customer Relationship Management and Marketing and Sales Alignment for Real Estate
Many real estate companies struggle with their digital transformation efforts as they are somewhat apprehensive about making such big shifts to their business processes. However, it is vital that these changes are made in order to stay ahead of competitors and provide potential investors with a personalised experience. So, where should real estate businesses begin when it comes to digital transformation?
A Customer Relationship Management (CRM) system forms the foundation of digital transformation and is a platform that every real estate business should invest in if they want to flourish in the digital age.
What is a CRM and why is it critical to Digital Transformation success?
A CRM is designed to store all the profiles of your customers, potential investors, key-accounts and leads, and these holistic customer profiles should contain marketing, sales, and customer service information.
Essentially, a CRM tracks all customer behaviour and interaction with your company ensuring your marketing, sales and service teams understand where each individual customer or potential investor falls within the buyer's journey. A powerful CRM is able to track these interactions and is also able to measure this data and provide you with insight regarding customer win rates, customer lifetime value, and more.
A CRM system can also provide you with social media and website insight and metrics, as a strong CRM system can integrate seamlessly with all your online marketing platforms. By offering a single place to store such in-depth information regarding leads, customers, and performance, a real estate company can easily leverage this information for maximum impact.
What a CRM offers Off-Plan Real Estate Developers:
A strong CRM contains tools and processes that can launch digital marketing and lead generation campaigns, align your teams, and leverage data for success:
Some of the processes and tools offered by a CRM include:
A powerful CRM system can leverage your customer/investor profiles and journeys, allowing you to personalise all communication with each potential or current investor or customer.
A CRM should be able to automate lead scoring and tracking, streamlining your marketing and sales efforts.
CRM software uses automation and personalisation to create drip campaigns that are triggered by social media engagement, website behaviour, online communication and more.
CRMs integrate with all your marketing efforts from social media marketing to Search Engine Optimisation, content creation and content distribution. This means that all your marketing efforts can be implemented from a single location.
CRMs allow your teams to monitor metrics and insights in real time - allowing for marketing and sales adjustments when campaigns are falling short on delivering results.
A CRM aligns your marketing, sales and customer service efforts and this "closed loop" allows you to view results in sales and revenue of your marketing investment based on analytics and insights.
A CRM such as HubSpot is able to do all of the above and more, but what can HubSpot do for your real estate development company and how can it be used to attract, engage and delight possible investors?
Using HubSpot to Nurture and Convert Off-Plan Real Estate Investors
Lead Tracking
As a powerful Customer Relationship Management (CRM) software, HubSpot gives your marketing and sales teams the opportunity to collect and organise all the contact information of your leads and key-accounts as well as your current customers and investors. This is vital for off-plan real estate marketing as it allows you to track a leads online behavior in real-time, giving you the opportunity to fully customise your marketing campaigns to specific leads and clients. This means you are able to track possible investors as they engage with your online platforms, allowing your sales team to reach out to them with the right message - at the right time.
For example: You will be able to view what website pages a potential investor visited and through this you will be able to determine what it is they are looking for which in turn, allows you to customise your sales/marketing messages to suit where they are in the decision making process.
Call Tracking
HubSpot is able to record all of your sales calls and mobile conversations. The system is able to store all of these recordings within the Sales CRM which allows managers, supervisors and colleagues to fully understand the journey of the prospective investor with your business.
HubSpot also integrates with WhatsApp and allows you to store all WhatsApp conversations within the Sales CRM - ensuring no communication is left unturned. By having this information on hand, you are able to understand each prospective investor in greater detail, and tailor your conversations and messaging to suit each individual lead.
Manage your Database
As stated previously, the HubSpot CRM will collect and organise your prospective investors and client data, including their personal details as well as their interactions with your business.
With this information your sales and marketing teams can easily access any information they require (even at a moment's notice) and this is particularly helpful for your sales team as this makes it easier to nurture and convert potential investors.
Create and Manage Campaigns for Off-Plan Real Estate Property Listings
Buyers and investors can find property listings online by searching Google or related search platforms. HubSpot allows you to create and manage your property listing campaigns, improving your ability to attract and engage with potential investors.
How this is achieved:
Personalised and Automated Emails: Using the HubSpot Marketing CRM you can fully customise and automate email communication. You also have the tools to segment your prospective investors to ensure they receive only the most relevant emails, suited to what they are looking for and where they are in the buyer's journey.

Call to Actions: By adding strong CTA to your property listings or campaigns, you encourage interested investors to get in contact with your business. Traditional call to actions will call your audience to either fill in a form or call your business directly which may not work for all prospects, HubSpot eliminates a step by providing a button that is known as a "Click to Call." The Click-to-call feature is convenient for mobile users as all they have to do is click a button that will immediately call your business number that is listed.

Scheduling Meetings: Time management is important for the real estate business, as you need to schedule meetings as quickly as possible and showings of properties or architectural plans are an integral part of the customer service experience. Through HubSpot you are able to effortlessly set up these meetings by accessing your calendar allowing you to instantly schedule and book meetings without having to worry about double bookings - eliminating the possibility of human error.

Gain Digital Transformation Success with HubSpot
Digital Transformation is all about creating a personalised experience for the consumer, in this case, the investor. It is important that your real estate company has the tools in place to create seamless communication processes. This is done through data, analytics and integration - and a powerful CRM is able to do this for you.
Through a CRM platform such as HubSpot, you will improve your ability to generate and convert investors, nurture relationships and give your internal teams a structured industry-friendly platform to manage their marketing and sales activity, while providing quality customer service.
Nexa is proud to be a Diamond-tiered HubSpot Partner and this places us in the top 2% of HubSpot Partners globally.
If you are interested in implementing HubSpot for your real estate business, our HubSpot development team has experience integrating HubSpot's CRM with a number of platforms that can increase the efficiency and data access for your business. In fact HubSpot integrates with over 500 other software titles to help your team streamline activities and in doing so increase efficiency and productivity. Contact us today for more information and to learn more about our offerings.