Todays' digitised world has resulted in the age of the consumer. Thanks to online accessibility and the world wide web, consumers have more power than they have ever had before when it comes to decision making and the selection of service providers. Mobile technology has ensured that the consumer is always connected and in control while social media and online shopping has provided the consumer with instant gratification and never-before-experienced convenience.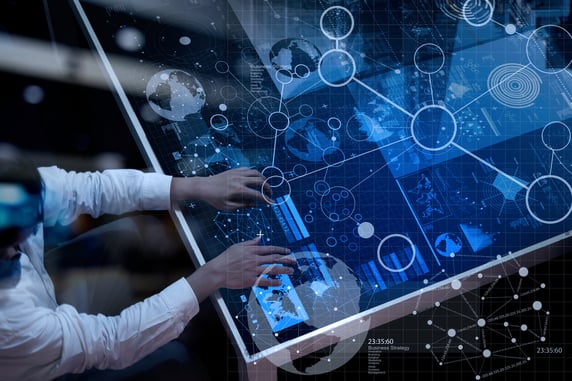 Because of the ease of convenience and control the internet has gifted the consumer, businesses and brands have had to adjust with many enterprise brands prioritising the customer experience above all else. These large organisations have focused their attention on investing in Digital Transformation strategies, and with these modern technologies they are able to deliver value to customers by integrating customer-centric and process-centric technology in all areas of business. And this is something small and mid-size businesses need to focus on too if they want to grow their businesses in 2021.
What is Digital Transformation?
Digital Transformation refers to the adoption of digital technology designed to transform services or business by replacing non-digital or manual processes with digital processes that ensure a greater customer experience and brand/ business culture.
As consumer expectations continue to rise, digital transformation tactics are no longer exclusive to large businesses. SMBs have had to make the shift if they want to grow, in fact, in 2017 a study by SMB Group stated that nearly half of small and medium businesses are planning to invest in digital transformation tools and tactics. We are now in 2021, and with the pandemic changing the world in 2020, digital transformation is more relevant than ever before. The customer is now almost exclusively online and expects service excellence at all times - especially since they are choosing to spend their hard earned money at an economically volatile time.
The Difference Between Digital Transformation for SMBs and Enterprise Businesses
People and Culture: Culture plays a big role in digital transformation. As much as digital transformation is about creating a streamlined customer experience, it is also about company and team alignment. Digital Transformation tools such as Customer Relationship Management Systems are easily accessible to all internal teams, including marketing, sales and service. By having these teams align with one another, you are cutting out miscommunication and creating a smooth process that ensures the customer receives the same message and experience at all levels of the buying cycle. This is essential for all businesses, no matter size. However, Enterprises are able to hire leaders to take on the task of digital transformation within the company and across teams and these professionals are able to invigorate culture into the organisation. Small businesses are usually unable to budget for executive support and will need to upskill current managers to drive this forward across the company or organisation.
Time and Budget: Most Enterprise organisations will have to invest in complex digital transformation solutions as they have larger processes and teams to manage. However, SMBs will have smaller budgets but the solutions they invest in won't be as time consuming as those Enterprises will have to learn and integrate into the business. SMBs need to focus on integrating tailored digital transformation solutions - and scale these tools as they grow as a business.

Support: As mentioned previously, Enterprise businesses are able to hire professionals to help them integrate Digital Transformation tactics across their organisations. SMBs may not have this luxury and need to invest in digital transformation tools and CRMs that are easily integrated across the business and offer an easy user experience. Platforms such as HubSpot are ideal for SMBs as this CRM is scalable and easy to use - it is also easily integrated and can be used alongside current business platforms.
Based on the above it is clear that SMBs face significant challenges when it comes to implementing Digital Transformation across their business. However, if these smaller companies place time and effort into investigating the available tools, and are able to prioritise what goals they need to meet in terms of Digital Transformation, they will be able to put together a cost-effective solution that will offer a significant return on investment - which will then give them space to grow their digital transformation efforts as they increase profitability.
What to look for when sourcing a Digital Transformation Vendor or Solution for your SMB
An understanding of your business or industry: When searching for a solution for digital transformation tactics across your business, find a vendor or platform that is able to understand your business, industry, KPIs and short-term and long-term goals. This will result in a tailored approach that can be scaled as your business grows with the digital transformation technology.

Technology that can collect, track and store valuable lead or customer data: Find a vendor or service provider that offers a platform that can store lead and customer data in a single place. The technology you choose to invest in also needs to provide insight into your customer and lead behaviour to help your marketing, sales and services team understand what individual clients are looking for which helps them tailor messages accordingly.

Machine Learning Technology: It is important to invest in a technology or vendor that has machine learning capabilities - from chatbots to automated emails. The technology you choose should enable your SMB to provide a personalised customer experience - which ensures customer and brand loyalty. And of course, this results in a greater return on investment.

Easily Integrated with your current systems: The digital transformation tool you choose to invest in should be able to easily integrate with your existing tools and processes - allowing for you to successfully migrate the entire business as seamlessly as possible.
In Summary
SMBs need to invest in technologies that are customer centric and designed to support their particular business goals. The customer needs to be prioritised above all else, and a digital transformation strategy cannot be ignored as we head into 2021.
In order to find success in the digital transformation world, SMBs need to invest in systems that can scale alongside them, and systems that can be tailored to their specific needs and requirements.
About Nexa
From implementing the HubSpot CMS and CRM systems to training your teams, we transform organisations with the inbound methodology and we adapt HubSpot to suit your business goals (no matter business size or industry.) Whether your focus is generating leads, accelerating sales or developing a powerful marketing strategy to provide a personalised customer experience, we offer the complete range of HubSpot services to meet your needs.
Together, we build your custom digital transformation solution.
Contact Nexa today for all your digital transformation needs.