What's in a hashtag? These tags are more than just words you stuff in at the end of a caption. In this article, we'll be hashing out the purpose of these keywords in social media, and what makes them powerful tools in creating discoverable and community-based content.
Hashing Out the Hashtag
Hashtags differ from platform to platform. On Instagram, for example, you can add in a comment with your related hashtags and use ten or more, whereas on TikTok, it's recommended you stick to only using a few, and you only have the option of adding them to your caption, with no edits allowed once published.
The Purpose of Keywords on Social Media
Keywords are the key descriptors of the content. Keywords are used to increase the reach of content among relevant audiences. By including these, you're attaching your content to a group of related content. There are, of course, varying degrees of keyword density. For example, one of the most popular hashtags on Instagram is #love. Knowing the top keywords in your niche can help with your social media strategy and the social listening aspect in particular.
While the hashtag symbol is important, there are also other ways to tag your content with keywords on social media. We've seen this occurring with SEO keyword tags too, as intelligence has developed and we now don't need to include exact matching keywords or stuff keywords. This can actually harm your content as it doesn't read as well, and what matters most is the user experience. For example, Instagram allows you to add alt text to your images in Advanced Settings, and on TikTok, the guidelines say the caption itself also plays an important role in the reach and performance of your posts.
Brands should not only be circulating external keywords. Circulating branded tags can also help build your presence online. It is important to stay abreast of your brand name online and monitor public perceptions. This ties in with the community-based element that hashtags can house.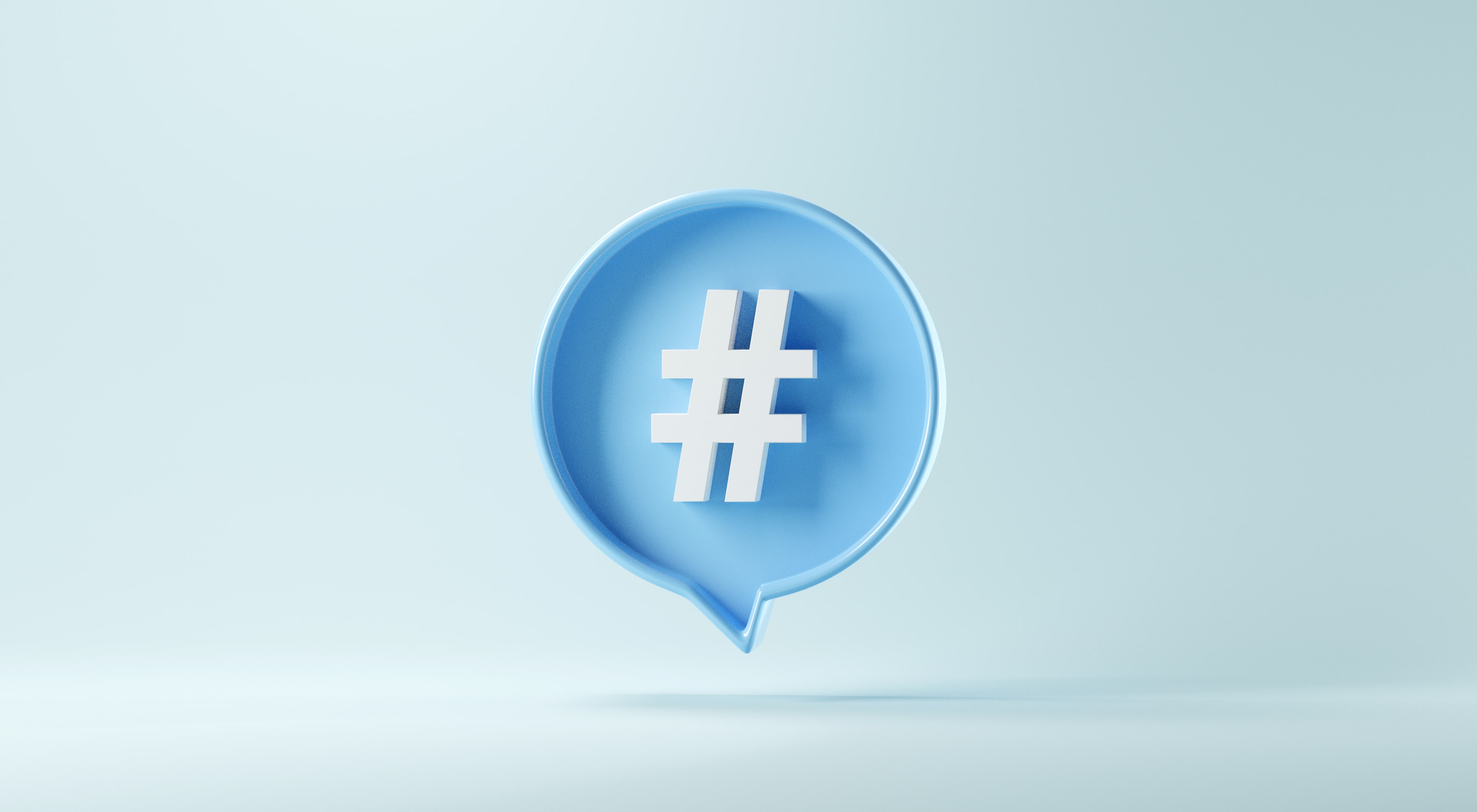 Keywords for Social Media vs SEO
Content teams are no stranger to using keywords. In SEO terms, they're important to help search engines index your content. Well, these keywords are applicable on social media too. While they're quite different from those we find in SEO, with the likes of long-tail and short-tail keywords, they matter nonetheless. Another critical difference between these keywords is that with SEO, searchers are looking for an answer, whereas on social media, users are looking to engage.
Unlike SEO, you can't rely on third-party tools to conduct keyword research (although you can do this on platforms like BuzzSumo). Instead, it is important to actively engage with the platform itself. This needs to be conducted on an ongoing basis, as trends tend to change on these platforms a lot faster. This way, you're also ensuring that you can pick up trends as they're picking up, rather than playing catch up and potentially missing out on opportunities.
Keyword Research
Let's talk about keyword research. Understanding the terminology that makes sense to your brand and audience can help define your brand. Part of this includes finding and engaging with your social media communities effectively. The right forms of communication can strengthen relationships and help you to measure the level of interest your audience has in a particular topic.
Another element of keywords on social media is the advent of trending topics. Words and phrases are attached to popular challenges and posts in high circulation. It is known that using these tags appropriately and within the right time can help push your content a lot further so that you can ride the wave of the trend.
You can conduct keyword research on social media based on:
Demographics
Interest
Geographics
Behaviours
You'll notice that keywords are also important when it comes to social media ads. They can be used to help determine the intent and reach of the ads placed.
Begin with native search. Based on this, you can filter out the mass of content using words, get an idea of what's popular, what's happening in niches, and get an overview of the activity happening related to that keyword.
While SEO keywords differ, you'll find that they naturally form a continuation of one another. While the purpose and words are different, the social media marketing team will be targeting the same audience for different purposes. Conducing keyword research should therefore not be done in a vacuum but rather seen as complementary data for your marketing team.
The Power of Hashtags
There you have it; a guide to all things hashtags. It's imperative that your social media team analyse your brand's set of keywords and hashtags to ensure your content is discovered and that online communities are built. This links with SEO content too, as an extension of your audience's engagement with the brand online.
For more on social media marketing and keyword research, get in touch with us at Nexa.