Did you know that sales representatives only spend a third of their time actually selling? This means that they are spending a large amount of time on non-revenue generating tasks and we all know that business growth is the key to survival in these trying times. This is why it is important that your team is equipped with lead data, and are able to prioritise quality leads over stagnant or cold leads.
A high quality lead is an individual who is interested in your business and has a genuine need for your service or product - this means they are more likely to convert into a paying customer. These are the kinds of leads your team should be focusing on and all of this can be achieved through lead scoring, that is: a system that helps marketing and sales representatives prioritise quality leads over poor quality leads.
To ensure your lead generation tactics bring in results and benefits your entire organisation, you need to make sure that your marketing qualified leads and sales qualified leads are of top quality - and it all comes down to data. Before we unpack why data is vital for lead scoring, let's take a look at what lead scoring is and how it can benefit your business.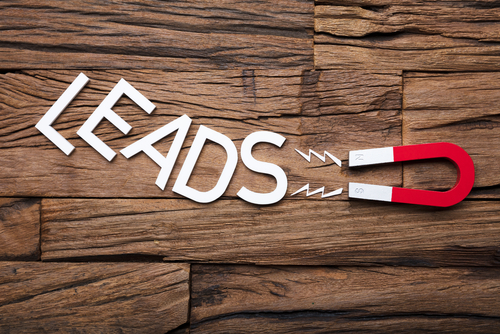 What is Lead Scoring and How Does it Work?
Lead scoring is a marketing methodology that aligns sales and marketing in order to rank leads and determine their sales readiness. Lead scores are based on interest a lead shows in your business as well as their current place in the buying cycle. Businesses are able to place a "score" on their leads by assigning certain "points", and implementing ranking and segmentation systems such as whether a lead is warm or cold. The primary benefit is that sales and marketing teams are able to increase their efficiency and productivity through this method - thus promising significant business growth.
The best lead scoring models make use of the demographic and behavioural characteristics of a lead including company size, job title, industry, website clicks, website visits, and social media engagement with your business. But what exactly defines a high quality lead and how can you identify a good lead from a low quality lead?
How do you determine a high quality or low quality lead?
DATA. DATA. DATA.
In order to know which leads will likely convert into customers, your marketing and sales team need to work together and study current and past client data in order to understand qualifying information.
There is also no ideal lead scoring model and it is not a one size fits all approach. It is up to your team to create the model and scoring factors together. Your model should measure how engaged a prospect is with your business, and this will help them decide when a prospect can properly be identified as a sales ready lead - and this is why data collection and analysis is vital in the lead scoring process.
Steps to Creating a Lead Scoring Model:
Marketing and sales alignment: Ensure your marketing and sales team work together when understanding your target market and their specific needs.
Lead Scoring Threshold: Identify the point value for when a prospective client is recognised as sales-ready.
Explicit Lead Scoring: Assign points to a lead based on specific qualities such as demographics and characteristics.
Implicit Lead Scoring: Assign points to a lead based on their behaviour and engagement with your business.
Negative Scoring: Remove points from a lead score based on characteristics or behaviours that imply a lack of interest in your business.
Score Degradation: Track stagnant leads
Regular Refinement: Amend your model to suit the evolving needs of your business and target audience.
An example of a lead scoring point system:
As stated previously, lead scoring is based on the behaviours of a lead. For example: prospects identified as decision makers in their business may begin with a lead score of +20, while a prospect who is identified as a student and is probably using your website for research purposes may begin with a lead score of -20.
Future behaviours will then be tracked to increase or lower a lead score. For example, if a lead visits your website and signs up to your email newsletter, they will gain more points - and every email click through will gain them more points. It is important to note that the score numbers you create should be based on your specific criteria and there is no one size fits all model for this.
Once the criteria is discussed and laid out, your marketing team is able to use the criteria to fuel targeted campaigns, which will lift the overall quality of leads generated. And once these leads have moved through the buying cycle and become sales qualified leads, your marketing team is able to pass their information over to your sales team. Your marketing and sales team will also need to decide when a lead can be counted as sales-ready - that is: what score indicates that a lead is sales ready - and then the lead information can be passed on to your sales team.
Lead Scoring, CRMs and Data
Thanks to Customer Relationship Management systems such as HubSpot, your lead scoring is made easy because of online data collection, automation and audience segmentation.
You see, HubSpot and related CRMs are able to track every interaction a prospect has with your business, from their social media engagement with your business page to website clicks, email open rates, lead forms and downloads. This means that you are able to understand every aspect of your lead from their behaviour to their demographics (based on a variety of factors, from their social media information to lead forms that they fill out on your website).
In Summary
The term "lead scoring" refers to a process of assigning a numerical value to each of your leads in order to reflect the likelihood of them becoming paying clients - this process is somewhat similar to credit scoring.
You are able to collect data on your leads by using a Customer Relationship Management system such as HubSpot and once data is collected, you are able to assign points to each lead - based on their behaviours and demographics which ultimately determines their value.
If you are looking to implement a strong prospect lead scoring model for your company, the Nexa team is here to help.
At Nexa, we know that lead generation is the lifeblood of any business and we have been providing Inbound Marketing and Sales Lead Generation to a wide variety of businesses for well over a decade.
As experts in Lead Generation and Lead Scoring, we are proud to be the region's leading and only HubSpot Diamond Agency Partner and have been recognised as thought leaders and innovators within this field. If you are looking to generate leads, we can help. Contact Nexa today and drive highly qualified sales leads for your business.