The Dubai 2020 (2021) Expo is a unique event and its uniqueness is what's driving business owners, forward-thinkers, innovators and knowledge seekers to Dubai in October 2021. The Expo is part of the World Expo that first took place in 1851, and has since become one of the most sought after world events that take place every 5 years. The Dubai Expo was set to take place in 2020 however, due to the rise of the COVID-19 pandemic, it has been rescheduled for October 2021 and will end in March 2022. Dubai was first awarded the event in 2013, and since then the wheels have been churning, pavilions have been built, and themes have been decided on.
The world Expo 2020 (2021) theme is "Connecting Minds, Creating the Future", with its sub-themes being: Opportunity, Mobility and Sustainability. With such important themes, the expo is set to bring in 10s of millions of visitors from all over the world, and there will be 190 nations participating in the event.
If you and your business are going to present at the Expo 2020 (2021) Dubai, the stats may make you feel a bit overwhelmed. How can you stand out in the crowd and get your brand message to the masses? Digital marketing and lead generation tactics are key!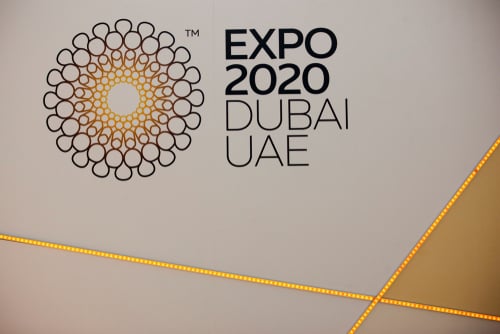 Marketing your Business During Expo 2020 (2021) Dubai
In order to maximise the impact of the event for your business, it is vital that you set the correct goals and make use of KPIs. By having this in place you are able to measure the event's success for your business, helping ensure success throughout your time at the event.
When it comes to marketing your business or brand for events, it is important to make use of SMART goals.
Create SMART goals for the Dubai 2020 (2021) Expo
SMART is an acronym that helps marketing teams better understand how they can achieve event marketing success. By defining goals and KPIs within this method helps them achieve greater results - in an effective way.
Specific: It is important to note that the more specific your team is when unpacking your event marketing goals, the better they will perform.
Measurable: As stated previously, it is important to be specific when it comes to your goals and specific goals are more effective when they can be quantified. You need to have systems in place (such as Customer Relationship Management systems) that will help you measure the direct impact of your campaigns - from social media reach to email open rates, lead conversions, sales - and more.
Achievable: There is a difference between being ambitious and being unrealistic. You need to ensure that the goals you set can be reached. You can also set an "additional reach goal" that could possibly be reached - and this will motivate your team. But always make sure your primary goals can be reached - and then move up from there!
Results: Your goals should be able to measure results as opposed to actions or activities. This means that you may send out 100 emails to potential event visitors or sponsors, but your goal should be to secure a commitment from 10 of these visitors or sponsors within a certain amount of time.
Time: Your goals should always have deadlines and a timeline in place. This will help your team analyse what is working and what can be changed at different times.
Once you have an understanding of what it is you want to achieve, you need to invest in effective digital marketing campaigns that will help your brand flourish at the Expo 2020 Dubai.
Create your own Expo 2020 Dubai Website or Landing Page
The Expo will have its own website and a list of all event stands, speakers and more, but you want to create your own website or landing page dedicated to your presence at the event. This is one of the first touch points visitors will have with your brand and it should inform them of what it is you have to offer. By having your own site dedicated to your presence at the expo, you will gain more visibility and have a greater opportunity to showcase your vision. The Expo website can link back to your personal expo website, and vice versa, which also helps your business achieve a high Search Engine Optimisation ranking - helping your brand rise up the ranks when people search for what to expect at the expo itself.
Tips for your Expo 2020 website:
Quality Content: Make sure that your website is made up of high quality, relevant and informative content including blogs, an about us section, articles, video content and more. This will help inform your audience while helping you gain greater Search Engine Optimisation - helping you rank higher in the search results.
Branding: Make sure your event website is true to your branding, and keep a consistent colour scheme and tone throughout.
Countdown Clock: Why not make your website more interactive and exciting by including a countdown clock? This will add more hype around when you will be showcasing at the event and will add a sense of urgency to those wishing to attend.
Improving your Website's SEO
As stated previously, Search Engine Optimisation (SEO), should be a priority on your event website. SEO is defined as improving the quality and quantity of your website traffic via the search engines and this is done through a variety of tactics, including on-page and off-page tactics.
On-Page Optimisation: Make sure that you are using the right keywords and keyphrases on your website, but make sure not to stuff these keywords into your content. You want your content to be of the highest quality and provide your visitors with helpful information - and by cramming your content full of keywords - you will drive them away - and the search engines will also pick up on this tactic and penalise your website. It is important that you also make sure to include them in your page titles as well as your meta descriptions.
Off-Page Optimisation: This is where link building comes into play. Make sure your website links back to the main event page - this will help build your brand authority while helping you rise up the search engine result ranks.
SEO is not a simple process but it is important that it plays a role in your marketing efforts. Learn more about the importance of SEO and how it worlds, here.
Social Media Marketing
It is important that you make use of your social media channels in order to maximise exposure. Your social media platforms can be used to create a sense of excitement around the event and create a valuable opportunity for branding, PR and measuring campaign performance.
Social Media Best Practices for marketing your business at the Expo 2020 (2021) Dubai:
Event hashtags: make sure to use the correct event hashtags when marketing your appearance at the expo itself. This will help guests that are attending the event find out about your stand/brand at the event itself.
Visuals and Posts: Create engaging and visual posts that promote the event, its stakeholders and your business. This will make your content more shareable and help you gain greater reach and visibility across all platforms - the event and its stakeholders will probably share your posts because of this!
Engage with Attendees: It is vital that you engage with attendees of the event in order to create hype around your business and your brand. There are a variety of ways to engage with them, be it through giveaways and special offers. You can even create campaigns that require attendees to fill out a lead form in order to win something from your business, this way you are able to collect relevant data and continue passing on your message through email campaigns and remarketing campaigns.
Account Based Event Marketing
Account Based Marketing is focused around targeting key accounts - that is, specific individuals or businesses that perfectly suit your business offerings. Your Expo campaign can make use of this practice by targeting key business and individuals who will be present at the event itself. The campaigns you create for these people or businesses will be personalised which ensures the highest possible engagement.
ABM focuses on outbound marketing(directly contacting individuals through LinkedIn, Emails or calls) as well as inbound marketing such as blogs, webinars and social media marketing.
What makes ABM marketing for the expo so powerful is that it is mutually beneficial to both your business and the key account - as your personalised marketing efforts are designed to address the key accounts specific needs - which will lead to a long-term partnership, networking opportunities at the expo, and loyal clients.
Learn more about Account-Based-Marketing and what it can do for your business, here.
In Conclusion
Digital marketing is vital for maintaining your business status at the Expo and is a way to create hype about your brand and what you can offer the public.
Founded in 2005, Nexa has helped hundreds of organisations from small startups to large multinational businesses providing high-quality digital marketing services. As a digital marketing company based in Dubai, and with years of experience in the marketing industry, we can help you market your business and your message during the Expo 2020 Dubai.
Our mission is to help drive growth for forward thinking companies and we will combine innovative marketing, sales and service technology and strategies to maximise your business opportunities.
Contact the Nexa team today and marketing your business for the Expo Dubai 2020